Have you also done the PM KCC scheme ie Prime Minister Kisan Credit Card Scheme applied for and now PM KCC Status Check want to do?
So you must read this article till the end. Because Kisan Credit Card Application Status Check Only after checking you will know whether your KCC card is made or not?
Kisan Credit Card Status Check Online
| | |
| --- | --- |
| Article | KCC Status Check Online |
| beneficiary | all farmer brothers |
| Website | www.pmkisan.gov.in |
| helpline | 155261 |
| Email ID | [email protected] |
Kisan credit card apply online While doing this, you must have received a receipt on which your name will be given with bank account details and application reference number. As in the photo below.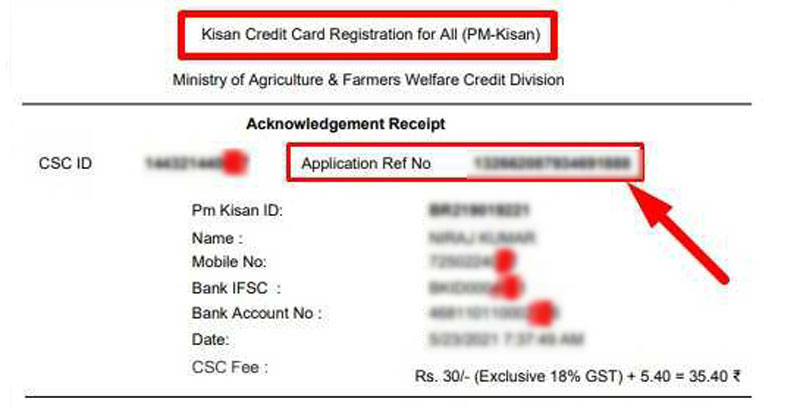 you are the same Application Ref No. With the help of Kisan Credit Card Status, you can check and know how long will you get the benefit of this scheme?
KCC Loan Status Check Kaise Kare – Quick Process
Go to the official website of eSeva KCC – Click Here
Scroll down and enter your reference number.
Finally click on the Search button.
PM KCC Status will be in front of you.
In this way you can check KCC loan status very easily.
If you are having trouble in checking KCC Status by following the quick process mentioned above, then follow the step by step process given below.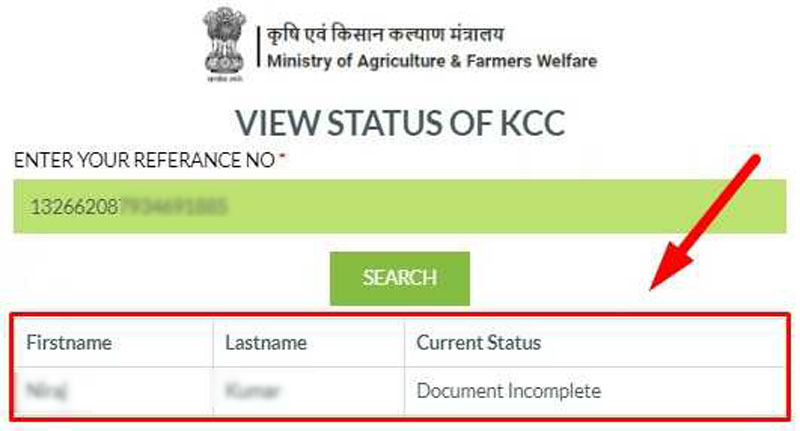 How to check Kisan Credit Card Status?
step 1 First of all click on the button below Ministry of Agriculture and Farmers Welfare Have to go to the official website of.
Step 2 in front of you by clicking VIEW STATUS OF KCC A page will open. Here you have to enter 18 digit reference number and SEARCH To click on the button. As in the photo below.
Step 3 As soon as you search, you will get to see the name of the farmer and the current status of the Kisan Credit Card. As in the photo below.
So in this way you can easily check Kisan Credit Card Status sitting at home with the help of your mobile or laptop.
What is the Kisan Credit Card Helpline Number?
If your application for Kisan Credit Card Scheme is rejected or your application is taking too long to be verified
So you can register your complaint by calling on the below given Kisan Credit Helpline number which is toll-free. Your problem will be solved soon.
Also Read…
Kisan credit card status check related question and answer
u003cstrongu003eHow to check KCC Status through CSC?u003c/strongu003e
To check Kisan Credit Card Status through CSC, you have to log in by entering CSC ID and Password. After that search by entering your KCC application reference number.
u003cstrongu003eHow to check Kisan Credit Card Status in Bihar?u003c/strongu003e
There is no official website of Bihar government to check Bihar KCC Status, you have to check it by going to PMKisan.gov.in
u003cstrongu003eWhat to do if KCC Application is Rejected?u003c/strongu003e
If your application has been rejected then it is better that you apply for Kisan Credit Card Scheme offline not online.
Ans: As soon as the KCC application is accepted, a credit card is issued by the bank in your name from which you can withdraw Rs 3 lakh and this card will be given to you by the bank itself or by post will be sent to your address.
Do ask your question in the comment below
I hope this articleHow to checks Kisan Credit Card Status?"You must have liked it very much and all the doubts in your mind related to Kisan Credit Card Status Check Online must have been cleared.
If you still have any questions or suggestions KCC Status Check Online If you are related then please tell me by writing in the comment box below. I will reply to your comment within 30 minutes.
If this article can be useful to any of your friends or relatives, then share with them Facebook And share it on social media sites like WhatsApp.
Thank you so much for taking your valuable time to read the entire article! God bless you have a nice day.