AEPS Full-Form, Services, Benefits, & Transaction Limit: Aadhar card is not only the proof of your identity through a unique ID, but people whose Aadhar card is linked with their bank account, they are availing many types of services through it. These also include payment system i.e. payment facility. These days you must be hearing the name AEPS a lot. Do you know what this AEPS is? Even if not, don't worry. Today in this post we will try to tell you everything in detail. Let's start-
AePS is an Aadhaar-based payment system. By which inter-financial banking transaction inclusion is easily done. It has been developed by NPCI (National Payment Corporation of India) in consultation with Reserve Bank of India and member banks. Its purpose is to provide banking services in unbanked areas.
Transactions have become very easy through this system. Now customers do not need to go to the bank to withdraw money and make deposits. And they don't have the hassle of keeping bank passbook/debit card etc. with them. With just Aadhar number, their basic banking work gets completed at home or near home.
What is AEPS?
Friends, first of all, let us know the full form of AEPS. Its full form is – Aadhar Enabled Payment System. That is, basically, it is an aadhaar-based payment system/service.
Through this, bank customers can access the respective Aadhaar activated bank account through their Aadhaar card number and perform normal banking transactions. They do not require any PIN or password for this.
That is, their Aadhaar-linked transactions will be card and pinless. With the help of this, Android mobile phone users will be able to do digital transactions through their Aadhar card number and fingerprint. This system allows banks to bank transactions at POS/Micro ATMs with the help of a banking correspondent.
Who has developed AEPS?
Now the question arises who has developed AEPS? Let us tell you, friends, that this AEPS i.e. Aadhaar based payment system has been developed by NPCI i.e. National Payment Corporation of India.
For this, he has also taken the advice of the Reserve Bank of India (RBI) and member banks. Overall, an attempt has been made to develop such a system, which is safe and also usable by the people of rural areas. Aadhaar Enabled Payment System fully meets this criterion.
What are the objectives of AEPS?
Friends, now coming to the purpose of AEPS. For your information, let us tell you that its purpose is to provide banking services to the people of unbanked areas. You already know that there are still many such areas in the country, where there is no bank or its branch.
Banks have taken the help of Banking Correspondents to extend banking services to such places. Now through them the transaction from AEPS has become very easy. They neither need to go to the bank for cash withdrawal, deposit nor need to carry a debit card or passbook with them. He does not need to remember even the number of the bank account.
ALso Read…
What kind of facilities does AEPS provide?
Friends, now we will give you information about which facilities you can avail of through AEPS. These are as follows-
cash withdrawal
balance inquiry
cash deposit
Aadhar to Aadhar Fund Transfer
Shopping from fair price shop
What are the things you need to transact on AEPS?
To take advantage of AEPS i.e. Aadhaar based payment system/service, you need to have some things, which are as follows-
The aadhar card number of the customer. (Customer's aadhar card number)
Micro ATM/POS Machine with Biometric Device. (Biometric atm/pos machine with biometric device)
Fingerprint or iris scan of the customer of the customer.
Bank name or IIN i.e. Issuer Identification Number. (Bank's name or IIN) ie issuer identification number.
Banking Correspondent. (banking correspondent)
How to transact on AEPS?
Friends, now we will give you information about the transaction-related process on AEPS, which is as follows-
Visit your nearest Micro ATM or Bank Mitra Banking Correspondent.
Enter your Aadhar card number in the machine available with him. Or give your Aadhar card to the bank friend, he will enter it himself.
Now you have to choose the option of giving transaction, like-
balance inquiry
cash deposit
cash withdrawal
fund transfer
One has to choose from the mini statement.
Now choose your bank or get it done by a bank friend.
Enter the amount of the transaction.
Then place your finger on the scanner for fingerprint or take a photo for iris recognition.
After the ID is confirmed, your transaction will be completed.
Remove the transaction slip.
In this way your transaction process will be completed.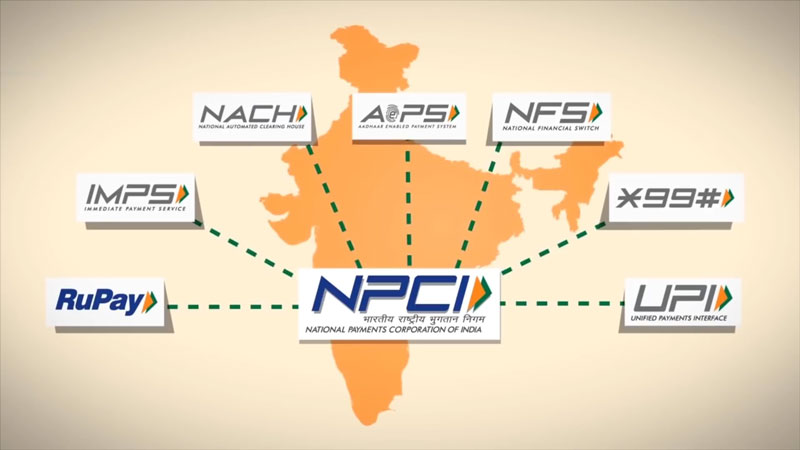 Advantages of ePS
The biggest advantage of AePS is that it has ensured the access of banks even to remote areas without banking. This is a great achievement for the Government of India and related institutions.
This payment system has the following advantages.
Customers are getting banking services sitting at home
They are avoiding going to the branches of banks available in cities and tehsil/district headquarter for depositing and withdrawing money
Eliminates the need to bring passbook, debit card etc. to do financial transactions.
Freedom from the hassle of remembering account information (account number, account holder name, bank name) etc.
Transaction possible without signing and without thumb. And no need to fill slip
Transaction facility only with Aadhaar number and fingerprint
Have a secure and fast payment system
free facility
Interbank transactions possible (transfer funds from one bank to another)
Quick payment of various government schemes like NREGA, Social Security Pension etc.
Does AEPS also have a mobile app?
These days it is the era of mobile apps. People easily avail all the facilities by just downloading one app on their mobile. Let us tell you friends that AEPS also has a mobile app . On which registration can be made through Aadhar card number.
Android users can download this app from Google Play Store. Let us tell you that this app was released in 2019 and it has been updated in 2020.
This app is of 44.18 MB. So far it has more than 10 thousand downloads. It has got a 3.8 star rating. This app can be downloaded on devices with version higher than Android 5.0. The reviews of users using this app are also better.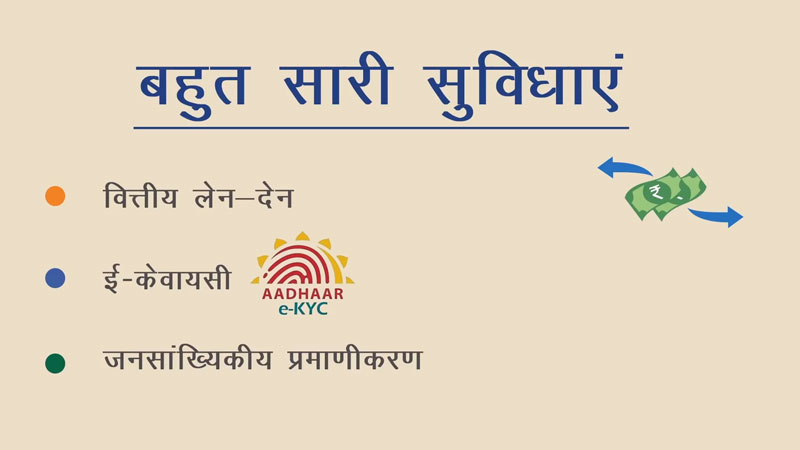 What are the benefits of using AEPS?
Now we will tell you what are the benefits a customer will get if he uses AEPS. These are as follows-
It is a secure payment platform due to the use of Aadhar card number and finger print. Chances of any kind of fraud are minimal.
There is no need of PIN or password for the transaction.
At present, there is no fee of any kind on the transaction through AEPS.
As you know this system is focused on Aadhar card number. In such a situation, there is no need for you to remember the bank account number.
If you have a biometric identification device then you can do the transaction sitting at home.
There is no need for the customer to carry a debit or credit card with him for shopping or transactions.
Who can use this system?
Friends, now the question must be coming in your mind that who can use this system? As we mentioned that payment through this system is done through Aadhar card number. In such a situation, it is very important for the person to have Aadhar card number and link it with the bank.
Let us inform you that there are 36 crore bank account holders in the country who have linked their Aadhaar card i.e. their unique ID to the bank account. All these people can use this payment service. We have already told you that after linking Aadhaar with bank account, work like fund transfer, balance enquiry, cash deposit, cash withdrawal can be done easily from AEPS.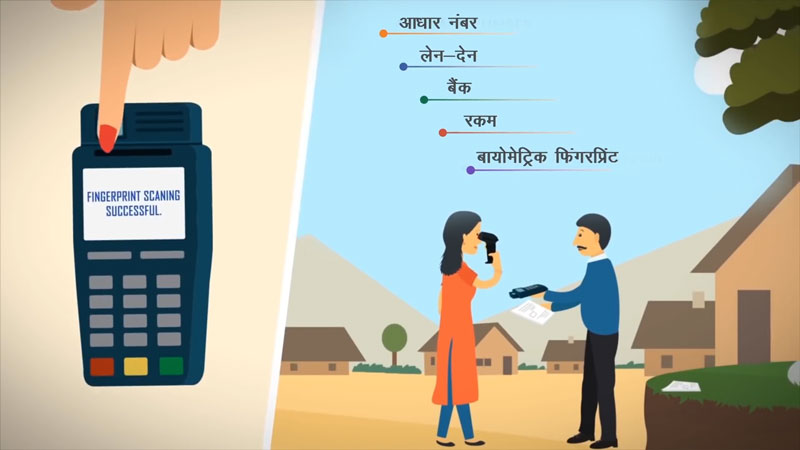 How does AEPS work?
Tell you friends that in AEPS Fingerprint reader (finger print reader) is used. Its price ranges from about 2000 to 4000 rupees. A software is also required for this.
Merchants can use it to take payments. The shopkeeper must have a smart phone to take the payment. At the same time, customers can pay only through their Aadhaar card number and biometric identification, iris scan, finger print.
What is a Banking Correspondent?
We just told you that you need to take the help of Banking Correspondent in AEPS system. Let us now know what is this banking correspondent? (Who is a banking correspondent?) Friends, you already know that before opening a bank branch at any place, banks do full division of profit and loss.
Opening a branch in villages many times is not a profitable deal for them. Because the population of villages is less and the cost of branch is more. In view of this, about 16 years ago, RBI allowed banks to use service providers as intermediaries to deliver banking and financial services to far flung areas. These are called business facilitators or banking correspondent.
Let us also inform you friends that banks have also made a provision for Banking Correspondent Sakhi to connect the women of villages with banking and financial services. She solves the financial transactions and other problems of the villagers with the bank. For this it is necessary that the woman should be from the same village where she has to work. In this way, the dual benefit of providing employment to rural women and bringing women's savings to the bank is being achieved through Banking Correspondent Sakhi.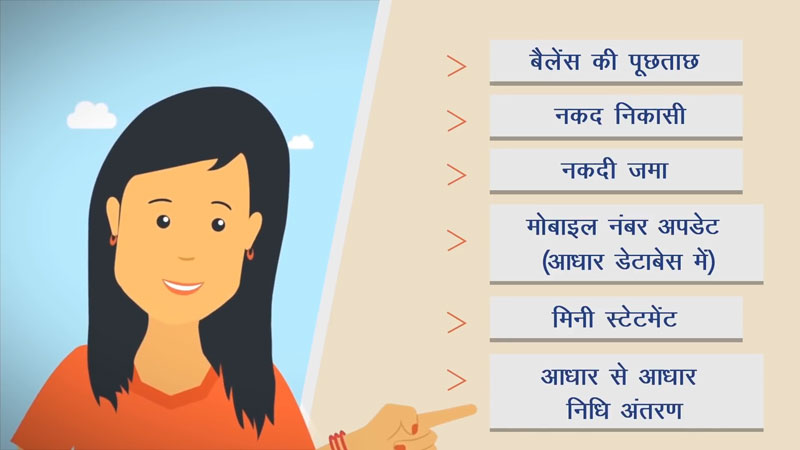 What are the obstacles in the way of AEPS?
AEPS is undoubtedly an ambitious scheme of the government, but there are many difficulties in its path. For example, if there is a network problem in any area, then there will be a problem in its running. Due to the slow speed, customers will not be able to take advantage of this service. Thirdly, even if the customers or BCs of the concerned area do not have complete information about Aadhaar Enabled Payment System, they will not be able to take advantage of it.
What is the full form of AEPS?
The full form of AEPS is Aadhaar Enabled Payment Service.
What type of service is AEPS?
It is basically a payment system i.e. payment system/service.
What is required for payment from this?
With this, the customer's Aadhaar number and biometric identification are required for payment.
By what means is biometric identification done?
Biometric identification is done through a fingerprint or iris scan.
Is it necessary to link Aadhar card with bank account to use AEPS?
Yes, only after that the customer can use AEPS.
How many customers in India have their Aadhar cards linked to their bank accounts?
There are 36 crore people in India whose Aadhar card is linked with their bank accounts.
What is the main objective of AEPS?
The main objective of AEPS is to bring the benefits of banking and financial facilities to the unbanked areas.
Who has developed AEPS?
AEPS has been developed by NPCI i.e. National Payment Corporation of India in consultation with RBI and member banks.
What facilities can be availed through AEPS?
Facilities like Cash Deposit, Cash Withdrawal, Balance Enquiry, Aadhar to Aadhar Payment can be availed through AEPS.
When will it be difficult to use AEPS?
If there is network problem in the area or if the speed is slow then it will definitely be difficult to use AEPS.
Is it safe to use AEPS?
Yes, AEPS is completely secure as Aadhar card is enabled and biometric identification like fingerprints are used.
Friends, in this post we have provided you with important information related to AEPS. Hope this information proves useful to you. If you liked this article, then do share it with your friends and acquaintances. You can let us know your thoughts regarding this post by commenting in the comment box below. ..Thank you..