Bihar Head Teacher vacancy 2022: Bihar head teacher vacancy 2022 | Bihar head teacher syllabus | Bihar teacher vacancy 2021,bpsc head teacher vacancy 2022,Bihar headmaster vacancy 2021,Bihar teacher vacancy 2022
Bihar Public Service Commission (BPSC) has issued notification for the appointment of 40 thousand 506 head teachers in primary schools of the state. Eligible candidates can apply online from 28 March to 22 April. A link has been made available on the Commission's website for application and examination fees. Joint Secretary cum Controller of Examinations Amarendra Kumar said that the complete process information has been uploaded on the website of the Commission. The choice of the district will be sought from the finally successful candidates. The commission will prepare an additional waiting list of 10 percent in all reservation categories and make it available to the education department.
Bihar Public Service Commission has issued notification, apply online till April 22
Only teachers appointed or employed on or before 2012 can apply for the post
1,210 posts reserved for backward class women
16 thousand 204 for general category, four thousand 48 for EWS, six thousand 477 for SC, 418 for ST, seven thousand 290 for EBC, four thousand 861 for BC and one thousand 210 for BC female. The position is fixed.
Four percent of seats for disabled candidates
Four percent of seats are also reserved for physically handicapped candidates. In this, 421 posts are earmarked for visually impaired, 410 for deaf-mute, 397 for orthopedically handicapped, and 392 for psychosis-multi-disabled. 810 posts are earmarked for the relative of the freedom fighter.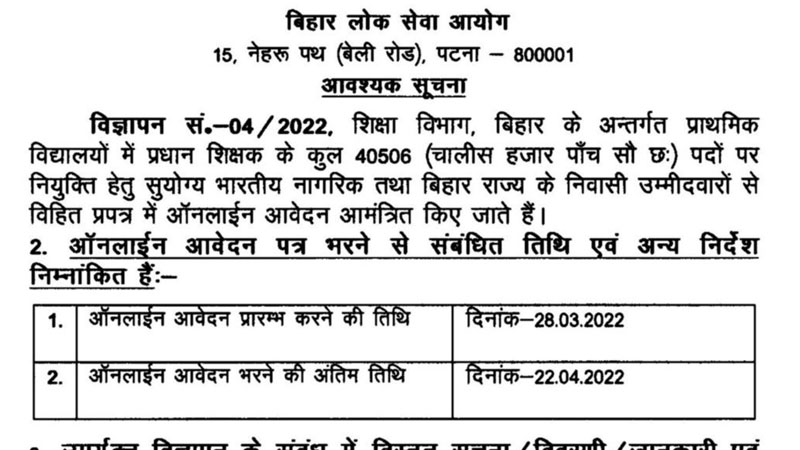 Qualification for Bihar Head Teacher
Must be a citizen of India and resident of the State of Bihar.
Degree of graduation from any recognized university with having minimum 50% marks. 5% relaxation shall be given in the minimum prescribed marks to the candidates belonging to SC/ST/EBC/BC/Differently able/female and EWS. The degree of 'Aalim' obtained from Maulana Mazharul Haque Arbi & Persian University, Patna/Bihar State Madarsa Education Board and degree of Shastri from Kameshwar Singh Darbhanga Sanskrit University will be treated to be equivalent to graduation.
Having quali fi ed D.El.Ed/B.T/B.Ed./B.A.Ed/8. Sc.Ed/B.L.Ed.
Having qualified Teachers Eligibility Test for those teachers who have been appointed in the year 2012 or onwards and Those Teaches who have been appointed before 2012 must be qualified efficiency Examination.
Having minimum 8 Years of regular service as basic grade teacher of Panchayat Elementary teacherfurban Elementary Teacher under Panchayat Raj Institutions and Urban Local Body Institutions.
Graduate teacher of Panchayati Raj Institutions or Urban bodies lnstitutions whose services are confirmed.
The aforesaid period shall be reckoned on the basis ofdate ofjoining or the date of acquiring eligibility of training whichever is of the later date
Must have passed proficiency and eligibility test
It is mandatory for the applicant to be a resident of Bihar along with an Indian citizen. Only those having teaching experience can apply. According to the commission, the applicant must have passed the proficiency test or teacher eligibility test in 2012 or earlier. Candidates who have passed the eligibility test to be conducted for appointment to the post of teacher in classes one to five and classes six to eight to be conducted by the state and central government can also apply. A minimum of eight years of continuous service is necessary for the basic category of Panchayati Raj Institution, Municipal Body, Panchayat Primary Teacher, City Primary Teacher.
Preference to an older person with same marks
In case of equal marks in the written examination, preference will be given to the older one. Age should not be more than 60 as of August 1, 2021, to apply. The qualifying marks are fixed to be included in the merit list. 40 percent for general category candidates, 36.5 percent for BC, 34 percent for EBC, and 32 percent for SC-ST, women, and differently-abled. For online application, candidates of the general category will have to pay Rs 750, SC-ST, women and more than 40 percent disabled candidates will have to pay Rs 200 examination fee.
DElEd, BT, B.Ed, B.Ed must be
The commission has also prescribed the educational qualification. Candidate must have passed graduation with 50% marks from a recognized university, 5% relaxation will be given for reserved category candidates. Alim degree of Maulana Mazharul Haque Arabic and Persian University, Patna and Bihar State Madrasa Education Board and Shastri degree of Kameshwar Singh Darbhanga Sanskrit University will be considered equivalent to graduation. Candidate must have D.Ed, BT, B.Ed, B.Ed, B.Sc., B.Ed degree from a recognized institute.
Issuing the notification for the appointment of 40 thousand 506 headteachers in the primary schools of the state, Bihar Public Service Commission's Joint Secretary cum Controller of Examinations, Amarendra Kumar said that the merit list will be issued on the basis of written examination.
There will be no interview in Bihar Head Teacher vacancy
There will be 150 objective type and multiple-choice questions in the written examination. There will be 75 marks from General Studies and 75 marks from D.El.Ed. The syllabus is uploaded on the website. Each question will be of one mark. For wrong answers, 0.25 marks will be deducted. The duration of the exam will be of two hours.
Apply till 28 for 6421 Headmaster Posts
Bihar Public Service Commission has already issued notification for the appointment of Headmaster in Higher Secondary Schools on March 4. For this, an online application is being taken till March 28. The monthly salary of the headmaster is fixed at Rs 35,000.
Head teacher's cadre will be different
The Education Department has determined a separate cadre of headteachers and headmasters through the Bihar Public Service Commission. Say they will be state employees. Headteachers will also be given special powers for school management and operation. These will be outside the placement units and these headteachers will have different cadre as well as different pay scales. The basic salary for the headmaster is proposed to be Rs.35 thousand. The basic salary of headteacher is proposed to be Rs.25 thousand.
The Legislative Council members have demanded suspension of the recruitment process of principals in schools by the Bihar Public Service Commission. Members Sanjeev Kumar Singh and Naval Kishore Yadav said that the online application has been made a joke. There are many inconsistencies in this. Just as the Vice-Chancellors of other states are being launched, similarly this process has been taken out for the appointment of the Principals from outside. The rules should be rectified immediately after meeting the Education Minister. On this, the Chairman said that he would talk to the Education Minister on this issue. I have seen it too. A request will be made to the Education Minister in this regard.
District Total Seats
Araria>>1327
Arwal>>335
Aurangabad>>1093
dandy>>1220
Begusarai>>738
Bhagalpur>>902
Bhojpur>>1139
Buxar>>651
Darbhanga>>1424
East Champaran>>1914
Gaya>>1697
Gopalganj>>1050
jamui>>828
Jehanabad>>547
Kaimur>>612
Katihar>>1115
Khagaria>>544
Kishanganj>>812
Lakhisarai>>473
Madhepura>>810
Madhubani>>1883
Munger>>536
Muzaffarpur>>1629
Nalanda>>1352
nawada>>963
Patna>>1980
Purnia>>1354
Rohtas>>1271
Saharsa>>754
Samastipur>>1540
Saran>>1436
Sheikhpura>>247
Sheohar>>216
Sitamarhi>>1107
Siwan>>1209
Supaul>>1047
Vaishali>>1112
West Champaran>>1639
TOTAL>>40506
Important Link
bihar headmaster vacancy,bihar head teacher vacancy,bpsc head master vacancy 2022,bihar pradhanadhyapak vacancy 2022,bpsc headmaster vacancy 2022,bihar headmaster vacancy 2022,bihar teacher vacancy,bpsc head teacher vacancy,bihar head master vacancy 2022,bihar teacher requirement online form,bihar primary school head master bharti 2022