Do you also want to know that Passport Kaise Banaye 2022, If yes then in today's article we will know about it? One Passport Basically, it is a travel document that is issued by the government of a country to its citizens. The basic purpose of a passport is that it gives ease to the passport holder to go from one country to another. In this way, in entering the border of another country from the border of your country.
If we talk about India then, a passport is considered a very important document in our country. It is used not only as identity proof but also as an important document if you are traveling abroad. It gives the right to its holder that he is an Indian citizen in a foreign place. An independent identity provides that you are an Indian citizen in the true sense.
Then let's know without delay how to make a passport sitting at home, here is how to check a passport Read it.
What is the age required to get a passport?
If we talk about India, then here you must be at least 18 years of age or above, then only you can make a passport for yourself. But in the case of minors, the validity of passports is 5 years or till they reach the age of 18 years.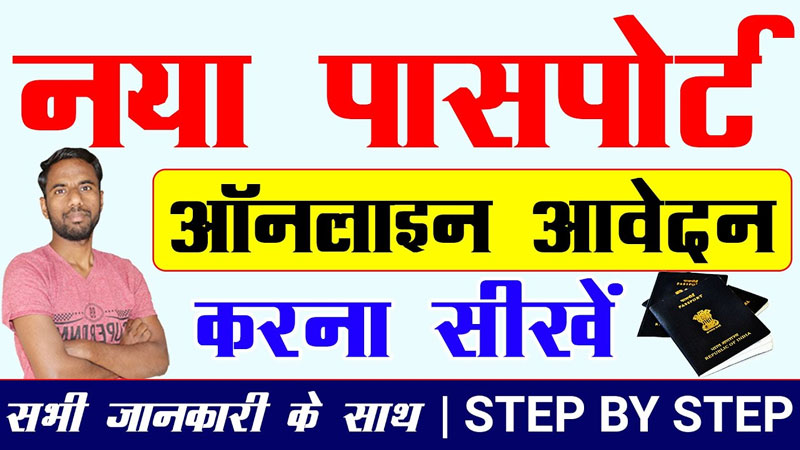 What are the documents required for passport 2023?
If you want to get a passport then you have to Documents required for a passport Only then you can apply for it. So let us know which documents are necessary for this.
Proof Of Present Address
If we talk about address proof, then you can use the documents given below.
Aadhar Card
Water Bill
Voter ID Card
PAN Card
Parent's Passport Copy (if your parent's passport is made)
Proof Of Date Of Birth
If we talk about Date of Birth Proof, then you can use the documents given below.
Also Read…
Passport Kaise Banaye 2023
By following the steps you can Passport Online Application will do.
Step 1 First of all you have to open a web browser on your computer or mobile. There you will find their official website "Passport Seva" ie, passportindia.gov.in will go on.
Step 2 If you have already created an account on this website then you have to log in to it. You can use your old login ID and password. But if you are a first-time user, then you will have to register first and then create a new account.
Step 3 For this you have to first go to the home page, then click on there. Register Now button, which you will find under the 'New User' tab.
Step 4: Now after that, you have to enter your user ID & password, then the captcha code The same will also have to be filled in for verification, and then click on 'Register'.
Step 5: Now, you can log in to the Passport Seva Online Portal with your registered login ID.
Step 6: Once you have a login, then you have to choose from the given options, here you have to click on the 'Fresh passport/passport reissue' link.
Step 7: Then, you have to fill all the required details in the application form and then click on the 'Upload form link, for further submission.
Step 8: Now onwards,' View Saved/Submitted Application' screen, click on the 'Pay and Schedule Appointment link, so that you can schedule an appointment.
Step 9: Then, at last, you have to click the 'Print Application Receipt' link so that you can easily take a printout of the application receipt, which you will need further. This receipt contains the application reference number or appointment number, which you have to maintain because you will definitely need it in the future.
Once your application process is completed and you have also filled the payment, then you need to visit the Passport Seva Kendra (PSK) / Regional Passport Office (RPO) near you. For this, you have to book an appointment in advance, and along with that you also have to take all your original documents for verification.
When you are applying for a fresh passport, try that you have never applied for a passport before. Otherwise, your passport may be canceled.
What is the mode of payment in the passport?
While giving payment in the passport, you always have to use online payment only. Because it is mandatory to book appointments in all Passport Seva Kendra / Passport offices.
If you want, you can use the modes given below to fill out your online payment.
Internet Banking
Credit/Debit Card
Once the information given by you is verified by the officials, then the passport is issued in your name that too within a few days. This time frame is often within 7 to 14 working days.
Where is the passport made?
Passports are issued by the Consular, Passport, and Visa Division of the Ministry of External Affairs. In New Delhi, the CPV processes official and diplomatic passport applications.
How much is the passport online fee?
For getting a passport online, a fee of Rs 1500 to Rs 2000 is charged.
In how many days does the passport arrive?
After the whole process is over, in 10 days your Passport can come to you.
what when making a passport Is Police Verification Compulsory?
No, while making a passport Police Verification is absolutely mandatory. In very few cases you need police verification.
What did you learn today?
I hope you like this article of mine Passport Kaise Banaye 2022 Must have liked it. It has always been my endeavor to provide complete information to the readers about how to apply for a passport online so that they do not have to search other sites or the internet in the context of that article.
This will also save them time and they will also get all the information in one place. If you have any doubts about this article or you want that there should be some improvement in it, then you can write low comments for this.
If you like this article on how a passport is made If you liked or got to learn something, then please share this post on social networks like Facebook, Twitter, etc.