Minecraft Education Edition is a version of the standard block-based game that focuses on education. While students will be drawn to the team regardless, educational controls will be able to assist them to learn while they interact with this virtual world.
Minecraft Education Edition is suitable for use both in and out of the classroom. Allow pupils to travel through space and time on a virtual field trip. Alternatively, have groups participate in a project regardless of their location.
Minecraft Education Edition is appropriate for students of all ages and institutions. Many colleges have used Minecraft to provide virtual tours and even orientation groups, as well as to help new students integrate online during remote learning periods.
Minecraft Education Edition isn't free, but that'll be discussed clearly. Then you may evaluate whether or not investing in this practically unlimited virtual environment is worthwhile.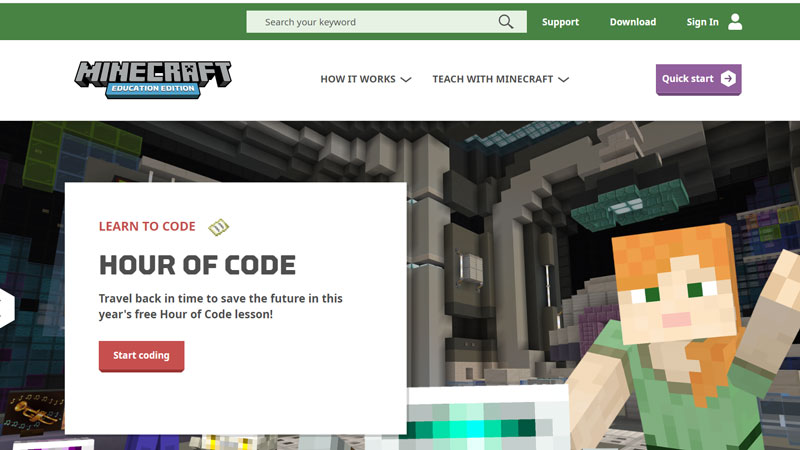 Minecraft is a game featuring virtual design controls and block-based graphics. Anyone can also use it to create virtual worlds in which they can play as a character and move about freely.
There are a lot of additional sub-games, but we'll simply focus on the Education Edition options.
Over the ordinary version, the Minecraft Education Edition adds specific tools for teachers that allow them to govern the virtual world their students are in. This fosters a safe environment, allows the teacher to keep students focused on a task, and provides for conversation.
The game is compatible with a variety of devices, including laptops, desktop computers, Chromebooks, and tablets. It's a terrific way to provide a virtual environment that doesn't rely on a network connection, making it much more comprehensive.
What Makes Minecraft Education Edition a Good Choice for Students?
Game-based learning has remained a popular teaching method for good reason. Minecraft, which is played by youngsters all over the world, with the Education Edition being played in over 115 countries, has a game nature that makes it immediately appealing and engaging for pupils.
The game develops project-based abilities and allows students to work on problem-solving topics independently or collectively. As a result, STEM learning takes place in an ecosystem that fosters both digital citizenship and real-world confidence.
This facilitates learning and assessment because students can capture a screenshot at any moment during or after the construction phase and give it to the teacher for evaluation. It's also a good approach for students to start building a portfolio of their work. Students can even learn to code while playing the game thanks to a Code Builder mode. Students can utilize code to experiment with introductory chemistry, and an underwater biome is available for oceanography inquiry.
Why Should Teachers Play Minecraft Education Edition?
Teachers can experience the benefits of participating in a community with other teachers with Minecraft Education Edition. There are lots to do, from engaging in discussion boards to cooperating with other institutions.
Teachers can use a variety of tools on the website to help them navigate the platform. There are tutorial videos and lesson plans available, with some of them being downloaded worlds that can be used as lesson templates. Mentors, trainers, and other instructors can all be found on the site.
Teachers can use the Education mode to see a map of the virtual world and zoom in and out to engage with each student. They can also direct a wandering student avatar back to their proper location.
Teachers also could utilize chalkboards to write out tasks and objectives to pupils, just like they would in the real world. Teachers can also make non-playable characters that act as mentors, guiding pupils from one activity to the next.
minecraft education edition download
How much need to pay for Minecraft Education Edition?
While the vision of an unending universe supported by a multiplicity of education-focused technologies that kids genuinely want to use seems costly, it is not.
There are two alternative pricing systems in Minecraft Education Edition:
– There is a $5 per user per year payment for a small, single-class school.
– Microsoft offers a volume license for schools with more than 100 students and several classrooms who want to use the game. This is included in the Microsoft Enrollment for Education Solutions program, and charges vary depending on the size of the institution and the version picked.
Of course, hardware needs to be discussed as well. Minecraft can be run on nearly all laptops, desktops, and tablets. Windows 10, macOS, or iOS for tablets, and Chrome OS for Chromebooks are the minimal requirements for the full PC versions.
What makes Minecraft Java and Minecraft Bedrock so different?
Minecraft is available in two versions, each of which is sold separately and is not transferable. So, which one should you choose? The original, Minecraft Java, is exclusively accessible for PC and may be downloaded from the company's website. Minecraft Bedrock Edition, on the other hand, can be obtained via mobile devices, consoles, and the Microsoft Store, and is compatible with all of them as well as Windows 10.
The trick is to make sure you and your pupils have the same version so you can collaborate online. In Bedrock, there is no hardcore mode, which means you can't respawn if you die. Spectator, which allows you to soar around and see the world, isn't either.
If you're buying the game for the first time, it's worth noting that the Java edition contains more freeware modding than the Bedrock edition, which has a lot of paid content add-ons. Bedrock, on the other hand, is better for cross-platform play and plays a little quicker.
What Is Esports and How Does It Work in the School environment?
Esports for education is the latest technology for students to learn both socially and academically.
As schools, colleges, and institutions utilize technology to help educate kids, esports is quickly becoming a strong tool in education. This isn't just for traditional study. it's also a means to help pupils socialize. Students that participate in extracurricular activities have been demonstrated to be more successful, with improved performance and general well-being.
The rise of cloud-based gaming and its subsequent success has paved the road for a considerably more inclusive and accessible approach to esports in education. Because gaming is cloud-based, it is easy to access from anywhere and eliminates the processing power issue, which is good for school budgets because it eliminates the need for expensive and powerful computers.
Why is esports in education a good idea? What exactly is esports?
Esports or Electronic Sports is a competitive gaming medium that pits players against one another in order to win. Often, this entails playing in groups to achieve a common goal as a unit.
While each player has his or her own gaming system, communication between players is frequently done through the use of a headset. Esports, like traditional sports, necessitate cooperation, communication, critical and strategic thinking, innovation, sportsmanship, and leadership.
This can all be seen and heard in real-time on the internet, which has helped esports evolve into a spectator sport and a billion-dollar industry with room to expand.
What Is the Role of Esports in Education?
Students must attend team meetings, practices, and official matches because esports is an extracurricular activity. Unlike many other sports, esports can be played from afar, lowering travel costs. This is especially advantageous for students who dislike change or who are unable to travel due to physical or mental health issues.
Each academic year is split into two distinct seasons: Fall and Spring. Each one has its own playoff season, in which the best teams compete in single-elimination matchups with online finals.
Weekly matches and training can make up the regular season. Leagues differ by age level, but some examples include League of Legends and SMITE, which both have five-player teams, and Rocket League, which has three-player teams.
What Esports Equipment Do You Need?
Many online gaming platforms, as previously indicated, provide cloud-based button-bashing action. However, many competitions will still require each player to have a computer capable of doing the processing. A good internet connection is necessary in either case to ensure a seamless and competitive gaming experience.
A computer, a keyboard, and a mouse are the most basic requirements for an esports gamer. A game headset for communication, a gaming controller for superb customizable controls, and team shirts are also included.
What Are Esports' Advantages?
Esports provide pupils with a sense of community, companionship, and social growth, to name a few advantages. According to a recent Pew Research Report, 84 percent of Season Zero participants said they found a community with which they could connect.
These encounters, in turn, can aid in the development of positive social-emotional conduct. Because the sport entails obstacles and setbacks, it can help people develop resilience and drive through success. Students learn how to admit weakness, seek help, and encourage others by working in a team. In a nutshell, it teaches empathy by way of experience.
According to research from the National Center for Education Statistics (NCES) found that kids who participated in extracurricular activities did better on arithmetic and reading tasks. Student gamers, in fact, have improved their STEM skills by spending hours researching data and techniques that may be applied to real-world situations.
The scholarship program is one of the most tempting aspects of esports. Currently, approximately $15 million in scholarships are available from over 200 colleges and universities. The main governing body for varsity collegiate esports, the National Association of Collegiate Esports (NACE), has granted millions of dollars in grants and scholarships.
Beyond competition, esports career prospects are expanding, including marketing, broadcasting, multimedia production, graphic design, coaching, hospitality, and sports management.
Which Esports Games Are the Best?
There are numerous games to choose from, and they differ per league. Some of the most well-known are:
CS:GO sOverwatch
Rocket League video game that is developed by Rocket League
Rainbow Six: The Siege is a video game developed by Rainbow Six.
Super Smash Bros. This Ultimate is a video game developed by Nintendo.
Madden 20 NBA2K20
Survival Games in Minecraft
Modern Warfare: Valorous Gunfight Fortnite
How Much Do Esports Cost in Schools?
Schools are taken into account by experts as an investment. Aside from the equipment expenditures, there are continuous league costs that must be met in order to compete on a national level.
PlayVS was launched in April 2018 and allows schools to form esports teams and compete in leagues with other schools in their area. The fee is $64 per student, each league, and for the entire season. However, that is a costly scenario.
A school can buy licenses for games like Rocket League, which are aimed at K-12 age groups, for roughly $20 each when purchased in a package of 150.
Fees can be paid by the student's guardian in the same way that fees for other extracurricular activities are paid. In some circumstances, schools receive funds to pay costs so that all children have the opportunity to participate.
eSports in the Classroom: How Is It Done? It's game time
Creating an eSports curriculum that promotes positive gaming behaviour
Create Anaheim Elementary School District in Anaheim, California
What: Establishing a curriculum based on eSports
I've been a gamer since I was 5 years old and have always been a part of the gaming community, but I've noticed that the intelligent forum has become progressively nasty. I was concerned that the culture that had brought me so much delight as a child would no longer be acceptable for my own children.
We've passed 20 years in school educating students how to be good digital citizens—how to participate in online discussions, ignore rude/bullying communications, and stay away from chat rooms—but we don't have any formal gaming instruction. This is where our course will enable us.
"Nurturing Positive Gamers" is a 9-week curriculum focusing on the social-emotional development aspects of gaming for 4th through 6th graders. We teach youngsters how to stay positive during difficult
gameplay mechanics, how to deliver constructive comments, how to overcome confrontations and more.
Results that are favorable
We've noticed a lot of progress in terms of student behaviour and confidence. Many players who may not have excelled in the classroom in traditional ways have become leaders of their Rocket League team. Shoutcasters are students who were always chatting in class and now have a full auditorium of 400 adults laughing and yelling with them as they broadcast from the stage.
Our teachers pushed for these students to be included in the program, and almost all of them have grown into leaders, role models, and have something to be proud of at school. They experienced achievement in a way that they rarely do throughout the academic day.
Games are an excellent medium for self-expression. Do you enjoy drawing? Do you enjoy music? Are you curious about how technology and audio-video systems work? There's a gaming job for you. It's all about possibilities and choices.
The Greatest Obstacle
Getting parents on board was one of the most difficult tasks. "
We organized parent meetings to address this. We had a lot of parents say they wished we'd begun sooner once we discussed the career opportunities, college scholarships, and the fact that their kids will play games online—and that we're guaranteeing that they do so in a constructive way. We're looking at making a modified version of the program for younger kids based on the comments we've received.
There are provincial and federal limits on what platforms students under the age of 13 can access in order to avoid inappropriate content and contacts. Playstation, Xbox, and PCs were effectively ruled out. Nintendo Switch comes with a built-in camera.
Pro Suggestions
Begin small. We've been hosting gaming competitions (through coding) for a decade, so adding this layer to an already established platform was simple. Start it up even if only one teacher is interested!
Don't be frightened to contact representatives from the industry. On a Friday night with my lads, I discovered seasoned professional gamer JoMo Senpai while watching Twitch. I asked if I may use one of his movies in our class and he agreed. He not only said yes, but he also offered to talk to our youngsters and may come to our Shoutcasters for in-person instruction.
We also sought out Psyonix (the Rocket League creators, or "dev"), announcer Adam "Lawler" Thornton, and others via Twitter. People in the industry understand that the future depends on the children who are already playing and that we all profit from it.
How Can Esports Help With Inequity?
Esports creates a fair playing field for all children by allowing them to compete, as well as fostering social-emotional development and STEM abilities. My school district approved the formation of my FH Knights esports squad, the country's first middle school esports team, in September 2018. In Rocket League, we're now taking on all comers.
Over the last two years, I've learned a lot about running an esports team as well as the value of esports in education.
Equality: Everyone can participate in esports.
For a variety of reasons, esports should be taught in every classroom. It's a terrific approach to educate social-emotional development, and it can help youngsters improve student performance and find a college pathway. However, one of the most appealing aspects of esports is its affordability. Esports tend to attract students who aren't interested in traditional sports, such as those with learning difficulties, physical limitations, or who are on the autism spectrum.
Esports is also popular among students of race, LGBT students, and those from lower socioeconomic backgrounds. Black kids play 30 minutes more per day than white students, and Latinx students play 10 minutes more per day, according to Northwestern University research. According to the Nielsen Company, 65 percent of all LGBT customers play video games of some sort, slightly outnumbering heterosexual players (63 percent ). According to multiple research, children from lower-income homes play more games than their more affluent peers.
Within your school, there's a good chance you have an underserved population yearning for a place to call home. Esports could be that location. We'll be able to connect with these historically underserved students once we've established a relationship with them.
STEM (Science, Technology, Engineering, and Mathematics) with esports
We must take esports seriously if we are serious about placing students in STEM fields. Esports is the world's fastest-growing industry, and many of the highly wanted STEM vocations that schools discuss can be found in or are related to esports. Esports has also been demonstrated to increase problem-solving, critical thinking, and focus skills in STEM students.
According to a recent poll of high school students who participate in their school's esports program, more than half of those kids plan to specialize in STEM disciplines in college. We can even provide hands-on experience before they arrive through esports.
The North American Scholastic Esports Federation (NASEF) has done an excellent job of using Throughout vocations in esports. NASEF promotes the concept of the team behind the team. I have a competitive esports team that competes against other schools and universities, but I also have a support team of strategists, administrators, content producers, and entrepreneurs—roles that my students take on to assist the team.
These are real-world roles that students can play. My student entrepreneurs work on tasks like using social media to promote our events and creating our shirts. Podcasts are hosted by our content creators, who also edit videos and design promotional materials. To assist construct a game strategy, our strategists record stats in a spreadsheet and watch videos of our opponents. Our organizers maintain our gadgets up to date and troubleshoot any issues that may arise.
Getting Over the Equity Gap
When you think of esports, or when edtech businesses pitch you on the technology you'll need to bring esports to your district, it may appear that you'll need to invest thousands of dollars on flashy machines. This is a widespread misunderstanding.
Consider alternatives to the Playstation. More than two-thirds of the teams in the middle school esports league I organized use devices that students bring from home, such as Xbox Ones.
Look for outside funding. PTAs and even Donors Choose have helped schools in my league fund activities. Many schools have obtained STEM scholarships to start an esports team since esports and STEM go so well together. Sandra Paul, Director of IT and Operations for Union Public Schools in New Jersey, a good friend, and excellent educator, collaborated with her leadership team to secure funding for videogames through a Category I award.
To start an esports team, you don't need to spend a lot of money. Make the most of what you've got. Your school or district may already have the resolution to your equipment needs. Many schools have already invested in high-end computers for their learning environments, and a laptop computer or PC that can be utilized for STEM activities like 3D modeling, video editing, or virtual reality can most likely run your favorite esports game. If not, highlighting their dual use as esports and STEM machines is an excellent method to get stakeholders to buy these devices.
Make contact with the gaming community. Go to the equipment if you can't bring the computers to you! Many businesses and colleges provide scholastic esports teams facilities to rent or contribute. In their stores, Microsoft hosts schools. Colleges and Lan Centers in New Jersey provide practice areas for esports teams. Find out what's nearby and ask if they'd be prepared to collaborate with you
Where there's a will, there's a way, as they say in education. You can start an esports team if you really want to. And you should make it happen because your students want and deserve esports in your school, along with all the advantages that result from it.
How to Get Begun with Cloud-Based Gaming in Universities, such as Sports facilities
Universities now have easier access to cloud-based esports as an educational tool than ever before.
When recent events prompted instruction to move online, video gaming as part of education took a great step forward, with esports playing a big role. Schools may now inexpensively offer a place for kids to participate in esports and game-based learning without the need for expensive gear thanks to advanced cloud-based technologies like Google Stadia and Microsoft Project xCloud.
Anyone with a Gmail account is eligible for a free Google Stadia pro membership, which is also available to any student. At the time of publication, registration includes a free nine-game bundle. Assassin's Creed: Odyssey, a game set in ancient Greece, is one of the most notable current instances of a good game that may be utilized for education.
The game offers a Discovery Tour option that allows the player to explore the interactive ecological integrity without having to worry about the story, quests, or battle. Students can enjoy a virtual tour of this historic land, stopping at well-known landmarks and cities. As the player proceeds through the adventure, quizzes can be utilized to assess learning.
That's only one case; there are plenty more. But why is cloud-based gaming so critical to this project's success?
Everyone can benefit from cloud-based gaming and esports.
The online nature of the processing is one of the most crucial aspects of cloud-based gaming, as evidenced by platforms like Google Stadia. Because all of the data processing is done in the cloud on powerful servers, the instructor or student's device does not need to be very powerful. As a result, more consumers will have access to high-quality, detailed experiences with immersive graphics.
Using games for learning has also become easier than ever before, with popular online games like Minecraft, owned by Microsoft, giving a free education option starting in June 2020.
Naturally, a good internet connection is essential, as the crunched data must flow as readily as possible with minimal lag in order to provide a fluid immersive element.
Due to considerations such as cost and implementation challenges, school technology advancements are often gradual. Cloud-based gaming avoids many of these issues, allowing for a speedier and more widespread adoption.
What is the minimum speed needed for cloud-based esports and gaming?
The speed requirements for cloud-based esports and gaming will vary depending on the platform and even the game being played. It will also differ depending on the resolution or frame rate at which the game is being played.
Google Stadia is an excellent demonstration of the top-end as a rough guide.
A minimum connection speed of 10 Mbps is required for Google Stadia, which allows for high-quality 720p 60 FPS gaming. A minimum bandwidth of 20 Mbps is required for 1080p HD gaming at 60 frames per second, while a minimum speed of 35 Mbps is recommended for 4K super high-quality gaming.
Minecraft, on the other hand, can be played on outdated smartphones and tablets.
How Can Schools Get Involved in Cloud-Based Gaming?
Getting established in cloud-based gaming and esports is a relatively simple and inexpensive procedure. A school or educator can create a club for students to participate in teams, or teachers can assign gaming-related assignments. A quiz about Greece, for example, based on the Assassin's Creed: Odyssey game could be similar to a quiz completed after a real-world field trip.
The real access is similarly straightforward. Because Google Stadia is free, students may simply log in with their Gmail account or create a new account. This is ideal for schools that currently use Google Classroom. Because it comes with free games, it's easy to get started right away – perfect for anyone who wants to try gaming in the classroom. If educators want to try out Microsoft Project xCloud, they'll need an Xbox Game Pass. While more than 100 titles will be available on mobile and tablet, a $14.99 monthly subscription is required.
There are device, non-cloud-based gaming platforms like PlayStation Now and Steam, but they can be pricey and aren't designed for teaching. However, many students may already have these gadgets and the necessary subscriptions, making them a viable choice. As with other well-known platforms, there are a plethora of titles and bonus games to choose from.
Cloud-Based Esports and Gaming Have a Great Future
With Microsoft and Google already committed to cloud-based gaming and esports, it appears that the way games are played is about to alter. The necessity for specialist gaming hardware becomes less important as internet connections improve. It also connects to smartphone-based gaming, which is becoming the major gaming platform for younger children.
All of this indicates that cloud-based gaming and esports will expand in terms of content and availability, lowering expenses. Educators will have greater possibilities to incorporate both into the classroom as a res"Accessibility for all"
Other universities and colleges have recognized the significance of Minecraft as well. Minecraft was used to hold debate practices at the University of La Verne in California, for instance. When COVID-19 first hit, Colin Coppock, a student, and president of the Lordsburg Debate Union, says the team started building a Minecraft hamlet for fun, but then realized it could be much more beneficial
"We discovered a program known as Yaatly," adds Coppock, "that holds online debates and has speaking times established in place." "Many of us found it easier to engage in online arguments since we had tangible avatars of friends in the Minecraft world." "
According to Coppock, the team benefited greatly from the mix of Minecraft and Yaatly. "
BEST, a student online gaming group at Brown University in Rhode Island, launched its Minecraft campus in March, inviting students, alumni, faculty, and staff to add decorations to the exteriors of each structure and design interiors. Almost 70 people took part, helping to foster a sense of community despite the fact that they all work remotely.
Griffin Beels, a senior and co-president of BEST, says, "One of the things we're working on is making sure it's in a ready state for admissions tours." "Including tours being unavailable, it's critical to have another medium—especially one that advances on the virtual tour by allowing individuals to roam around independently."
"Minecraft is incredibly approachable," says Isaac Kim, a Brown University M.D./Ph.D. student.
BEST intends to host portions of events in Minecraft in the future.
What Role Does Esports Play in Education?
By 2023, the esports gaming boom is expected to attract 307 million spectators, and schools are embracing it. Many schools have organized clubs for students to compete in leagues, and colleges are increasingly offering esports as a varsity curriculum.
Improved hand-eye coordination, visual-spatial reasoning, and self-esteem are all benefits of esports gaming. If students advance to the professional standard, they may be eligible for travel and financial options.
Additional advantages include how esports can promote equity and provide opportunities for growth through meaningful social contact when they are played in schools rather than at home.
Participation in extracurricular activities improves graduation rates and learning outcomes, which are both big pluses.
Problem with Esports in the Classroom?
All of this must, of course, be done in a responsible manner. In 2020, the American Academy of Pediatrics (AAP) issued screen time guidelines, stating that children under the age of five should be limited to one hour of non-educational screen time per day and that adults should "promote healthy practices and limit activities that incorporate screens."
Concerns about mental health, physical activity, rest, and familial ties are at the root of this. Parents and teachers have expressed worries about balancing these elements with screen time, with Minecraft, in particular, being a source of concern.
However, when these difficulties are closely controlled and handled, gaming and esports in school can provide a significant benefit.
How Colleges are Using Minecraft to Organize Activities and Events.
Universities and colleges have recognized the value of Minecraft in bridging the gap created by distance learning.
When the epidemic first broke out, leaders at Columbus State University in Georgia looked into different channels to see how they could better engage their students, especially incoming freshmen. Mariko Izumi, Ph.D., professor of communication and head of the Center for Experiential Learning and Career Design, adds, "We traditionally bring newcomers to a campground for an extended orientation we call PROWL." "Pride, Relationships, Opportunities, Wisdom, and Leadership" is what it stands for.
Second, third, and fourth-year students lead incoming students in activities to help them develop friendships during PROWL. Rather than logistics, the event emphasizes social-emotional learning. "You're less likely to drop out if you become friends with others," Izumi explains.
Yes, Minecraft Education is to thank.
Columbus State was able to establish a secure and inclusive environment for students thanks to the free educational edition of the popular building game. Students were allowed to use voice chat and share screens after introducing the Discord communication channel.
A group of computer science students spend 20 weeks creating a Minecraft simulation of the institution. They created it as authentic as possible by using topographical maps from the city. "We spent effort on corners, windows, and doors because we wanted incoming students to have a realistic simulation," explains Izumi. possible for the college to host PROWL in a virtual world?
A group of five computer science faculty members created interactive exercises within the platform to replicate the face-to-face part of PROWL. Thirty students and twenty new faculty members took part in the three-day event, which took place at the beginning of August. They "traveled" about campus, contributing to solving challenges like designing the perfect class and assisting a friend who refused to leave the room or attend a lecture. Teachers and students got to know one another, learn about college culture, and explore campus resources throughout the day.
. It's more difficult in a virtual environment, but we're proud of what we've accomplished," Izumi says.
The admissions department at Columbus State University may use the Minecraft environment for recruiting and campus tours, she says. Izumi also intends to run Minecraft PROWL next summer, so she and her team have started constructing the interior.
Accessibility for all
Other universities and colleges have recognized the significance of Minecraft as well. Minecraft was used to hold debate practices at the University of La Verne in California, for instance. When COVID-19 first hit, Colin Coppock, a student, and president of the Lordsburg Debate Union, says the team started building a Minecraft hamlet for fun, but then realized it could be much more beneficial
"We discovered a program known as Yaatly," adds Coppock, "that holds online debates and has speaking times established in place." "Many of us found it easier to engage in online arguments since we had tangible avatars of friends in the Minecraft world." "
According to Coppock, the team benefited greatly from the mix of Minecraft and Yaatly. " turn to speak, thinking of ways to make it more visually pleasing, such as adding trap doors or flower pots."
BEST, a student online gaming group at Brown University in Rhode Island, launched its Minecraft campus in March, inviting students, alumni, faculty, and staff to add decorations to the exteriors of each structure and design interiors. Almost 70 people took part, helping to foster a sense of community despite the fact that they all work remotely.
Griffin Beels, a senior and co-president of BEST, says, "One of the things we're working on is making sure it's in a ready state for admissions tours." "Including tours being unavailable, it's critical to have another medium—especially one that advances on the virtual tour by allowing individuals to roam around independently."
"Minecraft is incredibly approachable," says Isaac Kim, a Brown University M.D./Ph.D. student. "It can run on any device, including mobile." Nearly 200 people had signed up to build or participate by the end of August.
BEST intends to host portions of events in Minecraft in the future.
Educators' Tips & Tricks for Minecraft Education Edition
When used with the correct tips and tactics, Minecraft Education Edition may be a very powerful tool.
Minecraft Education Edition is a block-based game system utilized by teachers in over 115 countries to help kids learn in an immersive virtual environment.
Minecraft Education Edition is a terrific approach to engage kids in the classroom, both individually and in groups and may be utilized for remote learning. It provides an unconstrained approach to exploring virtual worlds and learning at the same time. Students may collaborate on projects, take virtual tours, and more in Minecraft Education Edition, with only their imagination and creativity limiting them.
This is accessible by all students and works on all devices, which helps to justify the cost. However, with a sliding pricing scale, there should be something to fit everyone's demands.
Here are the greatest Minecraft Education Edition tips and tricks to help students and teachers get the most out of the game.
Use the Minecraft Education Edition resource page to learn more about the game.
Using the resource page is one of the greatest methods to get started with Minecraft Education Edition and, more importantly, to keep continuing. It's jam-packed with hundreds of lessons that other teachers have already written and shared.
Teachers get immediate access to a variety of lessons across a variety of school grades and disciplines. To help you narrow in on what you need, search by subject and age. Once you've identified something useful, you can present it as is or modify it to better suit the task at hand.
If you're new to Minecraft Education Edition, the beginning kit in this collection of materials is a great place to start. Sample lessons, beginner worlds, training videos, and links to other educators who can help you ease into this blocky new world are all included.
In Minecraft Education Edition, go into survival mode.
Sure, the creative and exploring modes are the most obvious ways to use Minecraft Education Edition. The survival mode for education, on the other hand, is frequently disregarded. Because their virtual lives are on the line, it is one of the most interesting for kids. As a result, focusing on them isn't tough.
This mode, for example, can provide a fantastic opportunity for creative writing. Allow children to experience what it's like to survive a night by constructing shelters, scavenging for food, and avoiding monsters. Stop them in the morning (a night lasts about 20 minutes) and assign them the responsibility of recording their experience in as much detail as possible.
You could be astonished to discover writing qualities in some unlikely kids who merely needed to write to activate their more creative and descriptive abilities through experience.
With Minecraft Education Edition, you may start a group.
Minecraft Education Edition is an excellent approach to provide an extracurricular club where kids may communicate and form real-world bonds. While this can be done in a classroom, it can also be done online using a supplemental online video chat platform like Zoom or Meet to keep the students engaged.
When the group has a similar goal to strive toward, this method frequently works well. Making a virtual replica of a real-world school would be a nice place to start. You can choose how to scale and how accurate you want them to be, or you can leave it up to them.
A club like this may also be a good place to try out any new ideas you might wish to employ in class on a larger scale. Alternatively, assign the group to assist other departments. For illustration, a history teacher would construct a medieval environment, while a biology instructor might construct a rainforest complete with animal life.
Mentors from Minecraft Education Edition can be used
Using mentors is a terrific approach to either learn about Minecraft for the first time or increase your prospective alternatives. The Minecraft Global Mentors are a group of educators committed to bringing game-based learning into the classroom.
The mentors can be contacted via the Education Edition website as well as social media if they choose to be. The website provides a map of where a mentor is located, which is useful if you want to have a live chat but are concerned about time zones.
This is an excellent source of information about world-building, how to get started, and even some technical assistance.
Create a clear set of rules in Minecraft Education Edition
Students can get very enthused about gaming in class, as you might expect. That's why, in an otherwise open-world experience, it's important to clearly outline some principles and norms to help preserve limits. This can be accomplished by using the virtual blackboard to clearly communicate what is expected of students when they are in the virtual environment.
Setting a task – such as building a structure or learning through a predetermined plot mode – is one example. However, it can also incorporate any fundamental norms that you believe should be implemented. This can be a fantastic way to involve students in the creation of rules that they believe should apply to everyone in the virtual environment, giving them a sense of ownership and community while also ensuring that they follow the rules.
Conclusion
Minecraft Education Edition uses the tutorial world.
While many students are already familiar with Minecraft on their cellphones, the Education Edition offers a desktop-based experience that may require some acclimating. Others may not have even attempted to play the game. In either case, the tutorial world can assist you.
Allow the pupils to complete the tutorial first to familiarize themselves with the controls and game mechanics. Once they've mastered the fundamentals, you can start assigning jobs without concern.
Educators are no exception. Take the lesson and, who knows, you could learn something new or, at the very least, get a sense of how students would feel when they first come to this.