Studyrankers is a free educational platform for CBSE  students. There are many important things online free available for students of class 6 to class 12. There are a CBSE  syllabus, free notes, books, important questions and competitive exam questions too. Study ranker is a very nice website for students. So students can get all sorts of solutions under a single platform. It is very useful for all students and teachers. The beauty of the study rankers Website is the Multiple Choice Questions(MCQ). The MCQ is very useful for board students. Especially during the covid pandemic, the board exams are Objective-based exams. So this MCQ are very helpful for CBSE and state board students to score.
The following sections are included in the study rankers Website :
NCERT Solutions
This Section provides the solution to the NCERT books questions. It covers almost all the subjects for NCERT books. This Section has Hierarchy for solutions. You first need to choose your class. Later you select the subject book, followed by a chapter of that book. You will find the solutions chapter wise which e arranged exercise-wise so everyone can easily select the required solution in a very short time period. You will get all the solutions for each subject here easily.
Revision Notes
NCERT notes are the most effective technique to rapidly and thoroughly review significant and important topics during exams. They are written in a clear, simple, and accurate way, letting students easily grasp all of the complex concepts shortly before the exam. CBSE revision notes for Class 6 to 12 by Sudyrankers will be of excellent assistance to students who are struggling to revise the syllabus on time during exams.
It is important for youngsters to study carefully, understand concepts, and retain them in their brains. This will help them in obtaining average exam grades.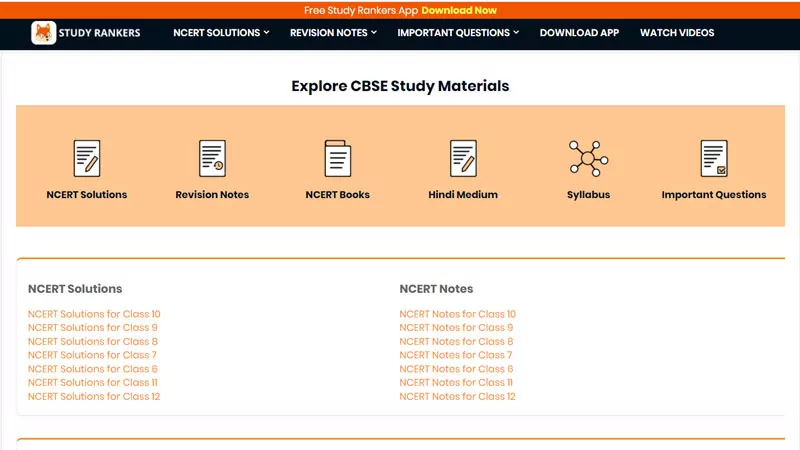 To achieve high scores, students must study properly. Maintaining a study schedule and sticking to it is essential for achieving your best exam result.
You must keep track of what was taught the day before and go over it again before the next lesson. Revision Notes for CBSE Class 6 to 12 are available on Study rankers, where you may get revision notes arranged by chapter and download them by clicking on the links provided. These revision notes will help you not just in your examinations, but also in your regular classes. Study rankers Revision Notes are the best strategy to succeed if you need to cover the full syllabus in a short period of time during your revision phase. This will not only save you time, but it will also help you understand your concepts better. You will do better if you review the topics constantly.
NCERT Books
This Section provides online easy service access to the textbooks of NCERT. The service contains textbooks of all subjects published by NCERT for class 6  to class 12. The chapter or the complete book can be downloaded from here. As nowadays most of the studies are online So these online NCERT books are very helpful for students.
Hindi Medium
As most of the materials are on the internet for English medium students. Study Rankers provide the materials for Hindi medium students also.
Syllabus and exam pattern
Study rankers provide the Syllabus and exam pattern for CBSE and state board exams. It describes chapter wise distribution of marks So it helps students in the board exams.
Important questions
The Central Board of Secondary Education (CBSE) is the academic foundation of student achievement. Students can use the CBSE key questions and answers to help them prepare for their semester year by setting a solid foundation.
These questions in PDFs contain chapter-by-chapter questions with solutions, and answering each one will provide full preparation not only for the upcoming CBSE Class 10 and 12 qualifying examination but also for competitive exams like the olympiad exams.
The Study rankers chapter-by-chapter important questions for the CBSE board have been expertly designed by subject experts to make sure that students receive the up-to-date revision in their respective disciplines as specified by the recent CBSE syllabus. Important questions with answers for grades 6 to 12 are available in a digital PDF format in this area.
Free Study Rankers App Download Now
Frequently Asked Questions (FAQ)
What is the Study rankers?
Study Rankers is a page of education on which you can get study-related information. Here you can get different information about the syllabus, study materials, important questions and solutions of CBSE classes. It provides the MCQ questions with solutions too. It also provides information about NCERT books and their solutions.
Can you get information about government job exams on Study rankers ?
No, you cannot get all the government exam related information here. But you get the study materials for the Competitive exams like KVPY and Olympiad. You can get the important questions and MCQ with solutions. So it will Helpful for students for scholarship exams.
Is it possible to obtain useful study materials through the Study rankers for state board exams?
Yes, Dear. By this website on the study rankers, you may get the most recent syllabus of different state boards and CBSE with many other things. You must go to the study ranker's page and click on the respective section. You can get all sorts of the required information and study materials for state boards.
CBSE Sample Paper Download 2022
Do you get multiple choice questions (MCQ) On Studyrankers website?
Yes, friends. You will find all the topics of NCERT books on the Study rankers website. You will find the important questions as well as the multiple-choice questions (MCQ) on this useful website. So, this MCQ is helpful for students for different Competitive exams and scholarship exams.
Conclusion
The Sudyrankers is a website that provides almost all solutions under a single platform for students. So, It provides almost all the study material and their exam related information. The website also provides information related to board exams and competitive exams. It provides all the important questions. Sudyrankers provide the full syllabus, study materials and important questions which is helpful for students as well as for teachers too. The latest syllabus and exam pattern are provided here. the detailed exam scheme and chapter-wise marks distribution there. hence, All the NCERT books and their solutions with important questions and Multiple choice questions are there.