How to earn money from Google Pay 2022 : Many of you must have heard or used the name of Google Pay. do you know that Google Pay se paise kaise kamaye, Today in this post we will tell about how to earn money from this google app?
Today UPI (Unified Payment Interface) It is time for transactions and many people do many types of transactions with the help of their smartphone while sitting at home, such as mobile recharge, electricity bill payment, money transfer etc. Google has already launched its Android app for UPI money transfer. Many people use this App for online money transfer in their smartphone.
Google Pay is much easier and more secure. It supports almost all types of banks. That's why today I thought why not you should be provided complete information about how to earn money from Google Pay. So without any delay let's start, how to earn money online,
What is Google Pay?
Google Pay There is a mobile payment app which is launched by Google. It is based on the UPI developed by the National Payments Corporation of India.
Google Pay is also known as GPay. First App launched by Google for UPI Money TransferGoogle Tez' but later its name was changed to 'Google Pay'.
Through this Google App, you can send and receive money to anyone using just mobile. All you need to do is to enter the amount and tap on Pay to make the payment.
Not only can we do online money transfer using Google Pay, but we also get various rewards for each money transfer.
Also Read…
Requirements to open an account in Google Pay?
If you want to have a Google Pay account then you will need mainly three things.
1. You have a bank account should be.
2. Your mobile number Your account number must be connected to.
3. You have ATM Or must have a debit card.
Now that you have definitely The account would have been opened. So let us now see how to earn money from Google Pay (GPay) easily.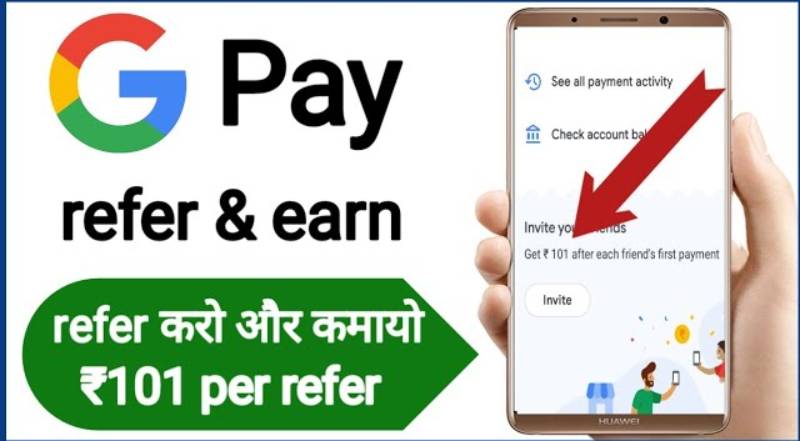 Google Pay Se Paise Kaise Kamaye 2022
Let's talk about how to earn money from Google Pay. Here are some simple steps that you can follow to earn money from Google Pay.
To earn money from Google Pay, first you have to install Google Pay application on your smartphone. You download the Google App from the link given below and install it on your mobile.
Step 2, Verify it
After installing the app on your phone, open the Google Pay app and then enter your phone number registered with the bank account and then Allow for your SMS, Contact and Location.
After that, it will automatically detect your email id, click on Continue. After that an OTP will be received in your phone. Verify Google Pay App by entering OTP. Keep in mind that this OTP is valid for a limited time only.
Step 3, set screen lock
After that, you have to choose Screen lock or you can create a Google PIN. Select the option and click Continue and set your Google screen lock or PIN.
Now your Google Payment Account has been created. Now, you have to link your bank account in it so that you can transfer money easily.
Step 4, Then add your Bank Account
Follow the steps given below to link Bank Account with your Google Pay account.
1. After completing the initial steps to open the app, tap on your name at the top of the screen.
2. After that click on Add Bank Account in the second page.
3. After that many options will be displayed in front of you, select your bank name from the list.
4. After selecting a bank, a pop-up will appear, tap on Allow.
5. After that another pop-up will appear on that click on OK.
6. A verification SMS will be sent; After that, your mobile number will be verified.
7. After verification, a new page will be displayed. Now to link a new bank account, you have to enter the last 6 digits of your ATM or debit card along with the expiry date of your debit or credit card.
8. After that, tap on an arrow on the right corner. OTP will be sent to your number.
9. Now you have to enter your ATM PIN and at last you have to tap on the correct symbol.
10. Now you have to set your UPI PIN.
11. You will get a text message confirming that your UPI PIN has been set.
12. You can now access your account.
Step 5, Then Send Rs.1 And Earn Cashback
After downloading the app from the link given above and following the above steps, if you do the first UPI money transfer from Google Pay or make any bill payment, then you will get a cashback of Rs 21.
If you send Re.1 to anyone then you will get instant cashback of Rs.5. This money will be transferred to your bank account soon. To do this follow the steps given below.
1. To do the first transaction, click on the New payment button.
2. After clicking on New payment, click on the option of UPI I'd or QR code. And select UPI.
3. Now enter the UPI ID of the person whom you want to pay.
4. Now enter your UPI PIN and send money.
5. Immediately after that you will get a cashback of ₹ 21.
You will receive a message once the payment is done.
Step 6, Share Your Referral Link
If anyone joins on Google from the referral link shared by you, then with the first transaction of that person you will get a cashback of Rs.101. For this follow the steps given below.
1. Open the Google Pay App and click on your profile picture icon located on the right side.
2. Click on Invite in the Invite and earn section.
You can also earn money by inviting and sharing your referral link on social media like WhatsApp and Facebook.
how to earn money from google pay
Below are some offers using which you can earn up to Rs.9,000 in a month from Google Pay App. here you how to make money from instagram can know.
1. Invite your friend on Google Pay (Earn Money With Refer And Earn,
If you invite someone and if that person downloads on Google from the link given by you, then the friend who invites gets 150 rupees and the friend who creates the account gets 21 rupees. Google Pay Rewards
These offers change regularly through Google Pay so use it as soon as possible. For this, open the Google Pay App and after scrolling down, click on Offers, you will get to see this offer.
It is not always certain in this offer that only 101 or 150 rupees will be available for referral, in this offer, the amount of reward by Google Pay keeps on increasing.
2. Pay Rs.150 or more Get a scratch card upto Rs.1000 (Rs.150 Transfer Reward,
Through this offer, if you pay Rs 150 or more to someone, then you will get a scratch card. With which you can get rewards up to 1000 rupees. Keep in mind that you can only win a maximum of 5 scratch cards within a week using this offer.
For this, you have to go to the offer section and find this offer. After that click on See offer details. After that click on Start Payment. After that whatever you want to pay, keep in mind that the amount you pay should be more than Rs 150.
3. Lucky Friday Scratch card which is worth up to Rs.1 lakh (Lucky Friday Scratch Card reward ,
If you use this offer in the above-mentioned ways, then you can win a scratch card up to Rs 1 lakh. One lucky user gets this prize every Friday.
To use this offer, keep in mind that the amount you pay should be more than Rs 500.
4. Pay your Monthly Bills that too on Google Pay (earn money by bill payment,
Using Google Pay App, you can make only one Bank Account Payment, but you can also pay Mobile Recharge, Electricity Bill Payment, Water Bill etc.
if you are like this Transaction If you do, you will get a scratch card from which you can win your prize up to ₹ 100000.
5. Welcome Gift! Get ₹ 80 Cashback (Welcome reward ,
In this offer, you have to make four payments of Min 30 rupees, after which you get a cashback of 80 rupees, you can send 30 rupees to a friend in the payment of Min 30 rupees.
You can scan and pay Rs 30, recharge mobile of Rs 30 or pay any bill of Rs 30, you are eligible for cashback on successful payment.
Some important tasks related to Google Pay
Here we will know about some such tasks related to Google Pay, which are very important tasks, if you want to use Google Pay properly.
How to Check Google Pay Balance?
Are you google pay balance want to check. Then follow the steps given below.
1. Open Google Pay.
2. Scroll down and tap on Check Account balance.
3. Enter your UPI PIN. After that your account balance will be displayed.
How to reset your Google Pay UPI?
If you forget your UPI PIN for any reason, you can create a new one in no time. All you need is your debit card details and need to follow a few steps to generate a new UPI PIN.
1. Open Google Pay.
2. In the top left, tap your photo.
3. Then tap on 'Method Payment method'.
5. Then tap on Forgotten UPI PIN.
6. Enter the last 6 digits and expiry date of your debit card number.
7. Create a new UPI PIN.
8. Enter the OTP received by SMS.
How to change your Google Pay UPI PIN?
if you own Google Pay UPI If you want to change the PIN, then you need to follow these steps.
1. First of all open Google Pay.
2. In the top left, tap your photo.
3. Tap on Payment method.
4. Tap the bank account you want to edit.
5. Tap on the three dots (right upper corner)
6. Three options will appear, tap on change UPI PIN.
7. Create a new UPI PIN, re-enter the PIN to confirm.
How to get cashback on Google?
All cashback on Google Pay is available in the form of scratch card, in which scratch card has to be scratched by tapping on it, then the amount shown in that scratch card, that cashback gets added to your bank account.
How much money do you get on recharging with Google Pay?
Recharging with Google Pay can be available from Rs 5 to Rs 50, which depends on the mobile recharge offer because the offers keep changing and accordingly you get cashback.
Apart from mobile recharge, cashback is also available on Dth recharge, cable recharge and other recharge, in which the first recharge pack can be got up to a maximum of Rs 50.
what did you learn today
I hope you like this article of mine Google Pay Se Paise Kaise Kamaye Must have liked it. It has always been my endeavor to provide complete information to the readers about how to transfer money from Google Pay, so that they do not have to search any other sites or internet in the context of that article.
This will also save their time and they will also get all the information in one place. If you have any doubts about this article or you want that there should be some improvement in it, then you can write low comments for this.
If you liked this post article how to earn money from google pay or got to learn something then please share this post on social networks such as Facebook, Twitter and other social media sites.