Mukesh Ambani Education: Mukesh Dhirubhai Ambani is a wealthy Indian businessman. Mukesh Ambani attended Hill Grange High School education in Mumbai. He completes a bachelor's degree in chemical engineering from the Institute of Chemical Technology.
Mukesh enrolled at Stanford University to pursue an MBA. He is the chairman, managing director, and major shareholder of Fortune Global 500 company Reliance Industries Ltd. (RIL). Hence RIL is India's most valuable corporation by market value. He was born on April 19, 1957. As per Forbes magazine, he is the richest person in Asia with a net worth of US$83.6 billion He is the 12th richest person in the world as of Feb 2, 2023.
Mukesh Ambani Early life
Mukesh Dhirubhai Ambani was born in the British Crown territory of Aden on April 19, 1957. His parents are Mr Dhirubhai and Smt. Kokilaben Ambani. He has two sisters named Dipti Dattaraj Salgaonkar and Nina Bhadrashyam Kothari. He also has a younger brother popularly known as Anil Ambani.
Ambani only spent some time in Yemen because his father decided to come back to India in 1958 to launch a spice and textile trading business. "Vimal" was the original name for it anyway. but it was later renamed to "Only Vimal." Until the 1970s, his family lived in a small two-bedroom apartment in Bhuleshwar, Mumbai.
When the family moved to India, their financial condition improved slightly, but Ambani decided to stay in a communal society, used public transportation, and never received an allowance. Dhirubhai purchased a 14-story building in Colaba called named "Sea Wind". Mukesh Ambani and his brother lived with their families on different floors in this building for years.
Mukesh Ambani Education
Mukesh Ambani attended Hill Grange High School in Mumbai, which is located on Peddar Road. His brother Anil studied there, as did his buddy Anand Jain, who later became a close business associate of his. He earned his bachelor's degree in chemical engineering from the Institute of Chemical Technology.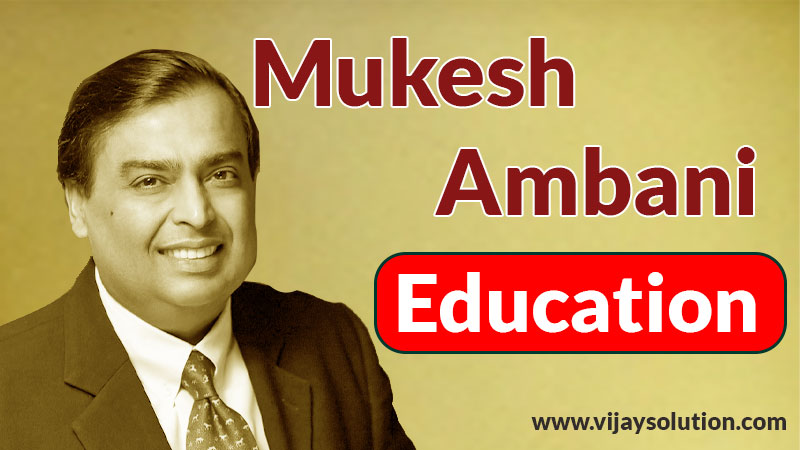 In the 1980s, he enrolled at Stanford University to pursue an MBA. But he dropped out of MBA to support his father's rebuild and expand his family reliance business. His father called him back from Stanford because he believed that real-life experiences, rather than studying theories in classrooms, would help his son understand businesses better.
Ambani took command of a textile manufacturing project in India after his arrival. He has gained energy and motivation from Man Mohan Sharma and William F Sharpe during his life. They essentially forced him to try out new approaches and come up with new ideas.
Mukesh Ambani's education short introduction
Hill Grange High School, Peddar Road, Mumbai
St. Xavier's College, Mumbai
BE degree ( chemical engineering) – the Institute of Chemical Technology.
MBA – Stanford University
Mukesh Ambani Career
He began assisting his father, Dhirubhai Ambani, in managing their family business, Reliance Industries Limited, in 1981. It had already progressed to include refineries and petrochemicals by this time.
Products and services in the retail and telecommunications industries were also part of the business. Another subsidiary, Reliance Retail Ltd., is India's largest retailer. Since its public release on September 5, 2016, Reliance's Jio has ascended to the top five in the country's communications services.
Ambani placed 36 on Forbes magazine's 2016 list, So he has consistently held the title of India's richest person for the past ten years. On Forbes' list of the world's most powerful people, he is a single Indian businessman. Mukesh Ambani has been the world's 6th wealthiest person, according to Forbes, as of October 2020.
In July 2018, he surpassed Jack Ma, the executive chairman of Alibaba Group, as Asia's richest person, with a net worth of $44.3 billion. He is also the world's wealthiest person outside of North America and Europe. According to China's Hurun Research Institute, Ambani currently ranked among India's charities in 2015. He was the first non-American to be appointed to the Board of Directors of Bank of America.
He purchased the Mumbai Indians team in cricket of the Indian Premier League and is the founder of the Indian Super League of cricket, a football league in India by Reliance.
Forbes ranked him one of the world's richest sports owners in 2012. He lives in the Antilia Building. That is one of the most expensive private buildings in the world along with a market value of $1 billion.
Mukesh Ambani Awards
In 2010, he was named the "Businessman of the Year" by the Financial Chronicle.
He was awarded the Business Council for International Understanding's "Global Leadership Award."
NDTV India honoured him with the title of "Business Leader of the Year."
In the year 2000, Ernst & Young India named him "Ernst & Young Entrepreneur of the Year."
He was awarded the University of Pennsylvania's "School of Engineering and Applied Science Dean's Medal."
Harvard Business Review named him the "5th-best performing global CEO" in 2010.
In 2010, Asia Society presented him with the "Global Vision Award at The Awards Dinner."
He was awarded an Honorary Doctorate (Doctor of Science) by M. S. University of Baroda in 2010.
He was named "Millennium Business Leader of the Decade" at the India Leadership Conclave and Indian Affairs Business Leadership Awards in 2013.
The Chemical Heritage Foundation awarded him the "Othmer Gold Medal" in 2016.
In 2016, the National Academy of Engineering named him a "Foreign Associate, U.S. National Academy of Engineering."
Also Read… Study Lamp features and designs that give you the choice to select
Career Starting
Indira Gandhi's government opened PFY (polyester filament yarn) manufacture to the private sector in 1980. Dhirubhai Ambani has applied for a PFY manufacturing facility licence. Because the government was banning large-scale production at the time, obtaining the licence was a lengthy procedure requiring a strong relationship within the bureaucratic system.
This made the importation of yarn for the textiles impossible. Dhirubhai was granted the licence despite tough competition from the Tatas, Birlas, and 43 other companies. To support him in the construction of the PFY facility, Dhirubhai drew his eldest son Mukesh Ambani from Stanford University, where he was pursuing his MBA, to join him at the company.
In 1981, Ambani lead Reliance's backward integration. So industries own their suppliers to generate more profit and improve efficiency, from textiles to polyester fibres and then to petrochemicals, from which the yarns were formed, from which he did not return to his course of study.
He reported to Rasikbhai Meswani, the company's executive director, on a daily basis after joining. The company was started from the ground up with the idea of everyone contributing to the success of the company rather than relying primarily on just a few key individuals. Dhirubhai treated him as if he were a business partner, allowing him to contribute despite his lack of experience.
This concept came into the picture after Rasikbhai's death and Dhirubhai's stroke, when the entire responsibility was transferred to Mukesh and his brother Anil. Reliance Infocomm Limited (formerly Reliance Communications Limited) was founded by Mukesh Ambani to focus on information and communications technology ventures. Ambani was given charge of the development of the Patalganga petrochemical facility when he was 24 years old, at a time when the firm was actively investing in oil refineries and petrochemicals.
Mukesh Ambani Career Struggle
Dhirubhai died on July 6, 2002, due to a second stroke hence escalating tensions between the brothers, as Dhirubhai had not written a will for the empire's dispersal in 2004.
Their mother intervened to end the fight . Hence separating the firm in two and handing Ambani administration of Reliance Industries Limited and Indian Petrochemicals Corporation Limited, which the Bombay High Court eventually approved in December 2005.
Mukesh Ambani was charged with criminal charges in February 2014. First Information Report (FIR) filed charging irregularities in the pricing of natural gas from the KG basin.
Also Read. Table lamp for study price, rechargeable etc…
Mukesh Ambani: Recognitions
Over a decade, Forbes Magazine has continuously ranked Mukesh Ambani as India's richest man he is India's single businessman on the Forbes list of the world's most powerful people. In January 2018, Forbes rated him 18th on its list of the world's richest people. With a net worth of $44.3 billion, he beat Jack Ma to become Asia's richest person in 2018.
Mukesh Ambani has the highest wealth in the world except in Europe and North America. Mukesh Ambani ranked seventh among India's donors by China's Hurun Research Institute in 2015. He was nominated to the Board of Directors of Bank of America's first non-American. Forbes named him one of the world's richest sports owners in 2012.
Mukesh Ambani placed third in the seventh edition of the EdelGive Hurun India Donation List 2020. The list was published on November 11, 2020, with a donation of 458 crores.
In the Mukesh Ambani Education post, I told you what is Mukesh Ambani Education, also I have given all the necessary information, hope you have got all the information. If there is any question related to this post then you can ask by commenting below.
Also, Read… Study job line website all information