PM Kisan EKYC: The process of e-KYC is started on the website of PM Kisan Yojana, but due to the problem in the website, the link is not working and e-KYC is not being done. So you would like to know When is PM Kisan eKYC's Last Date? And when will the e-KYC be started on the website of PM Kisan Yojana? So you must read this article till the end because in this article you are going to get the answer to all the questions related to PM Kisan eKYC.
PM-KISAN scheme not only ensures supplementary income to the most vulnerable farmer families but also meets their other needs, especially before the harvest season. Under this, Rs 2000 is sent to the account of each farmer. Under this, more than 10 crore farmer families will be benefited by the transfer of an amount of 20 thousand crore rupees.
PM Kisan eKYC Last Date 2022
| | |
| --- | --- |
| Article | PM Kisan Yojana e-KYC Last Date |
| beneficiary | all farmer brothers and sisters |
| Last date | 31 March 2022 |
| Website | pmkisan.gov.in |
| helpline | 155261 |
Where and how to complain?
If 2000 rupees have not come into your account, then, first of all, you should contact the accountant and agriculture officer of your area. If these people do not listen to your words or even after this money does not come into the account, then you can also call the helpline related to it. This desk (PM-KISAN Help Desk) is open from Monday to Friday. Apart from this, you can also contact on e-mail [email protected]. If still not working then call on number 011-23381092 (Direct HelpLine).
You can also check the status of this scheme yourself and apply. You can contact in the Farmer's Welfare Section of the scheme. Its phone number in Delhi is 011-23382401, while its e-mail id is ([email protected]).
PM Kisan Toll Free Number: 18001155266
PM Kisan Helpline Number:155261
PM Kisan Landline Numbers: 011—23381092, 23382401
PM Kisan's new helpline: 011-24300606
PM Kisan has another helpline: 0120-6025109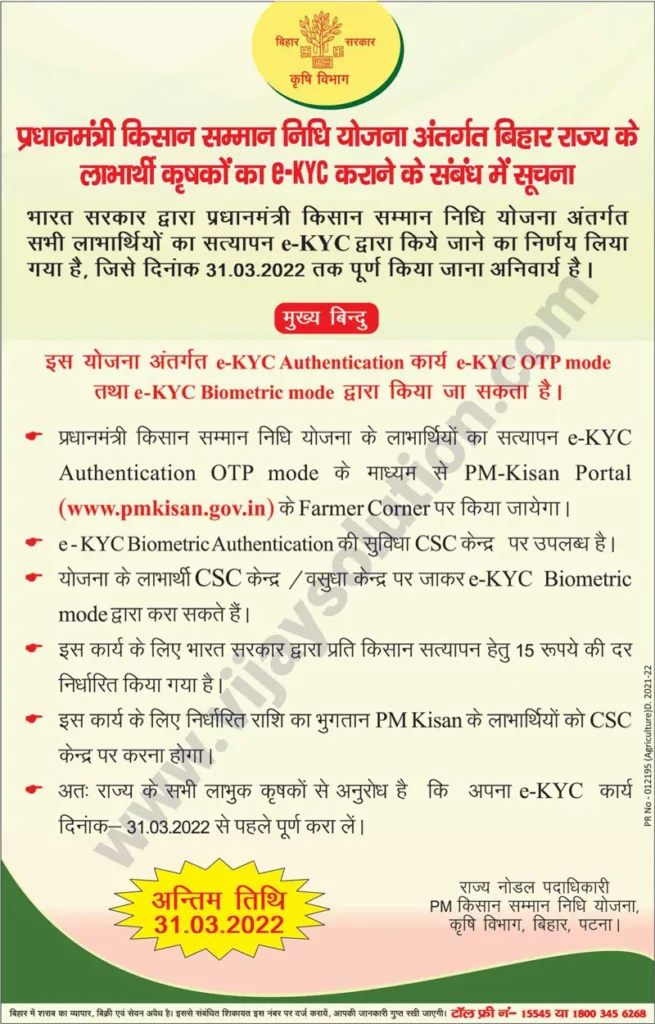 Check your status like this
There is a very easy way to check whether the 10th installment of PM Kisan scheme has arrived in your bank account. The government has given a complete list of all the beneficiaries on the scheme's website (pmkisan.gov.in). By simply going to its 'Farmer Corner', you can check whether you have received the money or not through any one of your bank accounts, mobile number, or Aadhar card number. After entering any one of these numbers, the details will be in front of you.
Is FTO written in the status?
If money has not arrived in your account. If FTO (Fund Transfer Order) is being written in the status, then understand that money is going to come. If it doesn't appear, then be sure that there is something wrong with your record. Go to the official site and check the spelling written in your name and Aadhaar. Money does not come before Aadhaar verification. Get the mistake corrected. Money will start coming in.
Which farmer's money stopped
If you want to see why whose money is stuck in your village, then it is very easy to know. You have to first click on the Beneficiary List in the 'Farmer Corner' on the right side of the website (pmkisan.gov.in). After this a board will open, in which you will fill the details of your state, district, tehsil, block and village. After that click on Get Report. After doing this, the whole list will be in front of you. In which you will be able to know why the money of which farmer has stopped.
Why is PM Kisan Yojana e-KYC not being done?
pmkisan.gov.in The e-KYC process is not being completed due to a technical problem on the website. The farmers are facing the following types of problems while doing e-KYC on the site.
OTP is not coming
Coming Soon.. showing,
OTP is not being submitted,
Unable to capture fingerprint
You do not have to worry about this, you just have to wait for a few days and after that, you have to do e-KYC.
When is the PM Kisan e-KYC last date?
Now it has been made mandatory for farmers to do e-KYC to get the next installment under PM Kisan Yojana. A tweet by the CEO of CSC Governance on Twitter reveals that PM Kisan e-KYC Last Date 31 March 2022 Till then. As in the photo below.
Therefore, you have to get PM Kisan e-KYC done before 31 March 2022 so that you do not face any problem in getting the next installment.
How to do PM Kisan e KYC Online/Offline
There are ways to do PM Kisan Yojana eKYC, one online and the other offline. Online you can do PM Kisan eKYC sitting at home by yourself, I have already written an article on this, in which I have told you How to do PM Kisan eKYC? You can read that article.
To do offline PM Kisan eKYC, you have to go to your nearest CSC center, where you take your Aadhar card and mobile number. After that give your Aadhar card to the CSC center person and tell your mobile number, after OTP will come on your mobile number. After verifying the OTP, you have to put your thumb fingerprint on the device, after that your PM Kisan e KYC will be done and you will get a receipt. As in the photo below.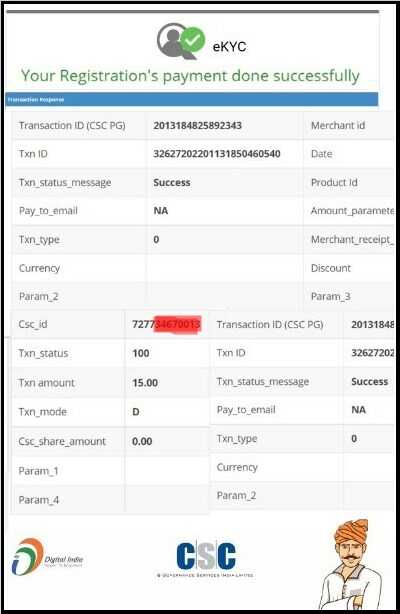 FAQ: PM Kisan e-KYC Last Date question and answer
u003cstrongu003eWhen is the last date for Pradhan Mantri Kisan Samman Nidhi Yojana eKYC?u003c/strongu003e
To take advantage of the Pradhan Mantri Kisan Samman Nidhi Yojana, the last date for eKYC is 31 March 2022.
u003cstrongu003eWhat will happen if PM Kisan does not do eKYC?u003c/strongu003e
If you do not do PM Kisan e-KYC, you will not get the incentive amount of 6 thousand rupees per year under the Pradhan Mantri Kisan Samman Nidhi Yojana.
Will the last date of PM Kisan e-KY be extended or not?
At present, there is very little hope of extending the last date of PM Kisan e KYC. It would be better that you get your e-KYC done as soon as possible, otherwise, you may face problems in the future.
I hope this article PM Kisan eKYC Last Date " You must have liked it very much and all the doubts you have in your mind PM Kisan Yojana E-KYC They would have been cleared regarding knowing like PM Kisan KYC Last Date, PM Kisan eKYC Last Date Kab Tak Hai, PM Kisan Samman Nidhi KYC Last Date, PM Kisan eKYC Last Date New Update, When is PM Kisan e-KYC last date? And so on If you still have any questions or suggestions PM Kisan Yojana e-KYC Last Date If you are related then please tell me by writing in the comment box below. I will reply to your comment within 30 minutes.
To know the step-by-step process of applying online or offline to take advantage of all the schemes of Bihar government and central government and to take advantage of them. www.vijaysolution.com Please visit regularly.
Thank you very much for taking your valuable time to read the whole article. Thank you! God bless you have a nice day.