SBI credit card band kaise kare : एसबीआई क्रेडिट कार्ड को बंद करना या बंद करना अक्सर जरूरी होता है जब आपको यह कार्ड इस्तेमाल नहीं करना होता है या आपको किसी दूसरे बैंक का कार्ड ज्यादा फायदा होता है। . If for some reason your SBI credit card is deducting additional charges. And if you want to close it then read the whole article carefully. In today's article, we will tell how you can close your SBI Credit Card band very easily. नीचे दिए गए स्टेप्स को फॉलो करें, आप अपना एसबीआई क्रेडिट कार्ड आसान से बंद कर सकते हैं
In today's time, it has become a fashion to have a credit card, wherever we need some extra expenses, we use our credit card immediately and for some time we meet our extra needs, but these Credit cards also bother us a lot later when we have to pay for them. Nowadays everyone uses more than one credit card and after some time gets upset and closes them.
But many times we do not know how to close the credit card completely, it can also have a bad effect on our credit score, that is why we should know the right way to close the credit card, today we are going through this article. You will know about India's largest bank SBI credit card band Kaise kare and believe that in this way you can easily close the credit card of any bank.
SBI Credit Card band Kaise Kare
How to close the credit card of any bank, there are very common methods which are used by all the banks, methods which you can also use to close your credit card, through this article we will We are going to give you information about all those methods, which are as follows-
how to close a credit card by calling customer care
How to close a credit card by visiting a bank branch
how to close a credit card via email
how to close credit card through net banking
how to close a credit card through SMS
By using the methods given on this, you can easily close the credit card of any bank or you can get the credit card closed through the bank, but before closing the credit card, some things are also especially important. Pay attention to what we are going to tell you.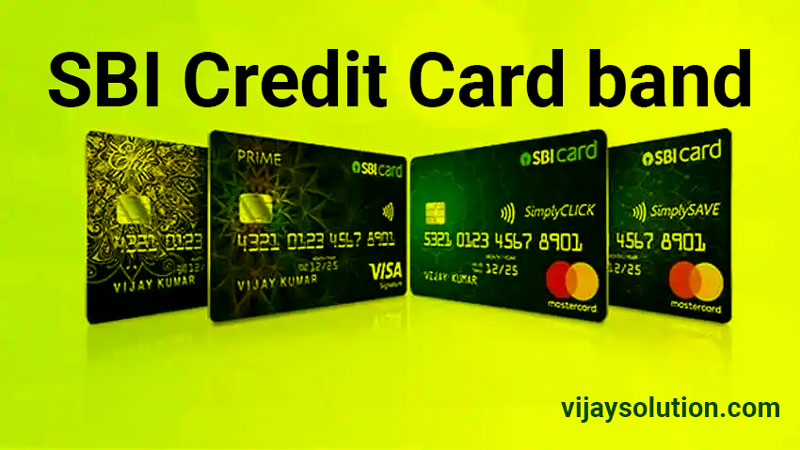 Things to keep in mind before closing SBI Credit Card
First of all, you should check whether there is any already outstanding amount on your credit card, if it is so, then close the credit card only after paying it on time, otherwise, your credit score may be affected badly in the coming time. It may be difficult to issue a new credit card or take a loan.
Also, if there are any reward points left on your credit card, then use them as well, otherwise, you may get bad credit points or reward points and their benefits will not be available later.
After closing the credit card, you should not use the card at all because once you have submitted the closure application, it may take some time and the amount used will not be paid, which will affect your credit score in the coming time. But it can have a bad effect.
How many ways are there to close an SBI credit cards?
According to the official website of the State Bank of India, you can get your credit card closed in 6 ways.
Customer Care
SMS
E-mail
net banking
Letter
Bank
How to Close SBI Credit Card by Calling the Customer Care Number?
To close the credit card of any bank, it can be done by calling their customer care number. To close the SBI credit card, a request to close the card can be put in by calling the numbers mentioned below. If lost or stolen, your card is closed immediately
SBI Customer Care Number–
1860 500 1290
1860 180 1290
39 02 02 02 (Prefix local STD code)
or 1800 180 1290 (toll-free)
You can call on SBI's customer support number at any time, remember that you should match the phone only with your registered mobile number, otherwise you may face problems in getting help.
How to Close SBI Credit Card through Net Banking?
To close your SBI Bank credit card through net banking, you have to log in to the SBI Card website with your net banking ID and password.
After logging in, the Services tab appears on the left side, on Jha all the options are given to close the card or issue a new card.
If you want to close your card completely, then you have to click on the option of 'Credit Card Closure'.
Now select the card you want to close and click on the next button.
If you already have some outstanding amount left, then you have to pay it, only after that, the card can be closed completely.
If there is no balance amount then you have to verify the OTP on your registered mobile number after which the process of card closure ends.
How do Close a Credit Card via Email or Letter?
To cancel your SBI credit card through email or letter, you will have to send the request for closure of the card to the email id of the customer care of State Bank, in which you will have to give your card-related details and your name and mobile number.
Customer care will call on your registered mobile number and confirm it at the stipulated time after which your card is closed completely.
To,
Mr. Branch Manager

Enter the name of the bank

Write full address of bank branch

Subject: Regarding closure of SBI credit card

Sir,

I humbly request that my credit card is from your bank which is running for a long time. Whose credit card number is – XXXX XXXX XXXX XXXX.

But at present I am unable to pay due to increasing interest rate and annual fee. I have decided to discontinue the facility of this credit card and I want that the service of this credit card should be disabled on your behalf. I have also paid the outstanding amount.

Therefore, I request Mr. / Mrs. to immediately stop this credit card facility of mine. I will always be grateful to Mr./Mrs.

Thank you

Name -

Address -

Bank account number -

Credit Card Number -

phone number -

E-mail -

Signature
Also Read…
How to close your SBI Credit Card by visiting the bank?
Friends, if you are unable to get your card closed by the above-mentioned methods, then you will have to do some hard work and visit the State Bank branch, where you will meet the credit card official to close your SBI credit card. The form has to be filled and the officer has to submit that form.
If some amount is left in your card, then the bank official will request you to pay it, after which your card will be completely closed. However, if you ever need a new credit card again in the future, then you can also get the closed card activated or apply for a new card, there will be no problem with it.
What is the annual credit card fee?
The charges of sbi card are different. The charges for Simply Save and Simply Click are Rs 499.
Can I change the PIN of SBI Credit Card through ATM?
Yes, you can change your PIN through ATM.