5G Technology Network: Discussion about 5G is going on in full swing in India. The auction of the 5G spectrum in the country has been completed and Reliance Jio, Bharti Airtel, Vodafone Idea and Adani Data Networks have bought their stake in it.
If we talk about the 5G launch date in India, then by the end of this year all the big telecom companies of the country will officially launch it and after that people in India will start getting 5G internet with 10 times more speed than 4G internet. . But there will be some questions in your mind regarding this. do you know What is 5G, How 5G Technology Works, and In what ways is this 5G better than Mehjuda 4G? If you want to know about all these things, then you must read this post. The phone and our relationship is very old and equally strong.
Where earlier phones used to be wired, then came the era of cordless and now wireless phones are running. Instead of the earlier basic phones, the people of today's generation use Smart Phones. With this changing appearance of the phone, its generation is also associated, which has decided the journey from 1G to 4G and is now moving towards 5G. In such a situation, it can be very interesting to know what is this upcoming 5G.
What is the technology used in it and how can it bring change in Mehjuda Mobile Industry? How can people be obliged by this, etc?
If we look at the last few years, then we will be able to know that every 10 years there is an increase of one generation in the field of mobile technology. As we started First Generation (1G) in the 1980s, Second Generation (2G) in the 1990s, the Third Generation (3G) in the 2000s, Fourth Generation (4G) in the 2010s, and now Fifth Generation (5G) is acquitted.
We are slowly turning towards more sophisticated and smarter technology to hire. That's why today I thought that why you should not be provided complete information about what is 5G and how it works so that you also know about this new technology. So without delay let's start and know What is 5G Network And When will 5G come to India,
What is 5G – 5G Technology
5G stands for 5th Generation Network. 5G technology is a type of wireless connectivity, in which the electromagnetic spectrum ie radio waves (radio waves) are used. It is a new technology in mobile networks and 5G network will play a much bigger role in the wireless data sector than all previous network generations. 5G networks are the next generation of mobile communications, whose speed and capacity will be 100 times faster than our current 4G.
5G or Fifth Generation is an upgrade in Long Term Evolution (LTE). Fast internet speed will be available in 5G, its network will also be good. 5G works in three bands – low band, mid and high-frequency band spectrum. Recently the auction of these has been completed. 5G networks are expected to offer much higher data rates, lower latency and better reliability.
All three bands have their own advantages and disadvantages. Low Frequency comes 600 MHz, 700 MHz, 800 MHz, 900 MHz, 1800 MHz, 2100 MHz, 2300 MHz, which is almost the same as 4G. After this comes the frequency of 3300 MHz in Medium Frequency. At the same time, the frequency of 26 GHz comes in High Frequency. This means that 5G networks will be able to transmit more data over shorter distances, which will enable new use cases such as augmented reality and autonomous cars.
The next-generation cellular network will support a range of new technologies that are not yet widely available, such as autonomous vehicles, virtual reality (VR), augmented reality (AR) and more. It is expected that 5G will support speeds of 20 gigabytes per second (GB/s) or higher by 2023.
4G networks, known as LTE, were introduced in 2009 and have been widely adopted by carriers around the world. The key difference between 5G and 4G is that while 4G networks mainly focus on capacity, 5G networks will focus on both capacity and latency or speed.
5G networks and services will be deployed in several stages over the next few years to meet the needs of ever-increasing mobile and internet-enabled devices. Overall, we can generate a lot of variety of new applications through 5G.
4G is currently expanding in India, but telecom operators around the world are preparing to bring 5G, the next generation of mobile technology. That is why he has started preparing to bring 5G.
Join The Four More Shots Season 3 Telegram Channel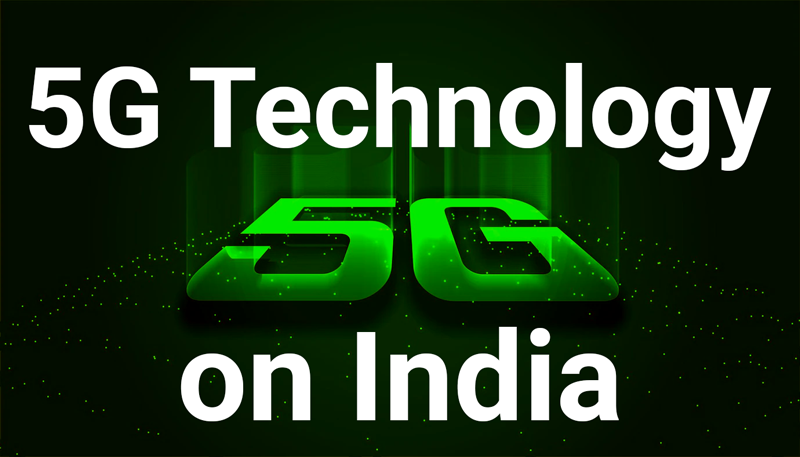 Also Read…
Features of 5G Technology
Right now we know about some special 5G technology features. Let us know what are the new features in 5G technology that Mehjuda network technology is not in.
It should have up to 10Gbps data rate. With this, there should be network improvement in the rate of 10 to 100x as compared to 4G and 4.5G networks.
Having 1-millisecond latency
1000x bandwidth per unit area
In this, we can connect up to 100x the number of connected devices per unit area (if we compare with 4G LTE)
It is available all the time. Hence its availability is up to 99.999%
Apart from this, it provides 100% coverage.
It helps a lot in saving energy. Which it helps in reducing network energy usage by almost 90%.
In this you low power IoT devices Which can give you power for about 10 years.
It has a highly increased peak bit rate
Higher data volume per unit area (ie. higher system spectral efficiency)
Has more capacity which helps it to be connected concurrently and instantaneously with more devices
It consumes lower battery
It provides better connectivity if you talk about any geographic region.
It can support more number of supporting devices
It takes very less cost to do infrastructural development
There is more reliability in its communications
What is Network Latency?
It is expected that the 5G network will not only provide better connectivity but due to the transfer of data on new radio frequencies by advanced antenna technology, the data transmission speed will increase significantly and the network latency, ie latency, will also be reduced.
Now you will ask what is network latency. Actually, when you do some search on the Internet from a mobile, then the time taken between your phone and the target server is called latency. This latency is 40ms (40 milliseconds) in the 4G network, which is estimated to be 1ms in the 5G network.
That is, you clicked and the answer will appear in front of you in a millisecond. The 5G network will also have the feature of network management so that through network slicing, mobile operators will be able to create different virtual networks in a single 5G network, which will also maintain consistency and speed.
How 5G Technology Works
Wireless networks mainly consist of cell sites which are divided into sectors that send data through radio waves. It would not be wrong to say that the fourth-generation (4G) Long-Term Evolution (LTE) wireless technology laid the foundation for 5G.
Where 4G requires large, high-power cell towers to radiate signals over longer distances, transmitting 5G wireless signals requires many small cell stations, which are located in small spaces such as Can be mounted in light poles or building roofs.
Here multiple small cells are used because it is in the millimetre wave spectrum — the band of spectrum is always between 30 GHz to 300 GHz and since 5G needs to generate high speeds, which are only short distances. can travel.
Apart from this, these signals can be easily interfered with by any weather and physical obstacles, such as buildings.
If we talk about the wireless technology of the first generation, then the lower-frequency bands of the spectrum were used in it. Along with this, the wireless industry has thought of using lower-frequency spectrum in 5G networks so that network operators can use the spectrum that they already have. It is Mehmood.
One thing we should keep in mind is that the lower-frequency spectrum always covers more distances but has lower speed and capacity than the millimetre wave. read from here How 5G Network Works,
Which radio waves are used in 5G?
The electromagnetic spectrum ie radio waves (radio waves) are used in 5G technology. Information about 5G technology can be found by understanding about radio waves. According to the scientific definition, the number of times a radio wave repeats itself in a given time interval is called wave frequency.
This frequency is measured in hertz. The amount of time a radio wave takes to repeat itself is called its wavelength. When the frequency of radio waves is increased, their wavelength starts decreasing. In such a situation, when the frequency is high (or the wavelength is low), the waves reach from one place to another rapidly, but are not able to travel much distance.
The reason for this is that due to the short wavelength, radio waves are not able to penetrate different surfaces. Conversely, radio waves can travel a long distance even at low speed when the frequency is low and the wavelength is high.
5G network launch date in India
DoT has confirmed the installation of a 5G network in 13 cities of India by the end of 2022, which includes cities like Mumbai, Delhi, Kolkata, Chennai, Gurugram, Bangalore, Chandigarh, Ahmedabad, Jamnagar, Hyderabad, Pune, Lucknow and Gandhinagar.
As per reports, Jio, Airtel and even Vodafone have already set up their test sites in 13 cities which are expected to get 5G services. As per reports, Airtel and Jio have claimed to be the first operators to launch 5G services in India.
What are the advantages of a 5G network?
After the introduction of 5G mobile service, the world of mobile telephony will change. According to an estimate, the speed of 5G will be 10 times more than 4G. After the start of the 5G service, a new era of automation will start.
The things which have so far been limited to the big cities will be accessible to the villages. This includes e-medicine, education and the agriculture sector will benefit tremendously. After the launch of the 5G service, the digital revolution in the country will get a new dimension. Robotics technology will develop. The country's economy will get momentum. Also, e-governance will expand.
Given the way our dependence on the Internet has increased since the Corona crisis, 5G will help in making life better and easier for every person. 5G technology will open new avenues for artificial intelligence, healthcare, virtual reality, and cloud gaming. The possibility of a driverless car will be fulfilled through this. Machines will talk to each other on a 5G network.
What are the advanced features of 5G?
If we compare this new 5G technology with the earlier radio technologies, then we can see the following advancements in it such as –
In this, we can get practically super speed which is 1 to 10 Gbps.
Latency here will be 1 millisecond (in the end-to-end round trip).
With this, there is 1,000x bandwidth per unit area.
It can easily connect up to 10 to 100 devices.
It provides Worldwide coverage.
Apart from this, it has a hand in an energy reduction of about 90%.
Battery life is very long in this as compared to others.
With this, the whole world becomes a wifi zone here.
What is the spectrum band of 5G?
5G Networks 3400 MHz, 3500 MHz And 3600 MHz Run on bands. The 3500 MHz bands is considered ideal. Millimetre wave spectrum can play an important role in 5G. They are called millimetre waves because they have a length of 1 to 10 mm.
Millimetre waves operate at frequencies from 30 to 300 GHz. So far these waves can be used in satellite networks and radar systems.
If millimetre waves are used in 5G, then the credit will also go to Sir Jagdish Chandra Bose. He showed in 1895 that these waves could be used for communication.
What is the benefit of 5G?
The first advantage of 5G is that it will be able to deliver much faster data speeds than 4G. This means that there will be very little buffering when streaming videos or downloading large files.
Another advantage is that it will have much lower latency than 4G networks. This means there should be less lag when playing online games or talking to someone on the phone, for example.
5G networks are set to revolutionize the world of digital connectivity. It will not only provide faster data rates and better latency but will also support new use cases such as autonomous cars, IoT devices, and more.
The 5G network will be based on a new air interface technology called IMT-2020 which is set to improve the performance of mobile networks by 10 times. This means that the 5G network will provide the following benefits:
fast download speed
better latency
Support for more devices
Ability to transmit large amounts of data
with low power consumption
What are the disadvantages of 5G?
Despite the advantages of 5G, it is not without its disadvantages. The most significant disadvantage is that it would require more than 4G towers to be installed. This is because higher frequency means shorter distances and more powerful transmitters are needed to deliver the signal.
Another disadvantage of 5G networks is that the deployment of new infrastructure will be costly. It would cost billions of dollars to install all the new equipment and towers needed for a 5G network, which could take decades to complete.
5G network is not available in all regions.
5G network is expensive for consumers.
A 5G network is not an ideal solution for high-volume data requirements.
What are the applications of 5G?
Let's know about some important applications
It can become a unified global standard for the whole world.
Through this network, availability will be all around so that more and more people will be able to use this excellent technology anytime and anywhere.
Due to IPv6 technology in this, the IP address of the mobile will be assigned according to their connected network and geographical position.
It has the ability to turn the whole world into a real Wi-Fi zone.
Through its cognitive radio technology, different versions of radio technologies can use the same spectrum efficiently.
Through this technology, people of higher altitudes can easily get the facility of radio signals.
When will 5G come to India
you must be thinking When will 5G mobile launch, The government has started preparations for the auction for the 5G spectrum. The government has asked TRAI to suggest starting prices for auctioning the 3400 to 3600 MHz bands. TRAI has started work on it. The Department of Telecom may soon bring a policy in this regard.
In fact, experts believe that regulatory conditions for data hosting and cloud services should be changed before bringing fast wireless technology like 5G to India.
Jio is going to start its 5G service in India on 15 August 2022. Airtel will be launched by the end of August 2022. No update from another network yet.
When will 5G Internet be launched in India?
5G Internet will be launched in India by the end of 2022.
Can we upgrade our 4G Handsets to 5G?
This has not been fully confirmed, but experts believe that we users can use 4G mobiles in 5G network.
What did you learn today?
I hope you guys What is 5G Would have understood.
I request all of you readers that you also share this information with your neighborhood, relatives, your friends so that there will be awareness among us and everyone will benefit a lot from it. I need your cooperation so that I can pass on more new information to you guys.
It has always been my endeavour that I should always help my readers or readers from all sides, if you people have any doubts of any kind, then you can feel free to ask me. I will definitely try to solve those doubts.
you this article What is 5G Technology and when will 5G be launched? How did you feel, do tell us by writing a comment so that we too get a chance to learn something from your thoughts and improve something? Please share this post on social networks like Facebook, Twitter etc. to show your happiness and curiosity towards my post.