Narak Chaturdashi : do you know that after all Why is Chhoti Diwali celebrated? If not, then in today's article you will understand all those reasons in detail, so that the doubts of your mind will also be cleared. Among all the festivals celebrated in India Diwali, It has great importance from both social and religious points of view. It is also called Deepotsav. Diwali, which is also called the festival of lights, is going to come after a few days. It is also called the Festival of Lights.
Marking the victory of good over evil and light over darkness, in the celebration of Diwali people worship Goddess Lakshmi, exchange sweets, and greet their loved ones. This Diwali festival is a festival of about five days, while there is also a part of Chhoti Deepawali which is celebrated with great pomp.
For your information let me tell Dhanteras And the day between Diwali is called Choti Diwali. This day is also known as Narak Chaturdashi and Roop Chaturdashi. On this day people celebrate the day by lighting their homes as they now wait for the main day. There are many legends related to this day, about which we will know later. So without delay let's know that Why do we celebrate Choti Deepawali?
What is Narak Chaturdashi?
Narka Chaturdashi is also known by other names like Narka Chaturdashi, Narka Puja or Roop Chaturdashi. This festival of Narak Chaturdashi is celebrated on Chaturdashi of Krishna Paksha of Kartik month. According to the belief, worshiping with full rituals on the day of Kartik Krishna Chaturdashi, one gets freedom from the sins committed during the lifetime, and there is no fear of suffering in hell and premature death.
Along with this, there is also a practice of donating a lamp in the evening on this day, this lamp is done for Yamraj, according to the legends, Yamdev is worshiped on this day. This festival of this series of Mahaparva has its own importance.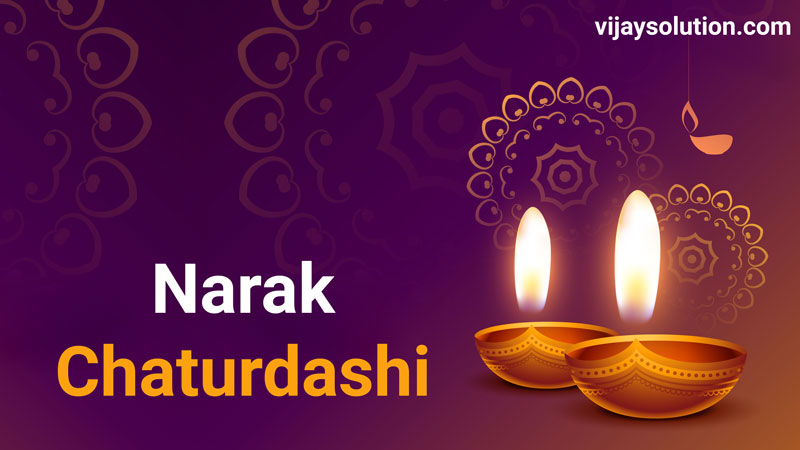 when is Narak Chaturdashi
The festival of Narak Chaturdashi is celebrated every year on the Chaturdashi Tithi of Krishna Paksha of Kartik month. On this day, before sunrise, after applying oil on the body, putting chichi leaves in water and bathing, it is believed that good health is achieved and the fear of hell ends.
Why is the festival of Narak Chaturdashi celebrated?
According to mythology, on the day of Naraka Chaturdashi, Lord Krishna killed the tyrannical and evil demon Narakasur. 16,100 girls were kept captive by Narakasura in his captive home, Shri Krishna freed these girls from Narakasura's captivity and with the help of wife Satyabhama had given them respect by marrying 16,100 girls. The tradition of donating lamps was started on Naraka Chaturdashi to commemorate the liberation from the bondage of girls and the killing of Narakasura. For this, lamps are lit and decorated, and the festival of Narak Chaturdashi is celebrated.
Importance of Narak Chaturdashi
There is a mythological significance of lighting a lamp and donating a lamp on the day of Narak Chaturdashi. On this day, darkness is dispelled by the lighting of diyas in the evening, that is why Narak Chaturdashi is also called Chhoti Diwali. On this day, after killing Narakasura and liberating 16,100 girls from bondage, there is a special significance of conferring honor on these girls by getting married by Shri Krishna.
Remedies on the day of Narak Chaturdashi
On this day, before sunrise, by applying sesame oil all over the body and mixing medicine in water, taking bath and doing 16 sringing increases beauty and good fortune. That is why this day is also called Roop Chaudas.
On the day of Narak Chaturdashi, in the evening, a 4-lit earthen lamp is kept outside the main door of the house in the east direction and it is also believed to wear blue and yellow clothes on this day.
Here you have been given information about Narak Chaturdashi, now hopefully you will be satisfied with this information, if you want to get any other information related to it, then give your suggestion by commenting, your response soon. Efforts will be made to answer the same.
What is Choti Diwali?
Narak Chaturdashi is also called Choti Diwali, which means "little Diwali". It is a Hindu festival that falls on the 14th day of the month of Kartik in the Hindu calendar.
The festival marks the end of Durga Puja and celebrates the victory of light over darkness. Goddess Lakshmi is worshiped on this day. The day also marks the end of Pitru Paksha, a ritual period of mourning for ancestors, during which people fast and refrain from indulging in worldly pleasures.
The festival falls on a dark night, hence it is called Naraka Chaturdashi or "Night with Demons". The name suggests that darkness can be dispelled by light just as evil can be defeated by good.
| | |
| --- | --- |
| Name | Narak Chaturdashi |
| other names | Choti Diwali, Roop Chaturdashi, Kali Chaturdashi |
| start | from the Ramayana period |
| date | Ashwini month (Amanta) / Kartik month (Purnimant), Krishna Paksha, Chaturdashi Tithi |
| purpose | religious fidelity, celebration |
| follower | Hindu |
| obedience | Origin of Diwali as a harvest festival |
| frequency | annual |
| date | Sun, 12 Nov, 2023 |
Why is Choti Diwali celebrated?
Now let us know what are the reasons for which we celebrate Chhoti Diwali. Together we will also know about all the stories related to it, why Narak Chaturdashi is called Choti Deepawali.
Story of Lord Krishna and Narakasura
A legend tells that the demon king, Narakasura, who was the ruler of Pragjyotishpur (a province to the south of Nepal), defeated many gods and goddesses. After his defeat, he also imprisoned about 16,000 daughters of various gods and kings. Not only this, he also snatched the earrings of Goddess Aditi, who is considered to be the mother of all gods and goddesses.
Just a day before Naraka Chaturdashi, Lord Krishna defeated (slain) Narakasura and freed all the gods and daughters of kings from captivity. He also recovered and returned the precious earrings of Goddess Aditi. On the day of Choti Diwali, he returned home victorious. And thus this day is celebrated as his victory over the demon.
Also Read…
Story of Lord Vishnu and Maharaj Bali
The day of Choti Diwali is also known as Bali Pratipada (the word 'Pratipada' means under the feet of a challenger).
According to legend, Bali was a very influential king. He was so powerful that all the gods were always afraid of him. He had also conquered all three worlds. But he ruled them unjustly. To counter this fear, Lord Vishnu went to him in Vamana avatar and asked him to give him just 3 feet of his kingdom.
Bali proudly called Lord Vishnu a beggar and said that whatever you want to ask, he agreed to give it to them. Wise Lord Vishnu ji asked to give only 3 feet of space. Now Lord ji covered the three worlds in just two feet, while now he asked the king where he should put his third leg. Bali asked him to keep it on his head, and thus, Lord Vishnu won his head and snatched the three worlds back from him as well.
And thus, Choti Diwali is celebrated to celebrate the victory of good and the defeat of greed. Now you would know why the significance of this day goes much deeper than just a display of grandeur. Hence, this festival is dedicated to a prosperous future and the eradication of greed.
Choti Diwali is celebrated a day after Dhanteras and a day before Diwali.
Story of Lord Vishnu and Maharaj Rati Dev
According to another legend, there was a king named Rati Dev who had never committed a single sin. But when he died, the eunuchs came to take him to Narak. He was shocked to hear this and asked them the reason for going to Narak, to which the eunuch replied, 'You have returned the hungry Brahmin, and this is the result of that sin.' Hearing this, the king asked him for one year's time, and the eunuch agreed to it.
When he returned to his kingdom, he narrated this story to the sages of his kingdom and asked a solution to this problem. One of those sages told Rajan the solution to fast on the Krishna Paksha Kartik Chaturdashi, as well as advised them to serve food to the Brahmins.
King Rati Dev also did the exact same thing, and he was freed from all his sins. A year later, when the eunuchs came, instead of the Narak world, he took them to the Vishnu world. Hence, you must have seen many people fasting on this day and giving food to the needy.
Story of Lord Vishnu and Yogiraj
According to another legend, once upon a time, there lived a man named Yogiraj in the state of Hirannagar. To please the Lord, he used to observe rigorous penance and fast. Suffers massively while doing so, and in the course of his self-sacrifice. His whole body became disfigured and he became very sad.
Seeing their plight, Lord Narada went to him and asked the reason for his misery, upon which Yogiraj told him about his sufferings. Narad ji told him that though his intentions were right, he forgot to follow the morality of the body. He asked Yogiraj to observe a fast on Kartik Krishna Paksha Chaturthi for a healthy and attractive body. As a result, Yogiraj got a beautiful body.
Choti Diwali (Narak Chaturdashi) Date & Timings
| | |
| --- | --- |
| Date of Choti Diwali (Narak Chaturdashi) | Sun, 12 Nov, 2023 |
| Narak Chaturdashi Begins | |
| Narak Chaturdashi Ends | |
By what other name is Choti Diwali known?
Choti Diwali is also known as Roop Chaudas or Narak Chaturdashi, Kali Chaudas.
When is Choti Deepawali celebrated?
Choti Deepawali is celebrated a day before Diwali all over India.
what did you learn today?
I hope you like this article of mine about why to celebrate chhoti Diwali Must have liked it. It has always been my endeavor to provide complete information about the story related to Choti Diwali to the readers so that they do not have to search any other sites or the internet in the context of that article.
This will also save them time and they will also get all the information in one place. If you have any doubts about this article or you want that there should be some improvement in it, then you can write low comments for this.
If you liked this article on why we celebrate Chhoti Diwali or got to learn something, then please share this post on social networks like Facebook, Twitter and other social media sites.