recently, Google one of its new operating systems has been launched, whose name is "KataOS, do you know What is KataOS, If not then in today's article you are going to get complete information about this OS.
He has specially designed this OS for embedded machine-learning devices. According to Google, there are many smart devices in today's time, which collect and process information from the surrounding environment.
That's why Google believes that all these devices are more sensitive to security issues. In such a situation, there is a need for a solution that is capable of keeping this embedded hardware completely safe from the original. Keeping all these upcoming problems in mind, Google has introduced this new operating system. KataOS has prepared.
What is KataOS?
Kaos One is a design for an operating system, whereas Sparrow is a reference implementation. For example, Wayland has a reference implementation of the Weston display server. The Rust programming language was fully used to create this new operating system, "KataOS".
Since "KataOS" is fully implemented in Rust, so it provides a very strong starting point for software security. Because, it itself is capable of removing the problems caused by all types of bugs. Which is going to be built in future, an intelligent ambient machine-learning (AmbiML) system.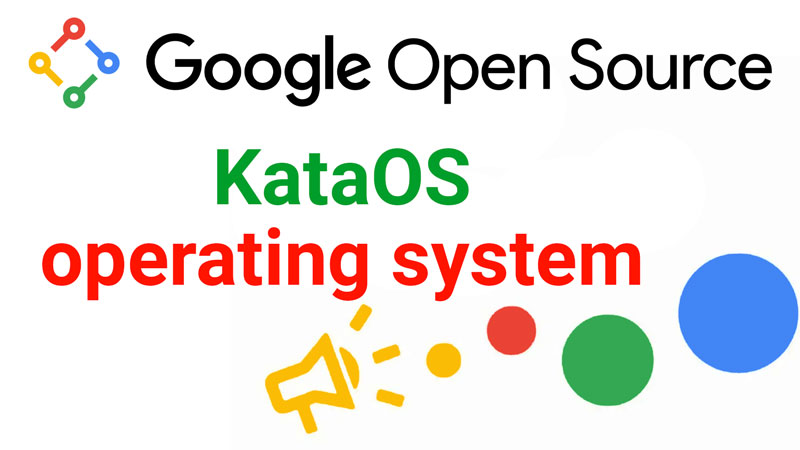 What is Sparrow?
Sparrow is actually a reference implementation of KataOS, which connects KataOS to a secured hardware platform. Google has designed this Sparrow completely to prove a safe environment system.
Therefore, in addition to the logically secure operating system kernel, Sparrow includes a logically-secure root built into the RISC-V architecture with OpenTitan OS. At the same time, in the initial release, their team is mainly targeting a very standard 64-bit ARM platform that runs in simulation with QEMU.
Also Read…
what is open-source software?
Open source software is software that is distributed with source code (the code from which programs are made). Which the user can change, improve and redistribute.
That is, open-source software remains copyrighted and free and the user can get its source code and improve it according to his or her need. New features can be added to it. One can develop a new product using the source code and also sell it for paid. There is no restriction on all these works.
Open source projects are the result of "mutual collaboration" that is carried out by hundreds of thousands of people. and adheres to the principle that "information should be available free to all".
In exchange for such software, no fee is charged to the users. However, new products built on these projects fall outside this category. Which can be sold by the developer or manufacturer for a fee.
Benefits of open source software
The biggest advantage of this software is the free availability. And it is this availability that separates them from commercial software. Apart from this, there are many benefits too, which are being told below.
Free – Free of Cost: Most of the software created under the open-source project is provided free of cost. But new products manufactured from these source codes are not covered under this license and user may also be charged. Android is an open-source project but the Android apps manufactured by it are sold with a lot of fees.
Easy Availability – Ease of Availability: This software are easily available. The user or developer does not even have to complete many formalities.
Opportunity to acquire knowledge – Provide Learning Opportunities: Because these projects are open. So any novice can try their hand at programming and show off their skills. Apart from programming, such projects are also available in other areas. Therefore, the opportunity to get practical knowledge is obtained through these projects.
High Quality – High Quality: The quality of these projects is more than commercial software. Because they are developed by people of different needs from different parts of the world with a collective effort. Therefore, the need of every type of user is taken care of in this software. And thousands of people are working on the same project, so minor bugs are rectified in time. Therefore, the quality of these projects is of a very high standard. Perhaps this is the reason why the use of open-source software is more than commercial software.
More Secure – More Secure: Open source projects are also more secure despite being of higher quality. Because hundreds of thousands of people immediately catch the problems and shortcomings and fix them.
More Control – More Control: Source code is also made available with open-source software. Therefore, users can also make necessary changes to this software according to their needs. And there is no control of any person, or organization on them, so the user gets more control than commercial software.
KataOS Why was it created?
According to Google, we are all surrounded by many such smart devices that collect and process information that too from the surrounding environment. In such a situation, there is a need for such a simple solution so that verifiably secure systems can be created for embedded hardware.
If these devices which are all around us cannot keep our data safe, even if it is our personally identifiable data that they collect, such as pictures or voice recordings of people, they can be easily protected from any malware. can be accessed. That's why we need an OS that can fix our problems. So KataOS was brought into the world.
KataOS Which microkernel is used?
In KataOS, seL4 is used as a microkernel. Which is able to prove mathematically secure with guaranteed confidentiality, integrity, and availability.
Through the seL4 CAmkES framework, KataOS is also able to provide statistically defined and analytical system components.
Core Modules of KataOS
The initial version of Google's KataOS has been open-sourced on GitHub. It includes almost all core modules of KataOS:
Rust's frameworks exist (eg: sel4 syscall, which provides the sel4 syscall API)
An alternate root server is written in Rust (it is also needed for dynamic system-wide memory management)
Having sel4 kernel modification to reclaim the memory which is used by the root server.
How secure is KataOS?
According to Google, KataOS is a very secure OS. It is specially designed to provide security.
According to the Google team, this OS basically provides a secure platform that protects the privacy of the user. This is because it is logically impossible for applications to breach the kernel's hardware security and system components are verifiable secure.
KataOS is also implemented almost entirely in Rust, providing a strong starting point for software security. Along with this, it completely removes all classes of bugs, such as off-by-one errors and buffer overflows.​
KataOS runs third-party apps
Google is currently working with Antmicro. This connection will enable GDB debugging and emulation that too via Renode primarily for the target hardware. Incidentally, KataOS is capable of loading and running any third-party application, that too in a dynamic way.
At the same time, such applications can also be run in it which are made outside the CAmkES structure. As of now, the code in GitHub doesn't have all the modules that are needed to run these apps. Nevertheless, Google hopes to release all these operations in the coming future.
What type of operating system is KataOS?
KataOS is completely a security-minded operating system. KataOS is intended to be used with a growing number of smart devices with a special emphasis on embedded hardware running machine learning applications.
Which programming language is used to build KataOS?
To build KataOS Rust programming language has been used. At the same time, this OS is built on top of the seL4 microkernel.
What did you learn today?
I hope you like this article of mine KataOS what is Must have liked it. It has always been my endeavor that the reader's KataOS Complete information should be provided so that they do not have to search in the context of that article on any other sites or the internet.
This will also save them time and they will also get all the information in one place. If you have any doubts about this article or you want that there should be some improvement in it, then you can write low comments for this.
If you liked this article on why KataOS was made or got to learn something, then please share this post on social networks such as Facebook, Twitter, and other social media sites.