Hindi Typing Kaise Kare (How to Type in Hindi): When the default language on your PC is not Hindi and you want to type in Hindi text on your Windows PC or mobile, then you will learn to type in Hindi through this article. If you have a physical Hindi keyboard, all you need to do is install the Hindi language pack and keyboard layout on your PC. And if you don't have a physical keyboard, you can use the on-screen Hindi keyboard from Google Input Tools to type in a web page or type in non-web apps (like Microsoft Word). You can use the Windows on-screen keyboard to do this.
This question is asked by everyone who wants to do blogging in Hindi or wants to do chatting in Hindi. Everyone's purpose is the same, how to write in Hindi. But the problem is that the keyboard that comes on our computer remains in the English language. You will not find any such keyboard in which Hindi is written.
if you are blogging then you can also write in Hinglish. Hindi+English The language or language that is formed by mixing the language is called Hinglish. In this, whatever you speak in Hindi, you just have to write it in the English language. For example, "What are you doing" we will write "Kya kar rahe ho".
In our blog we write in both Hindi and English language; But not in Hinglish. It has the advantage that, if you want to rank the keywords of both languages, then you will be able to do it comfortably. Slowly the searches of Hindi language are increasing in Google, so it will prove beneficial for you going forward. So that's why here I am going to tell you the easy way of Typing Hindi Me Kaise Kare.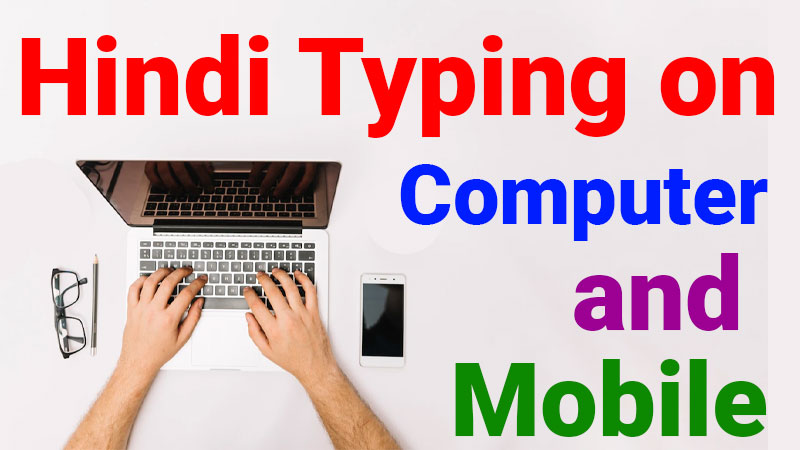 Hindi Me Type Kaise Kare
When anyone takes a new computer or laptop, he does not know how to type in Hindi in computer or laptop. And today we are going to tell you the way by which you can type in Hindi on your computer or laptop. Many people search the Internet. On How to Type Hindi in Computer or Laptop, they do not know how to type in Hindi in a computer or laptop.
If you have been using a computer for a long time, then you must have heard about Akruti Software. This is software, so it supports many Indian languages. Feather's latest Windows version doesn't work for me. Now better tools are available in the market. It is very easy to type in Hindi. Today I will tell you about 2 tools, through which you can do online and offline, that is, without the Internet, You will also be able to type in Hindi.
Kruti Dev Font
If you know Hindi Typing, then you can easily do Hindi typing by installing Kruti Dev Font on your computer. But for this Kruti Dev Font should be installed in your system. If you do Hindi typing with Kruti Dev Font, then you can type in Hindi in a few programs on the computer.
Computer Me Hindi Typing Kaise Kare
There are much such software and online tools available on the computer which provide you the facility to write in Hindi easily. Here I am going to tell you in the bar both online and offline.
1. How to Write in Hindi with Quillpad
In this way, many online tools will be available for online Hindi typing, but Quillpad is the best. Apart from Hindi, you will be able to write in other Indian languages ​​like Bengali, Marathi, Kannada, Malayalam, Tamil, Telugu, Punjabi, Nepali, etc. It is very simple and convenient. If you have written something in Hinglish and pasted it here, it will convert those texts to Hindi immediately.
first, you quillpad.in Have to go to the website. You will be writing every word in Hinglish and it will show you its Hindi form. If you find any word wrong, then you can also choose from its instant suggestion list.
2. How to Type in Hindi Offline with Google Input Tools
Offline means without internet. Now it is not possible that you always have internet. If you want to type Hindi without the internet then "Google Input Tools" Is the best for you. Google has created such an offline tool for people, through which they will be able to write in languages ​​other than English through their English keyboard.
This tool works similarly to Quillpad, but it is even better. If you want, you can write in both English and Hindi language. There is nothing better than all the tools I have used. You can change between English and Hindi language by pressing Ctrl + G from your keyboard. He also gives a different suggestion for each typed word. There is no room for mistakes in this.
Right now Google Input offline tool for computers is not available on its website. But if you want, you will be able to use it by installing Google Chrome Extension in your browser. But we have a solution for this, which you will find below.]
Also Read…
How to Download Google Input Tools in 2022?
If you want, you will still be able to use its offline tool on your computer. You will find a download button below; First, you download that ZIP file.
After downloading, when you will open that ZIP file, you will get to see 2 files there. you first"First" And then later"Second file has to be installed in your computer. Once both these files are installed in your system, you will be able to use them on your Windows computer as before. For more information, you can watch our video.
Mobile Me Hindi Typing Kaise Kare
Do you know how to write on mobile in Hindi? If not, then Google has a solution for this too. Google has created an app with the help of which you will be able to write in your mother tongue. With the help of this app, you can, English, Assamese, Bengali, Gujarati, Hindi, Kannada, Malayalam, Marathi, Odia, Punjabi, Tamil, Telugu, etc. I will be able to write on my smartphone.
The name of this app is Google Indic Keyboard, this is basically a Keyboard app that gives you the freedom to write in your own language. You will get all the information about how to use it on the Play Store page. Once you set it as your default keyboard, then you will be able to easily write in English Hindi, or any other language.
In how many days can I learn Hindi typing?
It's very easy. You will learn in a day too.
Which font is best for Hindi typing?
u003cstrongu003eThe best u003cstrongu003efontu003c/strongu003eu003c/strongu003e u003cstrongu003efor Hindi typing is kruti dev.u003c/strongu003e
What did you learn today?
hope you Hindi Typing Kaise Kare Would have understood. We have also made some videos on how to write in Hindi. With the help of this, you will understand well about both these tools. If you have any questions or suggestions then don't forget to comment below.
hindi typing test
hindi typing keyboard
hindi typing online
hindi typing keyboard chart