"Have you ever wondered why Lakshmi Puja is a significant event during Diwali? Legend has it that Lord Rama returned to Ayodhya on this day, triumphant from Lanka and marking the end of his 14-year exile. To celebrate his homecoming, the entire kingdom was illuminated with lamps, establishing the tradition of Diwali. If this is news to you, then today's insights will be enlightening.
Everyone desires wealth, prosperity, and happiness in their lives. To achieve these blessings, devotees worship the goddess of wealth, Goddess Lakshmi, during Diwali, hoping to win her favor. Beyond honoring Goddess Lakshmi on this auspicious day, devotees also pay their respects to Goddess Saraswati and Lord Ganesh. With lamps lit and aartis sung, believers warmly welcome Maa Lakshmi into their homes during Diwali. However, the deep-rooted traditions of this ancient Hindu festival remain a mystery to many.
This prompts us to explore the significance of Lakshmi Puja during Diwali. If you're keen to delve into the history, methods, and importance of this ritual, then join us on this enlightening journey. Let's begin by understanding the essence and significance of Lakshmi Puja."
What is Lakshmi Puja?
"In the days leading up to Diwali, homes are spruced up and adorned, reminiscent of a radiant bride. As evening descends, the sky is aglow with vibrant lights, the soft glow of lamps, and the echoing bursts of fireworks. On Diwali night, households come together to honor Goddess Lakshmi.
In addition to her, deities like Goddess Saraswati, Lord Ganesh, Kuber, Lord Krishna, and Lord Ram are also revered. Devotees perform the Lakshmi Puja, seeking prosperity and wealth. With such devotion, Goddess Mahalakshmi is venerated on this joyous occasion. Across India, the festive spirit is palpable, with celebratory fervor in the air. If you're curious about the significance of Dhanteras, you can explore further here."
| | |
| --- | --- |
| Name | Lakshmi Puja |
| date | Sister (Amanta) / Sister (Purnimanta), Paksha, Date |
| purpose | religious fidelity, celebration, entertainment |
| follower | Hindu |
| obedience | celebration of wealth and prosperity |
| frequency | annual |
| date | Fri, 10 Nov, 2023 |
When is Lakshmi Puja 2022 performed?
According to the Hindu calendar, this year Lakshmi Puja Will be Monday 24 October 2022
Ingredients for Lakshmi Puja
Materials for the worship of Goddess Lakshmi can be collected according to one's ability. Red, pink, or yellow colored silk cloth can be taken in the things which are dear to Goddess Lakshmi. The flowers of lotus and rose are also very dear to the mother.
In the form of fruits, the mother also likes Shri Phal, Sitaphal, Ber, Pomegranate, and Water chestnut. Rice, homemade pure sweets, pudding, and vein naivedya are suitable among cereals. Cow's ghee, groundnut, or sesame oil is used to light the lamp.
Apart from this, roli, kumkum, paan, betel nut, clove, cardamom, chowki, urn, idol or picture of mother Lakshmi and Lord Shri Ganesh ji, seat, plate, silver coin, incense, camphor, incense sticks, lamp, cotton, in worship. Molly, coconut, honey, curd, Gangajal, jaggery, coriander, barley, wheat, durva, sandalwood, vermilion, kewra, rose or sandalwood perfume can be taken for fragrance.
Why celebrate Lakshmi Puja?
Friends, the festival of Deepawali is being celebrated by all Hindus with great pleasure since time immemorial and is celebrated even today. But it becomes necessary for us to know on this subject why Goddess Lakshmi, Ganesh Ji, and Saraswati are worshiped on the day of Deepawali, so to know this we know this secret.
According to religious beliefs, it was a long time ago, before the churning of the ocean, there used to be fierce battles between the demons and the gods. Once the gods overcame the demons and they won the battle. After which the demons went away from there to Hades and hid, they realized that they could not win by the amazing power of the gods, because at that time Maa Lakshmi with her 8 forms While living in Indraloka, was showering wealth on the gods.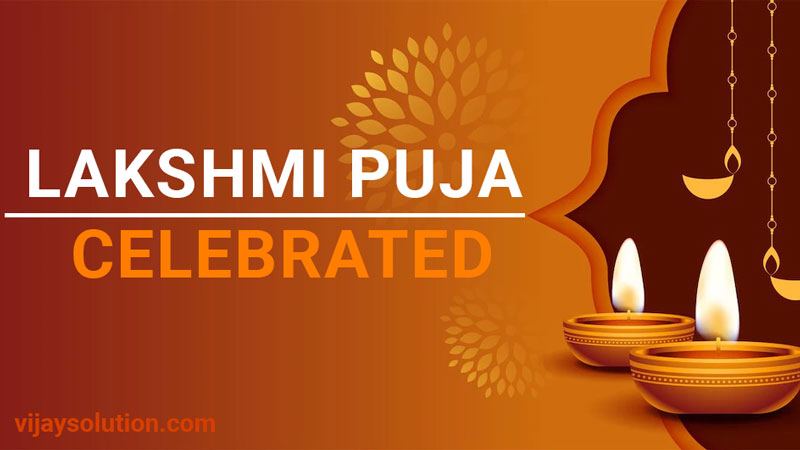 And because of this, ego started coming in the gods and one-day Durvasa Rishi saw Indra Dev who was with his Airavat elephant on the way. Seeing Indra Dev, the sage Durvasha was very pleased, expressing his happiness, he threw the garland held around his neck to Indradev, but Indra Dev was busy in his tune, due to which the garland went on the head of his Airavat elephant. When the elephant heard about something falling on the head, it nodded and the garland fell down and was crushed by the feet of the elephant.
Seeing this scene, Rishi Durvasha became very angry and cursed Indra Dev who because of which you are in so much ego, will go away from you and go to Hades.
And as soon as she said this, Mother Lakshmi left Indra and went to Hades, due to which once again all the deities including Indra became weak. And the demons became powerful after finding Mother Lakshmi and all the demons now started taking measures to get to Indraloka.
After the departure of Lakshmi Mata, all the deities are found by Brahma ji, and told him all his problems and then Brahma ji suggested the method of churning the ocean for this.
After which there was a churning of the ocean between the gods and the demons and one day Mahalaxmi Ji appeared, And it was the day of Krishna Amavasya of Kartik Paksha, and after attaining Mahalakshmi, the gods became powerful again.
Mother Lakshmi was coming from the churning of the ocean, all the deities were praying to Goddess Lakshmi with folded hands, and Lord Vishnu was also worshiping Mahalakshmi at that time.
This is the reason why Lakshmi Puja is performed every year on the day of Kartik Amavasya. Also, there should be no mistake in this time of wealth, so Goddess Saraswati and Lord Ganesha are also worshiped on the day of Lakshmi Puja.
Method of Lakshmi Puja
First of all, at the beginning of any worship, Lord Ganesha is worshiped first. Therefore, bathe the Lord, and after bathing, offer flowers and clothes to him.
After that start worshiping Maa Lakshmi, place the idol of Maa Lakshmi in the place of worship and invoke Maa Lakshmi and invite her to your home.
Now bathe Maa Lakshmi. Before bathing, bathe Lakshmi Maa with water, and after that Panchamrit and again with water, now offer clothes to her and wear ornaments and garlands. Now offering perfume to the mother, do the tilak of kumkum.
Now light a lamp and incense and offer rose flowers at the feet of the mother, after that keep bel stones and other leaves near her feet.
After that start worshiping the mother by offering 11 or 21 rice, circumambulate after the aarti, and offer her blog. and this mantra during worship; oh Mahalakshmi Namah Also chant. So after knowing the worship method of Goddess Lakshmi in this way, let us know what is the importance of Lakshmi Puja.
Importance of Lakshmi Puja
For ages, Goddess Lakshmi is being worshiped as the goddess of wealth in Hinduism. Therefore, all the devotees expect happiness and prosperity from the mother by worshiping Lakshmi in Diwali. Therefore, for the arrival of Mahalakshmi on the day of Deepawali, the house is illuminated from the evening itself, and devotees offer prayers to please Mahalakshmi.
That is why this special festival of Hindus, Deepawali is celebrated with great enthusiasm in many countries of the world including India. In Deepawali, people go to each other's houses and distribute prasad to them, and congratulate them on Diwali, and those who are busy are unable to meet their friends and relatives on this occasion. Diwali to them through social media
Best wishes.
So this is the only hope in today's article, friends, you must have liked this information related to Lakshmi Pujan, how did you like this article, do tell your thoughts in the comment section. Also, you can express your happiness towards this article by sharing this information on social media.
Why do we worship Goddess Lakshmi on Diwali?
Goddess Lakshmi is the goddess of wealth and prosperity. She is also the goddess of success, strength, luck, and fertility. A lot of people worship him on Diwali because they want to enjoy these qualities in their life.
In which direction to do Lakshmi Puja?
The northeast corner of the house is the best place for worship. In the northeast corner of the puja temple, where the deities are kept, the worshiper should face east or west.
Also Read…
What did you learn today?
I hope you like this article of mine Why is Lakshmi Puja celebrated? Must have liked it. It has always been my endeavor to provide complete information about Lakshmi Puja Hindi to the readers so that they do not have to search any other sites or the internet in the context of that article.
This will also save them time and they will also get all the information in one place. If you have any doubts about this article or you want that there should be some improvement in it, then you can write low comments for this.
If you liked this article on why Lakshmi Puja is performed or got to learn something, then please share this post on social networks such as Facebook, Twitter, and other social media sites.