lucknow university admission 2022,lucknow university entrance exam 2022,lucknow university admission form 2022,lucknow university application form 2022,lucknow university admission process 2022
Lucknow University has started the process of application for admission in the new session 2022-23. The last date to fill out the admission form is 31 May 2022. These forms to be filled through an online medium can also be filled for the first time by downloading it through the app of Lucknow University. At present, the university has started admissions for UG courses only. The last date to fill these forms has been fixed as 31st May 2022.
The participation of colleges has been invited in the centralized admission process of the university started two years ago. Let's do it, The university has told about the question paper of the entrance examination of all undergraduate courses in Brochure so that the candidate can prepare for the entrance examination along with filling the form, admission form as well as the schedule of entrance examination, examination results and online counseling. issued,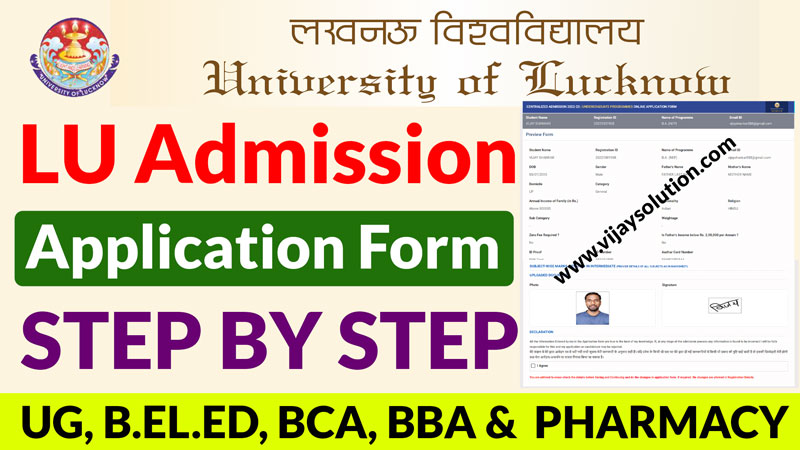 Under the Faculty of Yoga and Alternative Medicine, a new course of 5 years Bachelor of Naturopathy and Yogic Science is being started, which is being conducted in very few universities of India, in the admission of session 2022-2023 for undergraduate, masters, and all newly admitted students. The enrollment fee of Rs. 50% has been reduced and the examination fee has been reduced by up to 40%.
Starting of Application Form: April 02, 2022
Closing date: May 31, 2022
Entrance Test from 15 June 2022 – 25 June 2022
Declaration of result: July 10, 2022
Counselling Phase I: July 12, 2022 – July 15, 2022
Phase II: July 18, 2022 – July 23, 2022
Phase III: July 26, 2022 – July 31, 2022, onwards
B.Com – 690 seats,
B.Com Honors-180 Seats,
B.Sc Maths – 480 Seats,
B.Sc Biology – 280 seats,
Bachelor of Naturopathy and Yogic Sciences -50 seats,
Bivok Renewable Energy – 25 Seats,
Shastri – 25 seats,
LLB Integrated Five Years – 160 Seats
BVA-BFA – 93 seats,
BA-BSc Yoga-60 Seats
BBA IB-60 Seat,
BBA MS-60 Seat,
BBA Tourism-60 Seat,
BCA-120 Seat
Also Read…
UNDERGRADUATE PROGRAMMES ADMISSION SESSION 2022-23
| Activity | Date |
| --- | --- |
| START OF FORM FILLING | April 02, 2022 |
| LAST DATE OF FORM FILLING | May 31, 2022 |
Application Fee For UNDERGRADUATE PROGRAMMES ADMISSION SESSION 2022-23
| | |
| --- | --- |
| General and OBC | INR 800.00 |
| SC/ST/PH | INR 400.00 |
UG PROFESSIONAL PROGRAMMES (BCA & BBA) ADMISSION SESSION 2022-23
| Activity | Date |
| --- | --- |
| START OF FORM FILLING | April 02, 2022 |
| LAST DATE OF FORM FILLING | May 31, 2022 |
Application Fee for UG PROFESSIONAL PROGRAMMES (BCA & BBA) ADMISSION SESSION 2022-23
| | |
| --- | --- |
| General and OBC | INR 1000.00 |
| SC/ST/PH | INR 500.00 |
B.EL.ED. PROGRAMMES ADMISSION SESSION 2022-23
| Activity | Date |
| --- | --- |
| START OF FORM FILLING | April 02, 2022 |
| LAST DATE OF FORM FILLING | May 31, 2022 |
Application Fee B.EL.ED. PROGRAMMES ADMISSION SESSION 2022-23
| | |
| --- | --- |
| General and OBC | INR 1600.00 |
| SC/ST/PH | INR 800.00 |
DIPLOMA IN PHARMACY SESSION 2022-23
| Activity | Date |
| --- | --- |
| START OF FORM FILLING | April 02, 2022 |
| LAST DATE OF FORM FILLING | May 31, 2022 |
Application Fee for DIPLOMA IN PHARMACY SESSION 2022-23
| | |
| --- | --- |
| General and OBC | INR 1000.00 |
| SC and ST | INR 500.00 |
,lucknow university admission process,lucknow university,lucknow university admissions 2022,lucknow university news,lucknow university llb entrance exam 2022,lucknow university ka form kaise bhare,lucknow university entrance exam 2022 kab hoga