RTPS Service Plus Registration: The RTPS Bihar Portal has been activated by the Government of Bihar for the convenience of the citizens and a major change has been made, through which citizens can apply for the certificate sitting at home and get it after a few days. The RTPS portal has been created under the Right to Public Service, due to which citizens will now get relief from long queues and government offices to get necessary documents. A caste, Income, and Residence certificate are required to get benefits from Central Government and State Government schemes and scholarships.
The new website of RTPS Service has started in Bihar. whose name is Service Plus Bihar and its link ServiceOnline.Bihar.gov.in Is. To Service Plus Bihar website Right to public services and other services And RTPS & Other Service Lunch has been done in the name of Most of the work in the block that used to be done at the RTPS counter will now be done through this online portal. Such as: making caste/residence/income, old age pension or widow pension scheme, girl marriage scheme, making birth and death certificate, labor card, etc. RTPS Bihar: caste, income, residence certificate online apply
Therefore you should register yourself on this website and also learn how to log in to Service Plus Bihar and how to work on this portal.
RTPS Service Plus Registration Online Bihar
| | |
| --- | --- |
| Article | RTPS Service Plus Registration Online |
| beneficiary | A resident of Bihar State |
| the gain | Take advantage of all the services of RTPS counter sitting at home |
| Website | https://serviceonline.bihar.gov.in |
| helpline | Click Here |
Note: Service Plus Bihar and Service Online Bihar both are different names of the same portal.
How to do Bihar RTPS Service Plus Registration Online? Quick Process
Step 1 Go to Service Online or RTPS Bihar website – Click Here
Step 2 On the right under the civic section self-registration Click on
Step 3 By entering your name, email id, mobile number, etc. Submit Do it.
Step 4 Verify the mobile number and email ID through OTP.
Step 5 Finally click on the Final Submit button again.
In this way, you can easily get your ID and password by registering on RTPS Bihar's website ServiceOnline.Bihar.Gov.In, and taking advantage of all the services available on this portal.
As mentioned above Quick Process If you are having trouble registering Service Plus Bihar or Service Online Bihar follow the given below Step by Step Follow process.
Types of Certificates from RTPS Service Plus Registration Bihar Portal
Caste Certificate: You can apply online for a caste certificate through this portal. A caste certificate has been created by the Government of India for Scheduled Castes (SC), Scheduled Tribes (ST), and Other Backward Classes (OBC). SC, ST, and OBC people need caste certificates for the scheme and exam form application.
Domicile Certificate: If the person is a permanent resident of the state, and if he has a residence certificate for his identity, then he can easily get the benefits of facilities like electricity connection, and gas connection. Apart from this, the applicant also needs a residence certificate for a government job.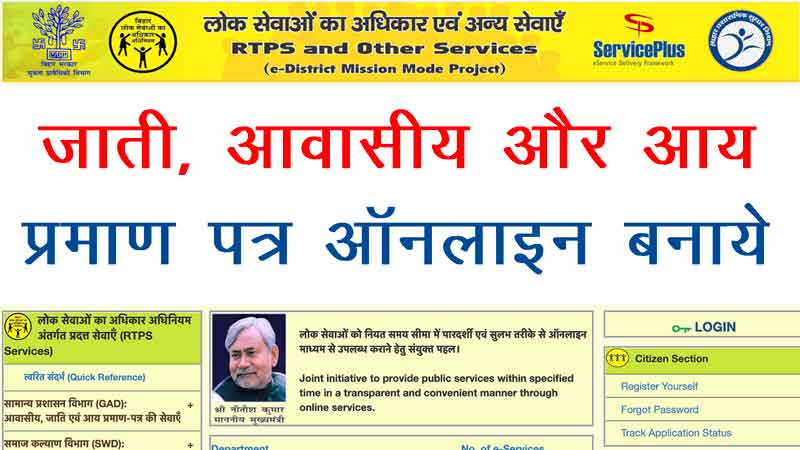 Income Certificate: The annual income of a person is known from his income certificate. It is mandatory to have an income certificate along with an EWS certificate. An income certificate is necessary to take advantage of the facility and scheme provided by the central government and state government.
What is the RTPS Service Plus Registration Portal?
This portal is a Bihar e-district project operated under the National e-Governance Plan (NeGP) of the Government of India. The purpose of this project is to provide RTPS services and other government services online to the common people. This portal is being operated through these four departments.
Department of Information Technology (DIT)
National Informatics Center (NIC) by the Government of Bihar
Government of India's ServicePlus e-Service Delivery (ServicePlus)
Government of Bihar and Bihar Administrative Reform Mission (BPSM) Society
How to do Bihar RTPS Service Plus Registration?
step 1 First of all, by clicking on the button given below, you have the right to public services of the Government of Bihar and the official website of RTPS Bihar Serviceonline.bihar.gov.in have to go on.
Step 2 in front of you by clicking RTPS Bihar Online Services website will open. here you civil section in the section self-registration to click on. As in the photo below.
Step 3 Now the registration form will open in front of you. In which you have to enter your name, email id, and mobile number. Below you have to write your password and select your state. After this, fill in the captcha and click on the Validate button. As in the photo below.
Step 4 After validating, OTP will come on your email ID and mobile number, which you have to fill in the blank box and click on the submit button. As in the photo below.
Step 5 As soon as you submit, a popup message will appear in front of you in which it will be written in English that your registration has been done successfully on https://serviceonline.bihar.gov.in. Please log in to take advantage of the service. As in the photo below.
note: Along with this, it will also be written that you have to keep changing your password at least 45 days. You can do this if you want. But it is not necessary. ओबीसी नॉन क्रीमी लेयर सर्टिफिकेट 2022 ऑनलाइन आवेदन करे
So in this way, you can easily Service Online Bihar RTPS You can register yourself on the portal and apply for all the online services available on this portal. To apply, you need to log in with your email id and password.
How to login service plus Bihar?
step 1 RTPS Bihar Online Services Go to the official website of the above Login Click on After reading the important information/precautions, click on the proceed button to log in.
Step 2 Enter your email id and password to log in. after that fill in the captcha Log In Click on the button. As in the photo below.
Step 3 As soon as you log in, your profile will open in front of you. By clicking on Apply For Services in the left side menu, you will get an option of View All Available Services.
By clicking on it, the list of all the services for which you can apply online will open. As in the photo below. By clicking on the service for which you want to apply, you can apply for it by filling out the online application form. So in this way, you can easily log in to the Service Plus Bihar portal and take advantage of all the services.
Also Read…
Street Dancer 3d full movie Download Filmywap Ganduworld
FAQ related to Service Online Bihar RTPS & E-District Bihar.
Is Serviceonline.bihar.gov.in and the E-District Bihar portal the same?
Yes! Both these portals are the same. From this portal, E-District Bihar can also take advantage of all the facilities being given.
What is the customer care number of the Service Online Bihar RTPS portal?
There is no customer care number on this portal. But yes you can contact them through email. The email ID of Service Online Bihar RTPS Portal is: u[email protected]
How to apply online for the services of RTPS?
If you do not have an ID password, then first you have to register yourself. By logging in, he has to apply for the service which is available online.
Which certificates can be applied online on RTPS Bihar?
Online applications for Caste Certificate, Income Certificate u0026amp; and Domicile Certificate can be done on the RTPS Portal.
What is RTPS Bihar?
There is a portal run by the state government, with the help of this portal, you can apply for an income certificate, residence certificate, and caste online certificate sitting at home. Other facilities are also available on this portal.
What is RTPS's full form?
Right to public service is the full form of RTPS. It is also called the Right to Public Service in Hindi.
What are the documents required for the RTPS application?
Aadhar Card, Voter Card, Passport Photo, PAN card, Ration Card (Photocopy)
How to do RTPS Bihar online registration?
To do Rtps registration in Bihar, you will get detailed information in this article.
How to log in RTPS Bihar portal?
To log in RTPS Bihar portal, you have to first go to the official website and select the option of Official Login, then a new page will open in which you can log in by entering your User ID and Password.
RTPS Service Plus Registration |
service plus login
rtps बिहार ऑनलाइन आवेदन
service online.bihar.gov.in download
rtps online apply
service plus bihar
rtps.bihar.gov.in 2022
rtps bihar application status
rtps बिहार ऑनलाइन आवेदन download