These days there is a Russia-Ukraine dispute all over the world. Everyone is talking about this. The eyes of diplomats and army chiefs of different countries are on this dispute. Russia is said to have killed five Ukrainian soldiers. People around the world are horrified by the fear of war. Tensions between Russia and Ukraine are on the rise The tension between Russia and Ukraine is not new. Until about 30 years ago, the two countries were the same, but today the border of Russia and Ukraine is counted among the most tense borders in the world.
If there is a war, surely no country will be immune from its flames. Meanwhile, NATO is also being discussed a lot. It is being said that if Russia attacks Ukraine, then NATO forces from Europe and America will be bound for joint action. Do you know about NATO? If not, then no problem, today we will tell you everything that a person needs to know about NATO. Like what is NATO? Why was it formed? What is the role of NATO in the current Ukraine-Russia dispute? e.t.c. Let's start-
Russia-Ukraine dispute History
In August 1991, Ukraine declared independence from the Soviet Union. A referendum was held on 1 December of the same year, in which 90% of Ukrainians voted to leave the Soviet Union. The next day, the then President of Russia, Boris Yeltsin, recognized Ukraine as a separate country. At that time Russia also called Crimea as part of Ukraine. In 1954, the Supreme Leader of the Soviet Union Nikita Khrushchev gave Crimea to Ukraine as a gift.
Protests in Ukraine after becoming pro-Russian president
Viktor Yanukovych won the 2004 presidential election in Ukraine. Yanukovich is considered a supporter of Russia. After his victory, a rebellion broke out in Ukraine. It was named Orange Revolution. The protesters were demanding a recount. Russia claimed the hand of Western countries behind these demonstrations.
In 2008, opposition leader Viktor Yushchenko presented a plan for Ukraine to join NATO. America supported it. But Russian President Vladimir Putin opposed it. NATO announced the inclusion of Georgia and Ukraine. But Russia attacked Georgia and captured two of its areas within 4 days.
The situation worsened with the re-election of Yanukovich
Viktor Yanukovich once again won the 2010 presidential election. He rejected Ukraine's offer to join NATO. In November 2013, Yanukovich withdrew from signing a deal with the European Union. Ukraine was going to get an economic package of $ 15 billion from this agreement. People took to the streets to protest against Yanukovich's decision. Dozens of protesters were killed in the capital Kiev in February 2014. The protests grew so much that on 22 February 2014, Yanukovich had to flee the country.
Crimea was invaded after the European Union's supporters came to power in Ukraine. Rebels wearing army uniforms captured the Crimean parliament. Russian President Putin refused to accept that they were Russian soldiers. In March 2014, a referendum was held in Crimea. In this, 97 percent people voted in favor of joining Russia. Overnight more than 25 thousand soldiers and their families of Ukraine were evacuated from there. Crimea officially became part of Russia on 18 March 2014.
The struggle continued even after the annexation of Crimea. Separatists declared a separate country in Donetsk and Luhansk, two areas of Donbass in Ukraine. Donetsk and Luhansk are now two different countries. Then Zelensky came to power. Volodymyr Zelensky was elected President of Ukraine in the 2019 election. He promised to restore the old status of Donbass. Zelensky intensified efforts to join NATO as soon as he came to power. In November 2021, satellite images revealed that Russia has started deploying troops near the Ukrainian border.
Russia does not want Ukraine to join NATO, because Russia feels that if this happens, NATO soldiers and bases will come and stand near its border.
Understand the dispute between Russia and Ukraine
Last year in mid-December 2021, Russia had informed Western countries including America about its demands. Russia wanted written assurances from Western countries not to move east of NATO (North Atlantic Treaty Organization). Apart from this, Russia demanded the withdrawal of NATO forces from Poland and the Baltic states and the removal of American nuclear weapons from Europe. The most important of these demands was that Ukraine should never be allowed to join NATO. Western countries including America did not accept it.

David Ramnik, editor of the New Yorker, was a Washington Post correspondent from 1987–1991. He wrote in his book Lenin's Tomb: Last Days of the Soviet Empire that losing Ukraine to Lenin is like beheading Russia. Putin has also called the disintegration of the Soviet Union the biggest tragedy of the last century and he is constantly trying to restore Russia's influence in the countries that have left the Soviet Union. According to Putin, Russia and Ukraine share the same history and spiritual heritage.
After the end of the Cold War in the 90s of the last century, NATO expanded to the east and included countries that were previously part of the Soviet Union. Russia saw this as a threat. Ukraine is not a part of it yet, but Russia has been alerted by Ukraine's joint military exercises with NATO countries and the acquisition of weapons such as US anti-tank missiles. According to Putin, NATO can use Ukraine as a launchpad for missile attacks on Russia. According to Taras Kuzio's article on the NATO website, the biggest reason for the current crisis is that Russia wants to include Ukraine back under its influence.
One reason for this dispute is economic because Russia cannot afford the union without its second largest economy, Ukraine.
The geographical location of Russia is also a factor in this dispute. Ukraine is the second largest country in Europe after Russia. Ukraine has important ships near the Black Sea and shares its border with four NATO countries. Russia supplies a third of Europe's need for natural gas, and a major pipeline passes through Ukraine. In such a situation, the security of the pipeline will be strengthened by the occupation of Ukraine.
What is NATO?
First of all, let us answer the same question what is NATO? Let us tell you that the full form of NATO is the North Atlantic Treaty Organization. It is also called North Atlantic Treaty Organization in Hindi. It is a common military and political organization of America and Europe.
It basically creates a system of collective security. Under this, its member states agree to mutual defense in response to any outside attack.
Let us tell you friends that it was formed on April 4, 1949. At present, its headquarters Brussels (Brussels) are in Belgium. At this time people in almost every country are discussing NATO (NOTA).
Also Read
What is the Russia-Ukraine dispute?
After knowing about NATO, it is necessary to know what is the Russo-Ukraine dispute, after which NATO has come into the discussion. Let us tell you that the reason for the dispute is the desire of Ukraine. It wants to become a member of NATO, but Russia is opposed to it.
NATO, as we told you, is a military alliance between America and Western countries, so Russia does not want its neighboring country Ukraine to become a friend of NATO. This will harm him that as we told you NATO is a military group, Russia's neighboring countries like Estonia and Latvia have already joined it, which were earlier part of the Soviet Union.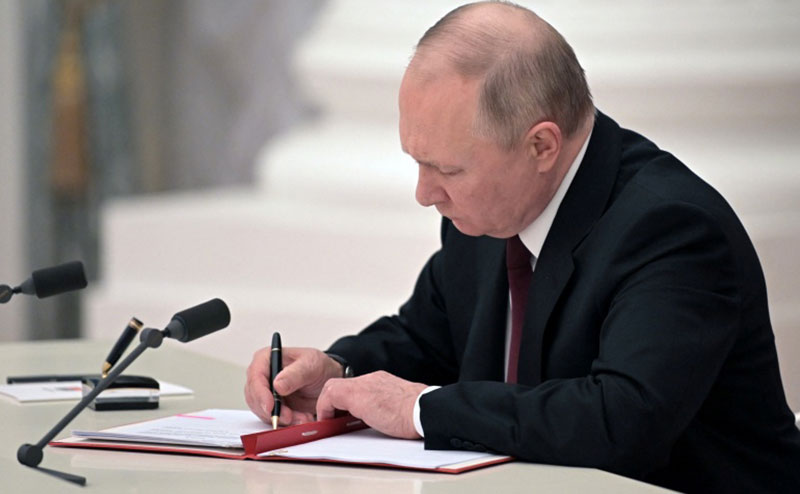 If Ukraine also becomes a part of NATO, then Russia will be surrounded by enemy countries from all sides. America will dominate him. If Russia attacks Ukraine in the event of Ukraine becoming a member of NATO, then under the agreement all 30 countries of the group will consider themselves an attack and assist Ukraine.
In the event of a war erupting over this dispute arising out of NATO countries, more than one country will be involved in it. Let us tell you that the 450-km long international border with Ukraine is currently under severe tension. Russia has stationed millions of its soldiers there.
Apart from this, he has also deployed his warships in the Black Sea. Russian President Vladimir Putin has recognized two countries of Ukraine's separatist regions, Luhansk and Donetsk. Along with this, it has also been announced to send an army to help the separatists in these areas.
This has escalated the controversy. The world has been divided into two factions after Russia and Ukraine came face to face. On one hand, there is Russia, which is supported by countries like China and on the other hand, there is Ukraine, which is being supported by other NATO countries including America, Britain.
Why is Ukraine important to Russia?
How important Ukraine is to Russia can be understood from the fact that Ukraine is located on the western border of Russia. Let us tell you that when the Second World War went on from 1939 to 1945 and Russia was attacked, Ukraine was the only area from where Russia had managed to secure its border.
If Ukraine joins NATO countries, Russia's capital, Moscow, will be just 640 kilometers to the west. At present, its distance is about one and a half thousand kilometers.
The importance of Ukraine can be gauged from a talk by Vladimir Lenin, the hero of the Russian revolution. He said, 'To Russia to lose Ukraine would be like having its head cut off from a body.
Why does Ukraine want to become a member of NATO?
Now the question can definitely come to anyone's mind why does Ukraine want to become a member of NATO? Let us tell you, friends, this is not a matter of one or two or ten years old, but about 100 years old. So old that when a separate country did not even exist. Before 1917, Russia and Ukraine were a part of the Russian Empire.
After the Russian Revolution in 1917, Ukraine declared itself an independent country. Although it remained an independent country only for barely three years. In 1920, it again joined the Soviet Union, despite this, the people there continued to consider themselves citizens of the independent country.
When the Soviet Union disintegrated in 1991, about 31 years ago, 15 new countries including Ukraine were formed. It was from here that Ukraine became truly independent. Ukraine does not deny its reality. He knows that he can never compete with Russia on his own. It neither has a huge army like Russia nor modern weapons.
It has 1.1 million soldiers and 98 fighter planes. Whereas Russia's strength is much more than that. Therefore, he wants to join such a military organization, with the help of which his independence remains intact. For this, he likes NATO the best. That's why he wants to join NATO.
How was NATO founded?
Friends, let us tell you that after the Second World War, France and the UK feared an attack by Germany or the Soviet Union. In view of this, France and the United Kingdom signed the Treaty of Dunkirk for alliance and mutual assistance in the event of a possible attack.
In 1948, this alliance was expanded as the Western Union by the Brussels Treaty Organization ie BTO and the Benelux countries were also included in it. After this, talks began for a new military alliance, in which there was talk of joining North America.
The alliance expanded on April 4, 1949. The North Atlantic treaty was signed. Its early member countries included Western Union, the United States, Canada, Portugal, Italy, Norway, Denmark, and Iceland.
Which are the Benelux countries?
We told you in the above post that while expanding the alliance through BTO, Benelux countries were also included in it. Here the question must be arising in your mind that what are the Benelux countries.
Friends, let us tell you that Benelux is an economic union of three neighboring countries, Belgium, Netherlands and Luxembourg. The name Benelux was formed by combining the first two letters of the English language names of these countries.
Which countries are members of NATO?
Friends, let us tell you that 30 countries of the world are members of NATO. Now let me tell you the names of these countries. These include the United States, Albania, Bulgaria, Belgium, Croatia, Canada, Czech Republic, Denmark, France, Estonia, Greece, Hungary, Germany, Italy, Iceland, Lithuania, Latvia, Luxembourg, Montenegro, North Macedonia, Netherlands, Norway, Poland. , Portugal, Romania, Slovakia, Slovenia, Spain, the United Kingdom and Turkey. Of these, 10 countries are located in the immediate vicinity of Russia.
What is the stand of NATO countries in this dispute?
Friends, let us inform you that China is complete with Russia. But America is not far behind either. He has already announced to support Ukraine in the event of war. It has asked its 9,000 soldiers to be prepared to deal with the Ukraine crisis. The 5,000 soldiers, who are part of NATO, are currently in Russia's neighboring Poland. 4,000 soldiers are in Romania and Bulgaria.
Although the US and NATO countries have made it clear that they will not send their troops directly to Ukraine. But they will continue to provide him with other assistance, such as weapons, medical facilities, etc. As far as other countries are concerned, the European countries of NATO in the present dispute are not as aggressors as America in view of their business interests.
Let us tell you that recently the heads of Germany and France have visited Moscow and tried to reduce the dispute. These countries want a peaceful solution to the matter. Actually, the Nord gas pipeline is the biggest challenge for them at this time. This gas pipeline is almost ready between Russia and Germany. European countries consider this pipeline necessary in the midst of a deepening energy crisis.
It is now clear that if the European countries of NATO go to Ukraine, then Russia can cancel this pipeline. However, if the economic blockade of Russia is carried out, then the European countries of NATO will have to cooperate. America has tried its best to break the banking system of Russia. Talking about the European countries of NATO, only Britain has a slight attitude towards America. He is a votary of the sovereignty of Ukraine.
What is India's stand on NATO and Russia-Ukraine?
Friends, India has good relations with both Russia and America. 55% of India's arms are imported from Russia, while its relations with the US have also improved a lot in the last 10 years. The country in which Ukraine first opened its embassy in Asia was India.
Since then Ukraine has had economic and diplomatic relations with India. India is in such a position that it cannot stand with anyone. So far, India has adopted a neutral stand. It has advocated the resolution of the Russia-Ukraine dispute through diplomacy.
The policy of neutrality in Ukraine is the best so far. This is the reason that when 10 countries including America recently brought a resolution on Ukraine in the United Nations ie the UN, India did not vote in favor of anyone. There is another reason for India to remain neutral in this matter.
Let us tell you that Russia has so far adopted a neutral stand on the India-China border dispute. In such a situation, if India supports Ukraine, diplomatically Russia will stand on China's side. This will not be good for India. There are also about 20 thousand Indians trapped in Ukraine at present, out of which 18 thousand students went there to study medicine.
What is the full form of NATO?
The full form of NATO is North Atlantic Treaty Organization. It is also called North Atlantic Treaty Organization in Hindi.
When was NATO formed?
NATO has formed about 73 years ago on April 4, 1949.
How many member countries are there in NATO?
There are a total of 30 member countries in NATO, we have given you information about their names in the above post.
Which are the Benelux countries?
The Benelux countries include three countries, Belgium, Netherlands and Luxembourg. Benelux is made by combining the initial letters of their name. It is the economic union of these nations.
Was Ukraine a part of Russia before?
Yes, Ukraine was part of Russia before 1917.
Why does Ukraine want to become a member of NATO?
Ukraine wants to become a member of NATO to maintain its independence, as it is not able to counter Russia on its own.
What is the attitude of the European countries of NATO towards Russia?
The European countries of NATO are not yet aggressive towards Russia in view of their trading interests.
What is India's stand in Russia-Ukraine dispute?
India's stand is neutral in Russia-Ukraine dispute.
What is the biggest concern of the Indian government regarding Ukraine at this time?
At present, the biggest concern of the Government of India regarding Ukraine is about 20 thousand citizens trapped there. Of these, 18 thousand are students going there to study medicine.
in this post we have given you What is NATO? What is the Russia-Ukraine dispute? Russia Ukraine dispute Important information regarding Hope this post has proved useful for you for the purpose of increasing the information. If you want similar informative post from us, then you can tell us by commenting in the comment box given below. Your responses are welcome as always. ..Thank you..
,