Saral Portal Haryana Apply Online: Let us tell you that the Haryana government has decided to provide special facilities to the people of its state. Saral Haryana Portal Which is an official website. The biggest purpose of this is to provide the facility to the people sitting at home so that any person can easily take advantage of any scheme, from making his government documents.
As you all know that India is now slowly promoting digitization where paper documents, cash etc. are being given less recognition. Now man is getting all the facilities sitting at home. Today we will tell you through our article how you Saral Portal Haryana You can register by logging in.
Saral Portal Haryana Login & Registration
Governments of every state are now organizing all the things on a single portal to promote digitization so that the common citizen does not face any problems. by Haryana State Government Saral Portal Haryana More than 542 services have been added to the portal, whichever services have been placed by the government in the portal.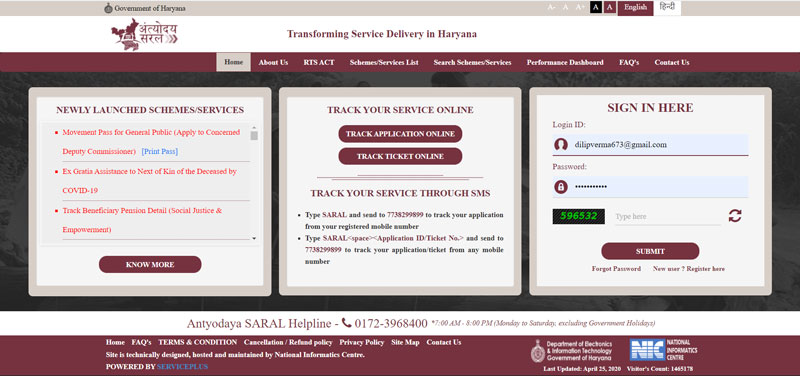 the candidate can avail the same services. But before availing of the services of Haryana candidates have to register themselves by logging into the portal.
As you all know that in order to make government documents that come in our daily life, we had to go round the departments like government office, municipality, tehsil, due to which the common man had to face a lot of problems, but now it is like this.
No, you can afford your documents, services from the portal launched by the Haryana Government. Today, through our article, we will tell you how the candidates of Haryana can register themselves in the portal, we are telling you more information related to this, read the article in detail to know more about the portal.
saralharyana.gov.in
Portal Name
Saral Portal Haryana
(Saral Portal Haryana)
Department
Electronics & Information Department
government
Haryana Government
grade
State government
beneficiary
citizens of the state
purpose
promote digitization
official website
saralharyana.gov.in
Benefits of Haryana Saral Portal
Saral Portal The information about which benefits are available to the beneficiaries through this is being given below in the article. The list of all the benefits is given below.
Now no candidate will have to go to any government office to make their documents. All services will be available at one place.
542 services have been added to the portal by the state government. The candidate can take advantage of all the services sitting at home.
If the candidate applies in any government scheme, then he can check the status of his application sitting at home.
Through this portal there will be transparency between the government and the common people.
Earlier, both time and money were wasted to go to office, but now man's time will also be saved and money will also be saved.
As and when the applications are made by the candidates, the department will monitor the acceptance of the applications. So that the eligible person will have the possibility of getting benefits soon.
Earlier government employees used to take money from common citizens for making any government document, but now this will not happen either. So that corruption will be reduced.
Apart from all this, individuals can get online information about any government scheme by visiting the portal.
Haryana government will be a capable state in promoting online digital. So that the state and its people will get a chance to develop.
The citizens of Haryana state will get the opportunity to get the benefits of all types of schemes related to more than 40 departments through this portal online under the portal.
Also Read..,
Required Documents
Saral Portal But to take advantage of the services available, some documents are also required by the beneficiaries, the information of all those documents is given below in the article. Candidates can get the list of documents from the article below.
Aadhar card
Basic address proof
age certificate
caste certificate
income certificate
Ration card
mobile number
passport size photo
digital signature
Purpose of saralharyana.gov.in
As you all know that India is still a little backward country in terms of digital and countries. Therefore, all the state governments do all the services online to advance electronic digital so that the common citizen does not face any problems. But still, if any person wants to do his work, then he has to go to the government office, as well as if the person goes there after taking his time, then either the work is not done there or the person is forced to call the next day.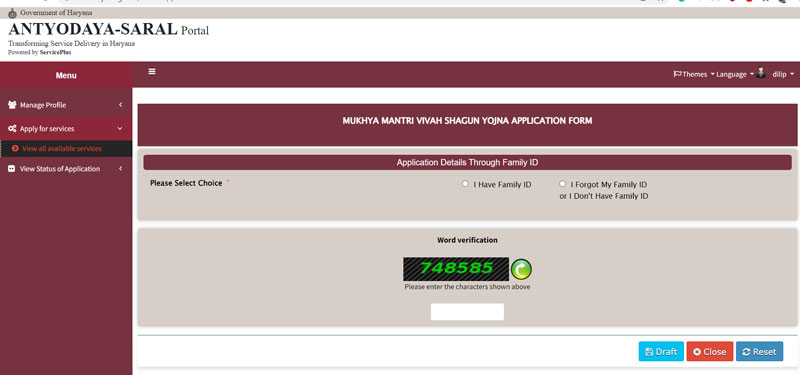 That is, it takes many days to do small work and at the same time money is also taken from the common citizens for making documents, so poor citizens face difficulties in paying.
Now citizens do not need to go to any different office for their services, now candidates will get the benefit of all the services on a single portal. Saral Haryana Portal has been developed to make the services of all government departments easily available to the common citizens, in which citizens can get all the services sitting at home through an online medium.
Services Available on Portal
The following services have been organized on Haryana Saral Portal. By logging on to this portal, you will be eligible to apply for a pension, schemes, for services, we are telling you a list of services here –
income certificate
caste certificate
marriage certificate
Ration card
Address proof
old age honor allowance
new electricity connection
cycle plan
Dealer Point Registration
Dr. Ambedkar Meritorious Student Scheme
Indira Gandhi Mahila Shakti Award
Chief Minister Marriage Shagun Yojana
Ladli your daughter our daughter
How to do Saral Portal Haryana Online Registration?
the candidate who Haryana Saral Portal online registration on Those who want to do, we will tell them how they can register themselves on the portal sitting at home, we are telling you some steps here, you can login easily by following the given steps.
First of all candidates should visit Saral Portal. official website go to. 
After that a home page will open on your screen, you will see a page of login, you will see below it New User Registration Here Click on 
as soon as you New User Registration Here By clicking on it, you will reach the new page, you will have the registration form on your screen.
You have to enter your full name, mobile number, e-mail id, password, state name in this form, after that you will be given a captcha code below, you have to fill the captcha code and click on validate.
After that you have to login back to the home page. To login, you have to enter User ID and Password, Captcha Code, after that you click on the submit button. 
After this both your login and registration will be done successfully.
You can apply by visiting that section for whichever service you want to apply.
Some questions and answers related to Saral Portal Haryana-
u003cstrongu003eWhat is the official website of Saral Portal Haryana?u003c/strongu003e
Saral Portal is the official website of Haryana – saralharyana.gov.in.
u003cstrongu003eWhy was this portal launched?u003c/strongu003e
So that all the facilities are available to the citizens at one place and they do not have to go to the offices for any of their government work.
u003cstrongu003eCan any candidate apply for any service in the portal?u003c/strongu003e
Yes, the benefit of this portal can be availed only by the candidates of Haryana. To take advantage of the service, the candidate has to first register on the portal.
u003cstrongu003eHow to register online in Saral Portal Haryana?u003c/strongu003e
Through our article, we have explained to you the complete process of online registration in Saral Portal, you can successfully register yourself by following the given steps.
u003cstrongu003eWhat services are available to the beneficiaries on the portal?u003c/strongu003e
Beneficiaries get new electricity connection on the portal, income certificate, marriage certificate, old age honor allowance, dealer point registration, cycle scheme, Ladli Aapki Beti Hamari Beti, Dr. Ambedkar Meritorious Student Scheme, Indira Gandhi Mahila Shakti Award, Chief Minister Marriage Shagun Yojana Caste certificate, residence certificate, ration card etc. are available.
u003cstrongu003eWhat are the documents required by the candidates to avail the services available on the portal?u003c/strongu003e
To take advantage of the services available on the portal, candidates need documents like Ration Card, Aadhar Card, Income Certificate, Caste Certificate, Mobile Number, Age Proof, Passport Size Photo, Domicile Certificate, Digital Signature etc.
helpline number
Haryana Saral Portal All the information is given in the article like- what services are available on the portal. To get any other information available on the portal to the beneficiaries, contact the helpline number – 1800-2000-023. If the candidates want to get any other type of information, then they can also get the information through message, for this candidates will have to message on the email id – [email protected].
So today we have told through our article how you can take advantage of the services by registering yourself in the Saral Portal, if you need any other information related to this portal or have any problem then you can tell us in the comment box below. can message.