What is Tata Neu app? Know everything about Tata Neu app here, Tata Neu se paise kaise kamaye, Neu me UPI kaise activate kare?
Tata Neu is a super app providing all digital services and apps on a single platform. Yes, many services will be provided to you here. The page created for the app on the Google Play Store states, 'Manage your finances, plan next meal, plan a vacation, access edge digital content, pay,' here and more. There is also a lot.
These days people trust more in online shopping instead of going to the market. They see the products of many companies at once. Variety is more. Comparing prices has made it easy to buy your favorite product. Similarly, these days for the payment of any bill, whether it is electricity bill or any other bill, the hassle of waiting in lines is over. It has become possible to do this work in a pinch through many apps. One such app Tata Neu app is very much discussed in these. Today in this post we will give you detailed information about this app. Let's start-
What does neu mean?
let us first know the meaning of Neu. Let us tell you that its meaning in German is new. The newcomer to an area is called by the name Neu. From this, it can be inferred that Tata would have named its app Neu app as a new initiative to launch the app.
What is Tata New App?
Friends, let us tell you that Tata Neu app is an offer of Tata Group. On this Tata Neu app, all the digital services (digital savings) of the Tata Group / Brand will be made available on a single platform, as well as the facility of ordering groceries to booking flight tickets will be available through this. Through this, the bills of all online purchases will be able to be paid. It is said that this app has been launched to compete with Paytm, Amazon, Flipkart etc. in the market. On this, a wide range of electronics, pharma, etc. products of various companies can be seen. Orders can be placed for their purchase.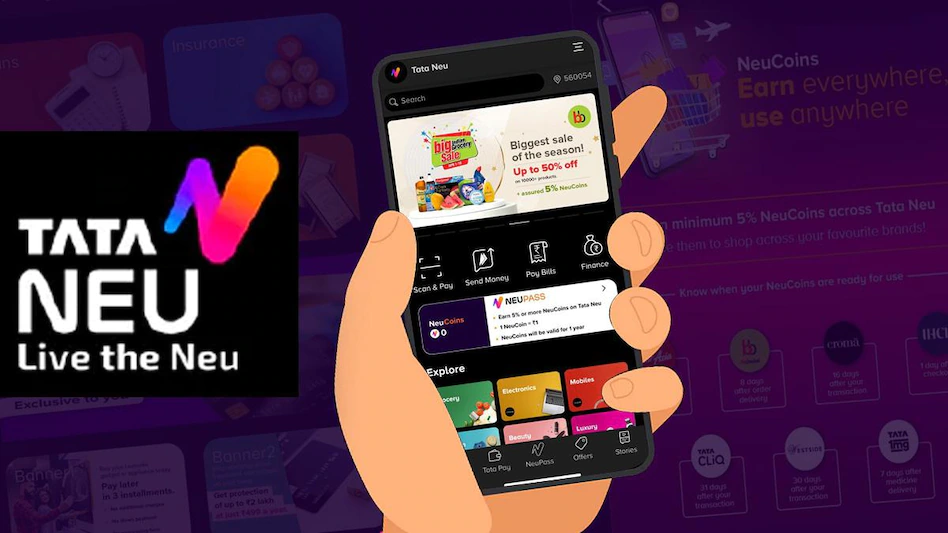 What facilities will the users get on the Tata Neu app?
Let us tell you that you can book flight tickets in this AirAsia India, Air India, Taj Group hotel booking can be done. At the same time, you can order household items. You can use BigBasket for this. Along with this, things like ordering medicines from 1mg or buying electronics from Croma can also be done. Services like buying clothes from Westside will also be provided. Any user who buys from this app will be given Neu Coins, which you will be able to redeem from here. With all these services, this app can be seen giving tough competition to many other websites like Amazon, Paytm, Reliance Jio which provide services like payments, content streaming, shopping, travel booking, groceries etc. now we tell you what are the facilities users will get on Tata Neu app. Their details at a glance are as follows-
You can make online purchases and bill payments using Tata Pay. For example, NewCoins can pay for various items using the NeuCoins card. You can make payment by scanning the QR code. Along with this, bills of mobile, electricity, DTH, brandband etc. can be easily paid.
You can send money to any bank account using Tata Pay UPI.
You will be able to recharge Tata Sky.
You will be able to book a house from Tata Homes.
You will be able to order a Titan watch.
You can order groceries from BigBasket.
IHCL will be able to book rooms for hotel stay.
You can order food on Qmin.
You can book flights on Air Asia.
You can order electronics items from Croma.
Wardrobe styling with Tata Cliq and Westside.
You can order medicines from 1mg.
through this super you can buy Titan's watch and Tanishq's jewelry too. You can also book Tata Homes house. You can also recharge Tata Sky. Tata Motors and Tanishq are not currently a part of this super app, but they may be included soon. Moreover, using Tata Pay, you can pay for any of your online and in-store purchases, bills etc. instantly. Every purchase you make will earn NewCoin, which can be redeemed for the same amount on the next purchase (1 NewCoin = ₹1).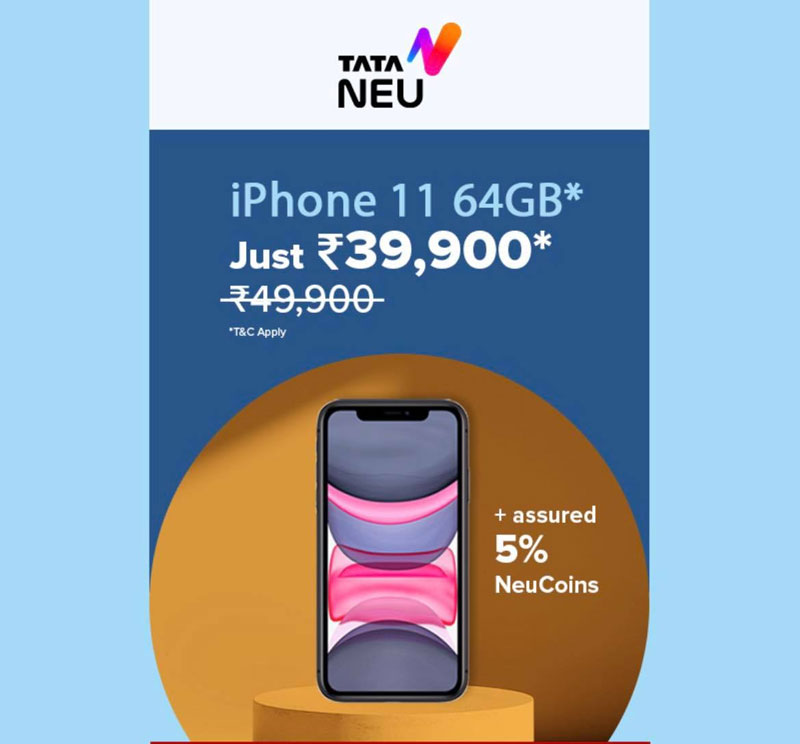 How to earn money with Tata Neu App?
Above we told you about the features that you can use, but this app is not limited to this. You can also get an opportunity to earn on this. Actually, when you refer this app to any of your friends or acquaintances, you will get Tata Neu Coin in return. You will be able to redeem this coin later in shopping. Apart from this, coins will also be available on payment or shopping.
on each such purchase, you will get a reward named NeuCoin. The cost of one New Coin will be one rupee, which you can redeem the next time you make a purchase, ie, use it to pay the amount. Let us also tell you that there is no limit to earning newcoin. Any number of a new coins can be earned and redeemed by any person.
Who can use this app?
the new app was launched by Tata Group after two years of research, development, and testing. Earlier, only Tata Group employees had access to this app. This was done for testing. To use this app, they first had to log in by entering their corporate email etc. But from April 7, 2022, it has also been made available for common users. That is, now they can also order the products of their choice through this app. This has made it easier for the customers. Another platform for online buying has become available in front of them.
Also Read…
From where this app can be downloaded?
Tata Digital Private Limited is offered by this Tata New app downloaded by Android users from Google Play Store. can go. At the same time, Apple iPhone users can download it from the iOS App Store. After downloading, the app asks you only the necessary information like name, mobile number, and email id for registration. Let us tell you that this app is 55MB. This rewarding experience app, introduced in the name of the shop, dine, travel, pay and earn, has got a 3.3-star rating. So far more than 1 million users have downloaded it. About 25 thousand people have reviewed this app. Its official website is https://www.tatadigital.com. In this you can login with your mobile number.
Who is the Tata digital, that launched Tata Neu super app?
Friends, now let us give you some basic information about Tata Digital Private Limited, which has launched the super app Tata New. Let us tell you that the incorporation of this company has taken place on April 11, 2019, with MCA about three years ago today. It is registered as a Company with the Registrar of Companies, Mumbai, and Classified as a Non-Government Company. Its share capital is 11 thousand crores and its paid-up capital is 6,325 crores.
Soon the users will also get NeuPass facility
If you are a new app user, then let us tell you that Tata New is soon going to bring a membership service called NeuPass. Under this, the subscribers will get unique privileges on Tata brands. On every purchase on the app, its members will get 5 percent additional NeuCoins. Let us tell you that Tata Neu also has an in-house digital magazine 'Stories'. In this, there is a focus on lifestyles like- food, fashion, travel, technology-based articles, and videos. Its purpose is to entertain, educate and inspire the users.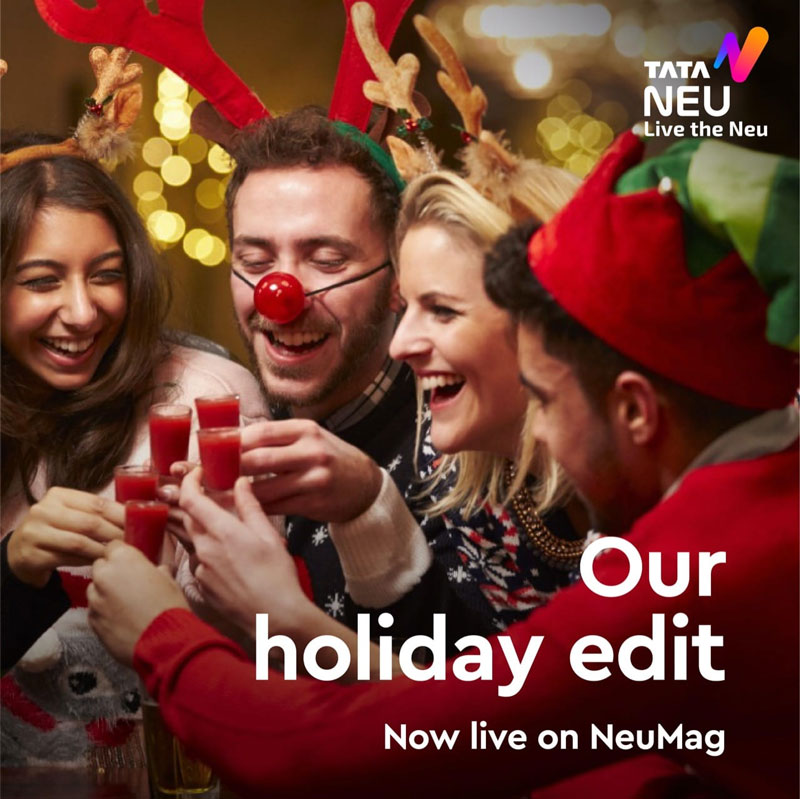 Where to get more information regarding Tata New App?
Friends, If you are interested to get more information regarding Tata New App then you can contact the office of Tata Digital Pvt Ltd or call on their phone number. The registered address of Tata Digital Private Limited is-
Tata Digital Private Limited
army and navy building
148, MG Road, Opposite Kala Ghoda
Fort, Mumbai (Maharashtra).
tata digital phone number-022 68858282
Friends, we have given you detailed information about Tata New App. We sincerely hope that this post will be of great use to you. If you shop online, the Tata New app will definitely have a plethora of offers for you. If you have any questions regarding this post then feel free to ask us. Your responses are always awaited. ..Thank you.
Which company is offering Tata New App?
Tata New App is an offering from Tata Digital Limited.
When was Tata Digital incorporated?
This company has been incorporated on April 11, 2019, about three years ago from today.
What is the official website of Tata Digital?
The official website of Tata Digital is https://www.tatadigital.com.
On which day was this app launched for common users?
This app was launched for common users on April 7, 2022.
Before this, who had access to the Tata New App?
Earlier, access to the Tata New App was available only to Tata Group employees. They had to use their corporate email id for login.
What kind of facilities do users get from Tata New App?
Through this app, users can book from ordering groceries to air tickets. Through Tata Pay, you can make all your online purchases and pay bills etc.
What is NewCoin in relation to Tata New App?
On every purchase made through the Tata New App, the user will get one NewCoin as a reward, which he can use to fund his next purchase.
What is the value of newcoin equal to?
The value of one new coin has been kept equal to one rupee.
Is there a limit on Newkine's Earn and Redeem?
No, no such limit has been set on this.
Where can I download the Tata New App?
Android users can download the Tata New app from the Google Play Store, while Apple iPhone users can download the app from the iOS App Store.
How many MB is this app? How many star ratings has been given to it by the users?
This app is of 55 MB. It has been given a 3.3 star rating by the users.
How many users have downloaded this app so far?
So far more than one million users have downloaded this app.
ratan tata,tatas,tata neu app,tataneu app,tata neu,tataneu,tata app,tata neu upi app,tata ipl neu app,tata apps,tata neu app 2022,tata neu app coin,tata neu vs,tata neu ad,tata neu super app,tata neu app login,tataneu super app,tata neu app hindi,tata neu app store,tata neu app review,tata upi app,tata new app,tata,what is tata neu app,tata neu app launch,tata neu app offers,tata neu app kya hai,tata neu app telugu,upi tata neu