eRUPI : On hearing this name, it becomes clear that it is related to money. Because RUPI is attached after e. From which it can be inferred that it is in electronic form. But you will get detailed information about it in this article of ours, what is it and how it works and how we will get it.
eRUPI Digital Payment System Has been launched by Prime Minister Narendra Modi in August 2022. this one QR code is either SMS's based system. For this purpose, this new method of Cashless and Contactless Digital Payment has been started so that citizens can transfer without interruption.
Another way to make digital payments has entered our country. Whose name is e-eRUPI (eRUPI or eRupee). Which has been launched by Prime Minister Narendra Modi on 2 August 2021. The thing to think is that when Debit Card, Credit Card, Wallet, UPI are already there. Then why was there a need for e-RUPI? It is also being known as Game Changer.
It will be used only for the work in which the beneficiary would like to get its benefit. the digital payment system in this e-RUPI Voucher Will play an important role. then let's go Subjects of e-RUPI Let's get more information through this article.
Full Form of eRUPI (Full Form of eRUPI in Hindi)
However, the full form of this has not been released officially. But according to its name which should be its full form is written below.
The full form of eRUPI is Electronic Unified Payment Interface . Which is called Electronic Rupee Unified Payment Interface in English .
| | |
| --- | --- |
| Announcement of eRUPI | by Prime Minister Narendra Modi |
| Launch date | 2 August 2021 |
| under whom will work | NPCI (National Payment Corporation of India) |
Meaning of eRUPI
E-Rupee (e-RUPI) is the digital version of India's currency Rupee. It will be in the form of a digital token and will be a legal tender like the traditional rupee. Its value will be equal to the rupee ie 100 e-rupees will be equal to 100 rupees.
E-Rupee will be available in the same denominations in which notes and coins are available. This means it will be available only in denominations of Rs 1, 2, 5, 10, 20, 50, 100, 500 and 2,000. These can be easily converted into cash.
eRUPI was Designed keeping the safety of the beneficiary in mind. It keeps the details of the Beneficiaries secretly safe. Apart from the person sending the money and receiving the money, no third person can even get a clue about it.
This e-RUPI Digital Payment The facility has been developed with support from both the DFS (Department Of Financial Services) and the NHA (National Health Authority) and is operated by the National Payments Corporation of India (NPCI).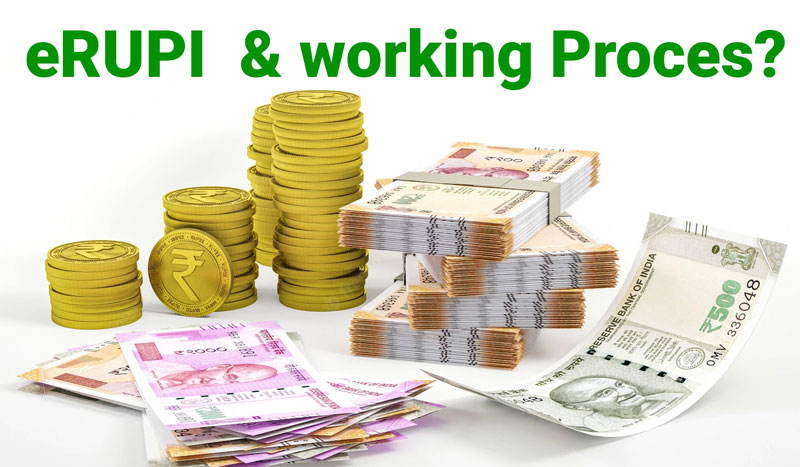 Definition of eRUPI
e-form (e-RUPI) is a cash and contactless payment mode. e-RUPI will be a cashless and contactless digital payment service. This service will digitally connect sponsors and beneficiaries. It will also ensure leak-proof delivery of various welfare services.
When will eRUPI be launched?
digital currency e-rupee (eRUPI) will be launched on 1 December 2022 as a pilot project.
Are the e-Rupee and cryptocurrency the same?
RBI's e-rupee will be different from cryptocurrency in many ways. Cryptocurrencies are decentralized and not considered legal tender. The price of cryptocurrencies is very volatile, whereas the e-Rupee is designed for stability and security.
The RBI says that the proliferation of crypto increases the risk of money laundering and terrorist funding, and black money is largely invested in it. E-Rupee will be safe in all these cases.
How does eRUPI work?
This is a kind of Cashless and Contactless digital payment system Which will be received in the form of SMS S or Qr Code on the phone of the Beneficiaries. It is similar to Prepaid Vouchers.
It can be redeemed at a specific centre where it will be accepted, that too at any Internet banking Debit Credit Card And without the mobile app.
Just you should have a simple phone then you can get its benefits.
e-form Transaction is very fast and reliable through. The amount is already stored in it. It connects the sponsor of the services (an individual or institution) with the beneficiaries and service providers in digital form without a physical interface.
In which banks e-eRUPI will work
Banks will work on E-eRUPI in two ways in which one will be the bank which will issue the e-RUPI Voucher and now the other one will accept it. Some banks are also involved in this which will do both the work. Currently there are 11 banks in this which provide support to e-RUPI. In which big banks like State Bank of India, ICICI Bank, HDFC Bank, PNB, Axis Bank and Bank of Baroda issue this voucher and also accept where Canara Bank, Indusind Bank, Indian Bank, Kotak Mahindra and Union Bank of India only Issue e-form vouchers, do not accept them.
Following are the names of the banks where erupi or eRUPI will run:
Axis Bank
Bank of Baroda
Canara Bank
HDFC Bank
ICICI Bank
Indusind Bank
Indian Bank
Kotak Bank
Punjab National Bank
State Bank of India
Union Bank of India
What will happen in the pilot launch of the e-Rupee?
In the pilot launch of the e-Rupee with eight banks, the strength of the entire system will be tested in a phased manner. In the first phase, State Bank of India, ICICI Bank, Yes Bank and IDFC Bank will join, and after some time Union Bank, HDFC Bank, Baroda Bank and Kotak Mahindra Bank will also join it.
In the initial phase, this pilot will be launched only in Mumbai, Delhi, Bengaluru and Bhubaneswar and then it will be expanded to other nine cities.
Advantages of eRUPI
forward to you the Benefits of e-RUPI, It has been told, let us know about these benefits.
e-Rupee I have the ability to support small businesses to take advantage of government schemes.
Under this, whether the voucher has been used or not, it can also be tracked.
e-form Will keep the information of the beneficiaries completely confidential.
To get its service, the beneficiary does not need any Mobile App, Card, Internet Banking or Bank Account.
Being a Prepaid Voucher, e-RUPI will assure real-time payments to the service provider.
It can also be used on ordinary phones. Therefore, it can be used by those who do not have a Smartphone or where the internet connection is weak.
e-form convenience of how to get,
The e-RUPI system has been built on the UPI Platform by NPCI. NPCI has also added many banks of the country in this. These banks will be able to issue their own e-Vouchers. Banks will issue their E-Vouchers on their own UPI Platform. In a way, this bank will be the issuing institution itself.
The government agency, corporation or corporate has to contact its partner bank and give full details of the person and the purpose for which the payment is being made.
Beneficiaries will be identified by their mobile number only then SMS and Qr codes will be received. The voucher is allotted by the bank to the service provider in the name of the beneficiary.
Banks that issue eRUPI
NPCI has partnered with 11 banks for e-RUPI Transactions. This is a bank..
| | | |
| --- | --- | --- |
| ICICI Bank | Axis Bank | HDFC Bank |
| Bank Of Baroda | State Bank Of India | Indian Bank |
| Canara Bank | Union Bank Of India | Indusind Bank |
| Kotak Mahindra Bank | Punjab National Bank | |
Where will be the e-form used?
NPCI has currently tied up with more than 1600 hospitals for e-RUPI. Where e-RUPI can be paid. e-form Can be used for Pradhan Mantri Jan Arogya Yojana, and Ayushman Bharat as well as for welfare schemes.
According to the news, it will be used on a large scale in the coming times. Along with this, private-sector employees will also be able to get benefits.
How eRUPI is different from Digital Currencies?
The purpose of starting e-RUPI is to bring Digital Currency in India, but e-RUPI is not a Digital Currency, it is a kind of Social Service Voucher System (Social Service Voucher System).
E-Rupee is different from Cryptocurrencies. To get benefits, which gives an opportunity to do business to buy services and goods, let us tell you that this prepaid voucher will be used to provide Welfare Subsidies.
Future of eRUPI Website
yes, guys… you read it right
The e-RUPI website can be launched soon by NPCI. e-RUPI can be used to provide services under Mother and Child Benefit Scheme, Ayushman Bharat Scheme, Tuberculosis Eradication Scheme and other welfare schemes.
If the name of Indian digital currency is taken then only e-RUPI will be the first Indian Digital Currency. Only NPCI will be authorized to frame, control and disseminate e-RUPI.
what is eRUPI?
eRUPI There is a Digital Voucher which is based on Qr codes or SMS, it is a new and very easy way to make Cashless and Contactless payments.
Is it a safe mode of digital payment?
This Voucher can be redeemed only for the person and the purpose for which it has been used, such as – if it has been issued for maternal and child benefits.
eRUPI How will you be able to get the facility?
Has been built on the UPI Platform since. You need to use UPI to avail the facility of e-RUPI.
How to integrate eRUPI and SMS services?
Mainly this voucher will come in the form of SMS. You can withdraw the coupon by clicking on the link in your SMS and you are done.
Is eRUPI an application?
No. e-RUPI is not an application nor is it a payment application related to any bank.
eUnder whom will eRUPI work?
Difference between E-Rupee and Digital Currency
By getting a message directly from the e-RUPI System, you may feel that it is Digital Currency. But this is not the case as the sender of the voucher will use Indian Rupees for the same. In such a situation, it cannot be called Digital Currency because only the Reserve Bank of India issues Digital Currency. It is recognized by the government as a physical currency, that is, there is no difference in its value compared to the rupee.
Means the value of ₹ 10 note and ₹ 10 digital currency is always equal. The only difference is that it will be received in the form of a Digital Currency Code. The Reserve Bank of India is currently working on bringing the Central Bank Digital Currency, but it is not yet clear what will be its form and how will the Central Bank take the support of rupees or gold to issue it or it will use a new platform of its own. Will launch
What did you learn today?
I hope you like this article of mine e-form what is Must have liked it. It has always been my endeavour that the readers RUPI Complete information should be provided about how it works so that there is no need to search for that article on any other sites or the internet.
This will also save them time and they will get all the information in one place. If you have any doubts about this article or you want that there should be some improvement in it, then for this you can write low comments.
If you like this article Benefits of eRUPI If you liked or got to learn something then please share this post on social networks like Facebook, Twitter etc.